Samaritan's Purse hosted a special event for children with disabilities and their families.
Provide Relief as the Syria Crisis Continues
014047
Fun was in the air as children with disabilities in Syria experienced their first "Olympic Day" on Thursday, March 2. Twenty children, ages roughly 6 to 18, from nearby displacement camps gathered together with their families for a special celebration of singing, dancing, and adapted games.
This festive day was a refreshing change for these children who deal with a variety of physical and cognitive disabilities. Life in the camps is hard for anyone, but their situation often leads to isolation, neglect, and bullying.
"Often they are stigmatized, just forgotten," said Sarah Nowery, a Samaritan's Purse information officer in the region. "This was a whole day just filled with fun and focused on them. The parents might have been the only ones happier than the children! They were so blessed to see their little ones having such a wonderful day."
The event marked their completion of a 6- to 12-week program from Samaritan's Purse. During that period, we provided assistive devices and medical treatment to improve their quality of life and show them God's love.
Dancing with Joy
The three hours of festivities included games that all children could participate in.
"The excitement and laughter of these kids were priceless as they danced with joy," said our Syrian program manager, who cannot be named for security reasons.
After a lunch together with the Samaritan's Purse staff, the children performed several songs they had prepared in English and Arabic. They sang about God being their hope and how He loves them and finds them valuable.
"Their passionate singing brought many tears and the Samaritan's Purse team joined the dances of celebration," said the program manager. "Parents seemed overwhelmed with joy as they saw their children who were once struggling, now performing."
Each of the children also received a certificate of achievement and a large gift bag of toys, coloring books, clothing, and more. One by one the boys and girls came to the stage to boldly thank each staff member for their love for them.
Fourteen-year-old Abdullah* especially appreciated the dancing and music in the celebration. When asked how this day was different from other days, he said, "Usually, my daily life is sitting at home doing nothing. I sit and look at the walls. Today, it was special to go out and play!"
Farah*, his mother, could hardly believe what happened. "Today was something special to see Abdullah," she said. "All day I have been chasing him with my eyes. I am so happy because he is so happy. The Samaritan's Purse team is very kind. They have introduced something very nice to my son."
Aisha*, the mother of 8-year-old Salma*, expressed similar sentiments. "I was so happy today, even more than her," as she pointed to her daughter. "It used to be a big struggle before, because I had to carry Salma everywhere, but have other children including her baby brother. Today, I watched her play and enjoy herself with her chair. Thank you, Samaritan's Purse, I am so happy!"
Salma really enjoyed playing, especially throwing a ball into a hoop.
"It was a beautiful day, and I am very fast in my chair now," she said. "I get to go to school with my friends because I have my chair. I love you, Samaritan's Purse!"
Please pray for these children in Syria to continue to grow in the knowledge of God's amazing love for them, and for Samaritan's Purse staff as they serve in this war-torn region in Jesus' Name.
*Name changed for security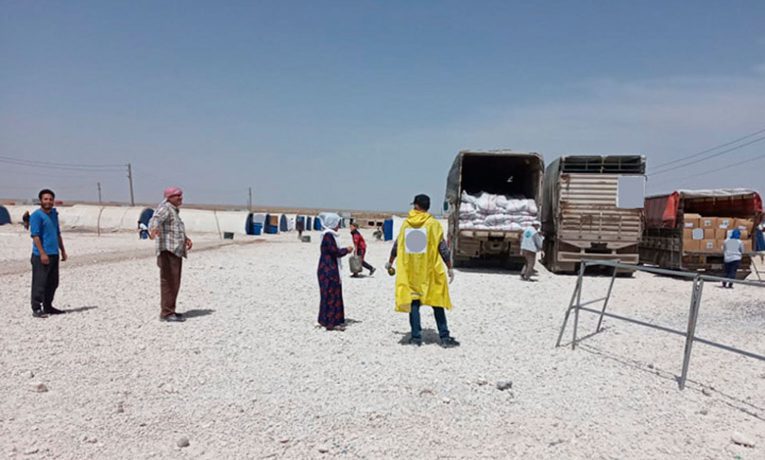 Provide Relief as the Syria Crisis Continues
Samaritan's Purse is providing critically needed relief in Syria as thousands have been displaced and had their lives disrupted by the ongoing crisis there. Working in Jesus' Name, we're helping to provide critically needed medical care and food, among other forms of assistance. Please pray for the many Kurds, Christians, and others who are caught in the middle of this conflict.
---
Kurdish Relief-Syria 014047