Forty women in Niger learn to grow crops and provide for their children
In the hot, dry desert of southeastern Niger lies a Fulani village called N'Gouba. The people who live there depend on agriculture, livestock, and small businesses for income, but they are challenged by a lack of food, drinking water, latrines, veterinary care, and more. There is neither a health center nor a school in the village.
In addition to food insecurity, the added threat of Boko Haram, an Islamic extremist group, continues to have a negative effect on lives. People cannot travel for work as they once did.
"We fear every day that we will be attacked by the sect [Boko Haram]," said Halima, a resident of N'Gouba. "The fact that our children have nowhere to go and cannot work makes us afraid they will be trained by the sect if the insecurity continues."
Halima is a married mother of seven children and grandmother of one. She has 10 mouths to feed each day with no way, until recently, to do so.
When Samaritan's Purse began working in N'Gouba, Halima was selected to participate. We are providing 40 women in the village with a rich and varied diet to help fight child malnutrition. These same women are also learning how to generate revenue on their own. The women received a plot of land to grow vegetables for their consumption and to sell for a profit.
"This market gardening project removed the precariousness in my life," Halima said. "I learned many concepts on agricultural techniques, childcare, and diet. In short, I feel educated and intellectually strengthened. The arrival of Samaritan's Purse took away the ignorance from this place."
Despite the lack of adequate water this past year, Halima and other women were able to produce sorrel, okra, cabbage, and moringa. Yields were low because of a broken borehole. But even with these obstacles, Halima no longer needs to go to the market to buy food products.
"We will continue these activities no matter what," she said. "We hope to produce even more to save money in the future. With the help of my children, we grow vegetables in the garden that Samaritan's Purse endowed us."
Empowering these women has produced a change in the community's thinking. There is now awareness among the women that they can play a significant part in financially supporting their families. Although they still face the threat of Boko Haram and many other daily challenges, 40 families now have enough food to eat and prospects for the future.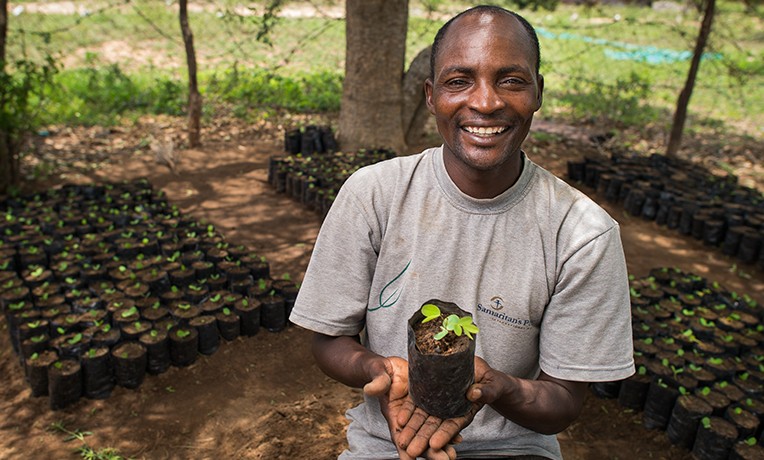 Agriculture
Samaritan's Purse provides seeds, tools, training, and other assistance to help communities transition from subsistence living to food security. Our programs help impoverished families become self-sufficient and combat chronic hunger.