Operation Christmas Child delivers boxes of blessings to children in northern Iraq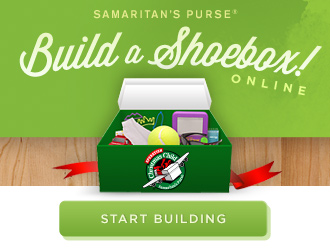 Following the December 10 airlift of 60,000 shoebox gifts to Northern Iraq, Samaritan's Purse is distributing Operation Christmas Child shoeboxes to Christian, Muslim, and Yazidi families displaced by the terrors of ISIS.
These gift-filled shoeboxes are extending joy, hope, and happiness to children who would otherwise not have gifts for Christmas. Boxes packed by caring individuals are giving boys and girls who have experienced great trauma a tangible expression of God's love.
READ MORE: The shoebox gifts begin their journey from the U.S. to Iraq
One shoebox distribution was hosted for 12 Yazidi families who live in Erbil in an abandoned chicken barn. The Yazidis are ethnic Kurds who follow a unique and strange religion mixing elements of Zoroastrianism, Christianity, and Sufi Islam.
One member of this community, Nsaif, lost her son to terrorists two years ago. He was taken while working at a gas station. The family was not able to come up with the ransom demand necessary to save him.
When the rest of her family learned that ISIS was coming earlier this year they fled their home within an hour.
"I can't describe it," Nsaif said. "It's so hard that the things that took us years to build are all gone. Our car is all that we have now."
Another in the chicken farm community, Khero, was working as a taxi driver just two miles from Sinjar when ISIS began bombing their village at 3:00 a.m. one morning. Five hours later, militants attacked.
Khero and the rest of his village fled. They climbed for two days to get to the top of Mount Sinjar with his mother needing to stop every 10 miles or so to rest because of her high blood pressure. They had no water or food so they had to drink rainwater that had gathered in muddy puddles.
Walking a third day, they reached the border of Syria where the Peshmerga, the Kurdish army, sent them by cars to Erbil.
In Khero's extended family, 150 to 200 people have been lost to ISIS. They do not know if they have been killed or are displaced like he is in another part of the country.
Forty children who have lived through similar atrocities gathered for the shoebox distribution. After a time of singing, they received their gift-filled shoeboxes with screams of joy and delight.
For cousins Norma and Araw, the favorite item in each of their boxes was a doll. Their grandfather, Hasan, is the oldest member of the community and therefore their leader.
"I'm thankful always that you are thinking of us," he said. "Thank you for what you do for us. I'm thanking Jesus Christ that he made you come here."
The shoebox gifts distributed this week are part of a larger response by Samaritan's Purse to provide food, shelter, and clothing to tens of thousands of individuals displaced by ISIS.
In mid-October 80 tons of supplies, including children's clothing, winter jackets, blankets and hygiene and kitchen kits, were airlifted to the region with final distributions completed the first week in December. The chicken farm community has received jackets, blankets, shoes, and heaters from this effort.
Please pray that the tens of thousands of children who receive shoebox gifts will know the love and compassion and God.