Strengthening our efforts to relieve suffering in Jesus' Name, a mobile medical team and desperately needed emergency items recently arrived in Lebanon.
Relief for Lebanon
012125
Our DC-8 aircraft recently delivered a second round of emergency items and disaster relief personnel to Beirut, Lebanon, to help those who are recovering from the Aug. 4 explosion that rocked their city. The plane departed from Greensboro, North Carolina, on Tuesday carrying more than 31 tons of supplies and arrived in Beirut Wednesday. The cargo, including emergency shelter material, hygiene kits, solar lights, and medical supplies, cleared customs in record time—just as supplies from the first airlift had all been distributed.
Also, on the flight was a mobile medical team who will treat those still suffering from open wounds and infections caused by the blast more than two weeks ago. The 10-plus-member team includes a staff person who will care for the psychosocial needs of citizens as well. Our first site of operations is in a school where we are working alongside a medical partner to provide surgical and emergency capacity.
"As always, Samaritan's Purse seeks to care for the greatest needs of the people, reduce suffering, and share God's love," said Elliott Tenpenny, director of our International Health Unit.
Samaritan's Purse first airlift to Beirut arrived just four days after the blast. Since then, our Disaster Assistance Response Team has distributed relief supplies to refugee families living near our local church partner. We've so far assisted more than 1,300 families, including Syrians, Armenians, and Sri Lankans, with some 2,000 tarps, more than 1,300 hygiene kits, and over 2,600 solar lights.
On Friday, the nation began a two-week lockdown to prevent the spread of novel coronavirus. Samaritan's Purse work, however, has been deemed essential so we will continue to distribute relief supplies to those in need during this time.
Malak* received a tarp from Samaritan's Purse and plans to use it to temporarily replace her door that blew off in the blast. She said, "Even in my small steps I say, 'Lord, I give you my life. Whether I am leaving or coming, I am in Your hands.'"
Go to "Jesus Saved My Life" to read more about those who are receiving relief.
Homes, churches, businesses, medical facilities, and food storage in Beirut were damaged on Aug. 4 when more than 2,700 tons of ammonium nitrate exploded near the port, leaving more than 200 dead, 6,000 injured, and 300,000 displaced.
Please pray for the leadership of Lebanon as they guide their country at this critical time. The nation faces a quadruple crisis: political turmoil and transition, long-term economic hardship, COVID-19, and the Aug. 4 explosion.
Pray for all those who are suffering and for our teams as they provide relief. Pray for local Christians as they try to be salt and light during this challenging time.
Note: This article was originally published on Aug. 19 and was updated on Aug. 21 to reflect current statistics and information.
*Name changed for security.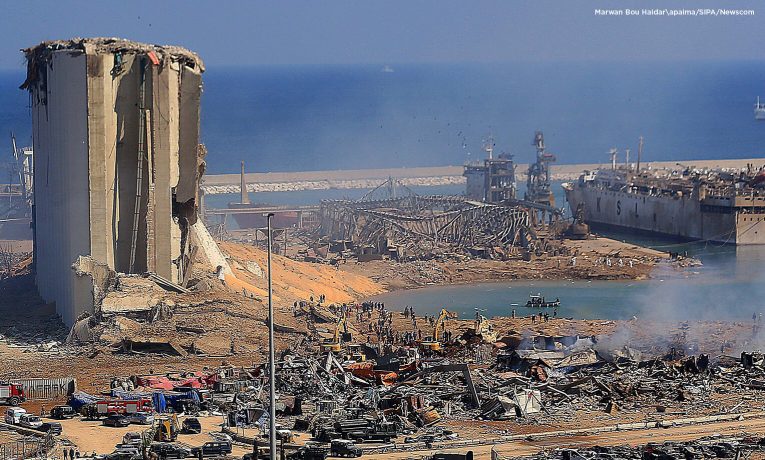 Relief for Lebanon
Samaritan's Purse has been working with trusted Christian partners in Lebanon for decades. We respond in the face of war, disasters, and other crisis situations to provide physical and spiritual relief.