In two displacement camps in this war-torn nation, Samaritan's Purse is providing youth with physical therapy and assistive devices.
Provide Relief as the Syria Crisis Continues
014047
Seven-year-old Fatima* and her siblings often race down the rough gravel paths of their displacement camp from their family's tent to that of their uncle. In recent competitions, Fatima has enjoyed an advantage since she received a new electric wheelchair from Samaritan's Purse. She now leaves behind a trail of dust as she enjoys her increased mobility.
Friends and family refer to Fatima as a "social butterfly" who navigates her way through conversations and interactions with ease. She radiates joy and does not allow her congenital condition, which limits the growth and development of her legs, to stop her. She plays with friends, does well in her first-grade classes, and enjoys visiting with extended family members. She is quick to laugh and say that the rocky ground at the camp is the only thing that gets in her way!
Despite her great attitude, Fatima's parents and her five siblings have all been affected by her condition. Over the past four years, they have taken turns pushing her—her parents first, until her siblings grew strong enough to handle the older, clunkier chair. Her sister eventually began taking Fatima to school and kept a close eye on her. Her sister was not allowed to go inside, so she waited at the gate until Fatima finished her classes and they could return home together.
When Hope Ran Thin, Help Came Through
Over time, various medical groups came and did assessments of Fatima, taking pictures of her old chair. However, when nothing ever came from these consultations, the family grew weary. Her parents said that they began to lose hope and did not believe she would receive a new chair.
But one day when Fatima's mother visited the vegetable stand in the camp, she learned that Samaritan's Purse was offering physical therapy and assistive devices to children. Due to past disappointments, she was hesitant to believe that this time things might be different, but after discussing the possibility with her husband, they decided to give it a try.
The next day, Fatima and her mother visited the tent where we provide physical therapy. The staff reviewed Fatima's history, checked her over, and determined that she needed an electric wheelchair. Within one week of her family's first conversation with Samaritan's Purse, they learned that Fatima would get a new chair!
To celebrate, Fatima brought family, neighbors, and friends along with her the day she received the precious gift. Each device we provide not only impacts the child but the whole community!
Offering Comprehensive Care
As part of the gift of receiving a new wheelchair, Samaritan's Purse offers Fatima physical therapy sessions once a week. Currently, the staff are working to strengthen her arms to help her get in and out of the chair. Once this is mastered, they will focus on transferring her in and out of vehicles as well as building up the tendons in her legs and feet in order to help straighten her feet. Then, she will be able to start standing with the support of leg braces and a table.
Through this arduous journey, Fatima's competitive spirit continues to come through. She and a friend are vying for who can get better grades in school, and this carries over into their physical therapy as well. When they are doing their exercises, they each try to see who can reach the therapist faster. Her mother said, "Fatima usually wins."
When she returns home from these sessions, Fatima tells her father all that she has learned and shows him the techniques she needs to practice that week. Through this physical therapy, the whole family is discovering more about her specific condition and learning how to support her better. The siblings are especially gentle around her new chair and say they don't want anything to happen to it. Her sister continues to check up on her often, but Fatima is quick to laugh and tease her, saying, "Leave me alone, I don't need your help!"
Over the past year, Fatima is just one of 150 children who have received assistance through Samaritan's Purse children with disabilities program in Syria. Please pray for these children and their families as well as the staff who serve them in Jesus' Name.
*Name changed for security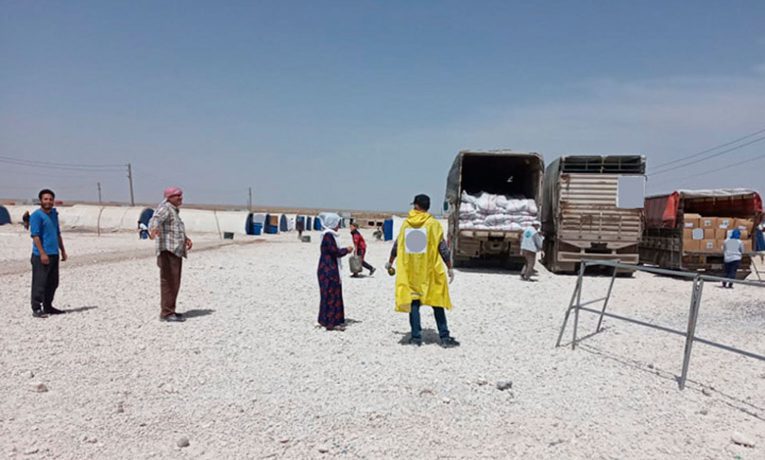 Provide Relief as the Syria Crisis Continues
Samaritan's Purse is providing critically needed relief in Syria as thousands have been displaced and had their lives disrupted by the ongoing crisis there. Working in Jesus' Name, we're helping to provide critically needed medical care and food, among other forms of assistance. Please pray for the many Kurds, Christians, and others who are caught in the middle of this conflict.
---
Kurdish Relief-Syria 014047