NIGER, AFRICA
forgive. rebuild. restore.
Join Us In Rebuilding the Destroyed Churches of Niger
"Your support and prayers will be a strong encouragement for the persecuted believers in Niger who are standing strong for the Gospel of our Lord Jesus Christ."

~Franklin Graham
At first, it was just a demonstration. The shooting at the office of the satirical magazine Charlie Hebdo had happened in Paris little more than a week earlier, resulting in the deaths of 11 people. Tensions had extended all the way to Niger.
"Even if they burn the churches, they can't burn what we have already got inside of us." #RebuildNiger

The 98 percent Muslim population was distraught about the cartoons of Muhammad that had appeared in the publication and wanted to avenge their prophet. Christians in Niamey, the capital, suspected that there would be some damage, and shop owners and pastors took precautions to keep stores and churches closed.
The plan was to wait until after Islamic noontime prayers on Friday, January 16, to begin the demonstration. But in Zinder, more than a day's drive away from Niamey, the youth didn't wait for prayers to end. Word spread that the demonstrations were more organized than the Christians knew. People began going to Christians' homes, stealing what they wanted and burning the rest. The damage quickly extended to churches and missionary schools. When police became involved, most Christians thought the demonstrations would end.
But on Saturday, January 17, Muslims across Niamey gathered at the mosque. Police broke up their gathering, and they left in small groups. This allowed them to work quickly. They went from church to church, starting at the Baptist Church at the Round Point, and looted. They took furniture, benches, windows, doors, and wires. When they were done, they ripped off the roof and tried to burn the building. Because it's built of stone, part of it was left standing. They continued this process around the city.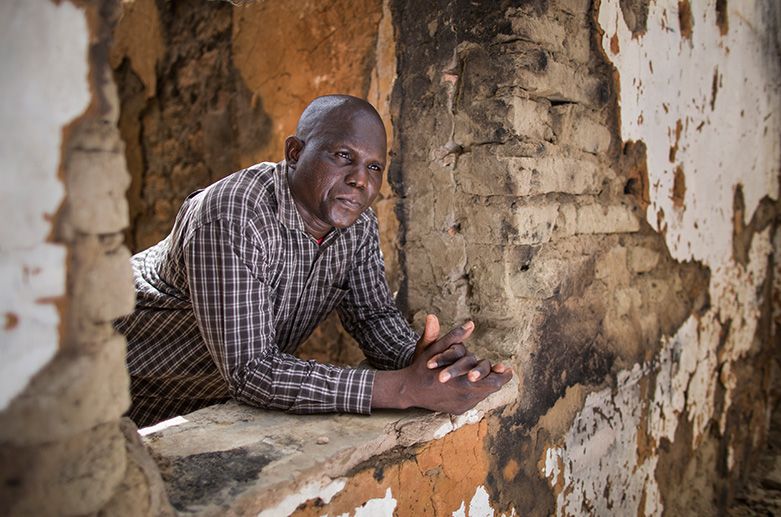 Throughout Niamey, 60 churches burned in four hours. In total, 70 churches across the country had been burned in two days. Out of 72 cities in Niger, only 19 of them have churches. Christians are a minority, and they were being threatened as never before in recent memory.
"The 16th and 17th of January were kind of a surprise to us," said Harouna Labo, the president of the Evangelical Churches of Niger. "Given the good relations we had [with our Muslim neighbors], we never expected such violence to happen."
Despite the violence, no Christians died in the attacks. Many were warned beforehand and were able to escape. Pastor Issa Elhadjkouldjami has a church in Zinder, sometimes described as the heart of radical Islam in Niger. He took his family and church members to the local gendarmerie base after his son heard a warning from children at school.
"We lost a lot of things," Issa said. "We were really full of pain. [But] while we're reading the Bible [at the base], we were relieved."
Many of the churches still held services the following day. Christians across Niger stood among rubble and ashes under the sweltering desert sun and sang praises to God.
"They thought that we will not go back to the services," said Mahamadou Koche, a pastor of an 80-member church in Zinder. "But even if they burn the churches, they can't burn what we have already got inside of us."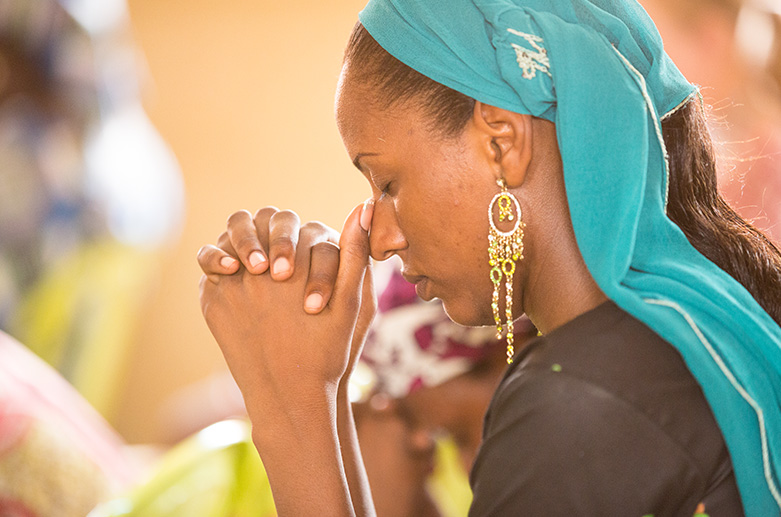 Chapter 2:
Part of His Plan
Throughout Niger, churches were surprised to see an increase in attendance after the attacks. Christians who previously weren't active in their faith showed solidarity.
I do believe somehow that this persecution is a kind of fertilizer for the faith. #RebuildNiger

"We've been praying and fasting for a real, true heart change in Niger, and then the churches were burned," said Alan Bobbett, the Samaritan's Purse country director in Niger. "God's not surprised. So is this part of His answer? Is this part of Him saying I'm going to rebuild my church, I'm going to rebuild it stronger, we're going to separate out the chaff from the wheat? It's part of His plan; we know that."
In the seven months since the attacks, pastors have reported that they've seen their congregations grow and become more involved. They hope that this is an opportunity for unity and growth in the church.
"I do believe somehow that this persecution is a kind of fertilizer for the faith," said Yakaya Sherrif, the national coordinator for Operation Christmas Child in Niger. "This event has been a boost to the churches in Niger."
Did You Know...
Islam is practiced by at least 98 percent of Niger's population, but historically, Christian persecution has been rare.
In Niger, pastors' homes are often attached to the church. The burnings endangered the lives of their families, and although all escaped, most of them did not have time to gather their belongings. They not only lost their clothing, food, utensils, and other replaceable items, but they also lost irreplaceable pieces like photos, important documents, and books.
"We asked God to forgive them because they didn't know what they were doing." #RebuildNiger

Yet while the congregations met outside, surrounded by reminders of what had happened, the pastors preached forgiveness. Many admitted that it was difficult. They stood in front of angry groups of Christians and reminded them of God's love.
"The same way Christ prayed for the people that crucified Him, we also prayed to God," said Ibrahim Kollo, the pastor of a small church in Magaria. "We asked God to forgive them because they didn't know what they were doing."
Some Christians were still angry, and they even planned to burn down the mosques. But leaders in the church were able to reason with them.
"The reality is that in the Bible our Lord Jesus Christ told us that these things will happen," Mahamadou said. "They'll even get to a point where they'll kill us. If we decide to pay them back what they did to us, it's like we paid evil with evil."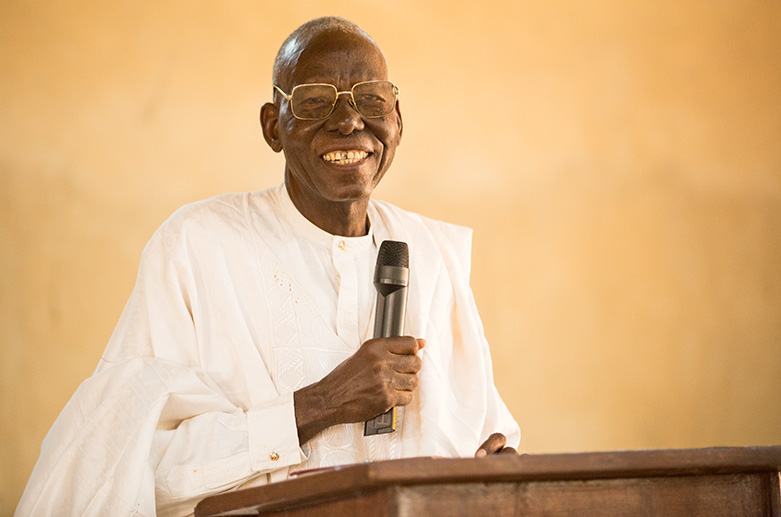 Christians across Niger slowly laid down their desire for revenge in favor of forgiveness. Many made public statements and reported that their Muslim neighbors showed remorse for their actions—some even cried when they heard the message.
An imam asked one pastor if Christians really planned to forgive those who had burned their churches. When the pastor said yes, the imam replied that if it were true, many Muslims would become Christians because there is no message of forgiveness in Islam.
"In Christ, we've won," Mahamadou said.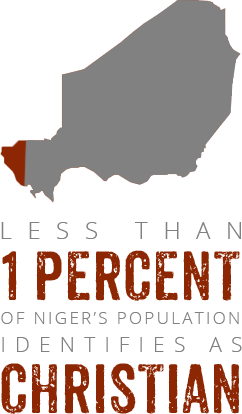 Meeting outside was not a long-term option for the churches. Temperatures in Niger can reach 130 degrees, and church services often last three hours or more. After the first Sunday, pastors began looking for more permanent solutions.
"They thought they burned the church, but they only burned the buildings." #RebuildNiger

All of the churches knew they would be unable to rebuild the buildings that once stood. Missionaries built most churches in Niger in the 20th century with materials shipped from other countries. They had been big, expensive endeavors that the churches—now run by locals—couldn't afford to replace.
When the burnings first happened, Samaritan's Purse provided tents, chairs, Bibles, songbooks, and musical instruments for several of the churches. Pastor Issa gratefully received these items along with a new motorcycle (his was burned) and some funds to help with his evangelism. He was grateful for the help but also expressed the need for a permanent structure.
Because the Samaritan's Purse country director, Alan, grew up in Niger, the burnings affected him on a personal level. He was raised in the Baptist Church at the Round Point, one of the biggest burned in Niger. Samaritan's Purse committed to rebuild his home church along with others in Niamey, Zinder, and Gouré.
"It should be considered a great, great privilege by anybody who gives to this that they get to play a part in rebuilding a place of worship for people," he said. "We're making a statement to the community that the church in Niger is not alone. It's part of a global community, and we care about them. And that in and of itself has encouraged the church here."
The pastor of the Baptist Church at the Round Point, Jacques Houeto, told his congregation that they would not be able to rebuild the church that American missionaries had built in the late 1920s. He said, however, that he believed God would rebuild their church. In July, Samaritan's Purse announced its plan to churches in Niger.
"They thought they burned the church, but they only burned the buildings," he said. "The church is in the heart."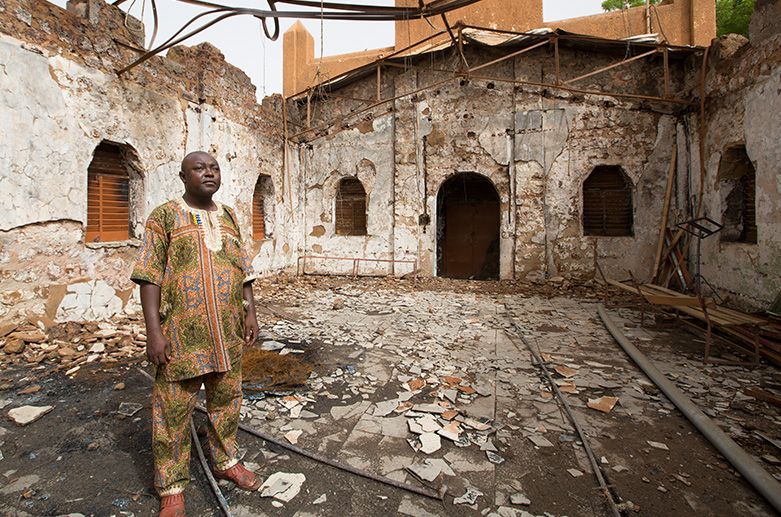 Members of Boukoki Church expressed their belief that God would take care of them and that He would bless them. Although they have stood strong in their faith, they also see the need for new church buildings.
"Rebuilding the church physically will show to the world that we hold on to our faith and we're still Christians," Mahamadou said. "We're determined."
Church members will band together in Niger to rebuild their buildings. Samaritan's Purse is coming alongside the churches to support the project, and we're asking members to help other churches during the demolition phase as a way to create unity.
For Christians in Niger, rebuilding is not just about forgiving their neighbors and moving on. Now the church members, some who were once complacent in their faith, want to take those relationships a step further by sharing Christ with their neighbors. They aren't rebuilding the church just for themselves; they're rebuilding it to share with people who don't yet know Christ.
"We hope to rebuild so that we can continue to show the love of Christ." #RebuildNiger

"We hope to rebuild so that we can continue to show the love of Christ," Issa said. "We will not stop. We will continue with everything we've got in our heart."
They also want to restore their good relationships with the people they see every day. For many, the Muslim neighbors are family members and friends.
"Our hope is that the Christian community continues to show that love of Christ to the community," Harouna said.
One way some churches are ministering to their neighbors is through Operation Christmas Child. After Boukoki Church was burned, it held an event where it distributed shoeboxes to Muslim children in the area. Through the event, the children and their parents heard God's message of love and forgiveness.
"Even after the churches were burned down, we distributed OCC boxes to Muslims in the area, and we continued to bring them the testimony of love," Yakaya said.
Harouna, who used to pastor one of the burned churches, said he was recently invited as a speaker to a meeting between Muslims and Christians. He said it was the first time a meeting of that kind had happened, and he was allowed to share about his faith. Since the churches were burned, he has also had one-on-one conversations with Muslims to share the message of forgiveness.
"It's not by running away from them that we can be able to share the Gospel, but it's by allowing those meetings," he said.
Some churches began ministering immediately after the attacks. While Issa and his church were staying in the gendarmerie base, neighbors noticed their joy despite their circumstances. This led one woman to accept Christ. Since then, his church is rethinking how they do evangelism and is planning to teach literacy and agriculture to people in nearby villages. Other burned churches have started providing wells and cereal banks in their villages. The churches will also show the Jesus film to their beneficiaries.
When asked how Christians in the U.S. could support their churches, some pastors expressed the need for funds to rebuild. All of them focused on prayers.
"Let's pray so that our church can continue to keep at heart the will to express the love of Jesus to [the] community and that we continue to show the light of the Lord to the community," Yakaya said. "We cannot pray so that there will not be anymore hostilities toward us as a church, but among these people that are persecuting the church, there are some that God is calling to Him. So let's pray that the Lord will use us to be His tools to get them to the church."
Other pastors asked for prayers that their congregations would have courage while evangelizing. They also asked for prayers for their neighbors, that they would be open to the Gospel and receive Christ as Savior. Alan said persecution grows the church, so Christians should not pray for less persecution. Instead, we should pray that the church isn't afraid to stand up for what it believes. Pray with us as we seek to rebuild churches in Niger.