In 2015, we provided relief to millions of suffering people around the world. As we meet people's physical needs, we also point them to "the love of God which is in Christ Jesus our Lord" (Romans 8:39, NKJV).
Donar ahora
The photos below represent 26 of our top moments this year.
Samaritan's Purse President Franklin Graham addressed Mission Aviation Services staff in Eldoret, Kenya, this past March as part of the dedication ceremonies for our new 15,000 square-foot hangar. Four Eldoret-based aircraft move relief items, supplies, and personnel around the East Africa region, where we provide relief to hundreds of thousands of suffering people.
Visually impaired students at a school in Hanoi, Vietnam, treated Franklin Graham, Fox News Host Greta Van Susteren, and their group to a concert. Samaritan's Purse provides assistance for students at this school, including music classes.
In Kitui County, Kenya, getting water each day can be a dangerous and time-consuming task. The hand-pump well pictured is just one of many we've rehabilitated as part of our efforts to provide residents improved access to clean water and quench spiritual thirst through the Gospel of Jesus Christ.
In a Hindu farming village in Fiji, Pastor Anand Singh teaches children the Bible through The Greatest Journey, the discipleship course Samaritan's Purse developed for children who receive Operation Christmas Child shoebox gifts. "We're giving them a chance to know God, to walk with Him, and tell others about Him," Pastor Anand said.
Cissie Graham Lynch visits a new mother in a birthing center built by Samaritan's Purse in Cambodia to offer a safe place for women to deliver their babies and receive pre- and post-natal care.
After Cyclone Pam devastated the islands of Vanuatu in March, Samaritan's Purse supplied emergency relief to thousands of survivors—including water jugs, tarps, blankets, and hygiene kits.
In the Democratic Republic of the Congo, Samaritan's Purse is providing seeds and training to people who have been displaced by a 20-year war. Around the world, people like Alfonsina (pictured) receive these seeds along with encouragement from God's Word.
Dr. Arianna Shirk provides medical care to a sick child at Kijabe Hospital in Kenya. Through World Medical Mission's Post-Residency Program, young doctors serve two-year assignments at overseas hospitals in preparation for careers as medical missionaries.
Our disaster relief teams saw grateful smiles from many Nepalese people after rushing aid to the Himalayan nation following April's catastrophic earthquake. More than 60,000 families were supplied with emergency items such as food, tarps, blankets, and kitchen kits.
Dr. Lance Plyler, the Samaritan's Purse emergency medical response advisor, (left) consults with Dr. Richard Furman, a Samaritan's Purse board member, before boarding a U.S. Marine Corps UH-1 Yankee helicopter to give medical treatment and conduct assessments in remote mountain villages after the Nepal earthquake.
Volunteers from 33 states joined our U.S. Disaster Relief teams when we responded to devastating floods in central Texas in May. More than 260 homeowners received aid and were given the opportunity to see hope in Jesus' Name.
Exactly 14 years after he responded to the 9/11 attacks on the Pentagon, Army Master Sergeant Josh Grzywa was baptized in Alaska's Lake Clark. He and his wife Neysa accepted Christ and rededicated their marriage while participating in a week of marriage enrichment through Operation Heal Our Patriots, a Samaritan's Purse project that ministers to wounded veterans and their spouses.
Ninety-two military couples dedicated or rededicated their marriages to God during the Operation Heal Our Patriots 2015 summer season. Most did so in lakeside ceremonies conducted by our chaplains, who are retired from the armed forces.
In January 2015, Muslims in Niger burned 70 churches over the course of two days. Afterward, Samaritan's Purse came alongside Pastor Jacques Houeto (pictured) and other evangelical leaders to rebuild these places of worship.
Operation Christmas Child shoebox gifts bring joy to children in Gwirize, Malawi. This Southern African country received more than 142,000 of the 10.4 million shoeboxes distributed worldwide in 2015.
With the monsoon season quickly approaching, shelters became a top priority in Nepal. Our teams provided sturdy materials and construction training to thousands of families in hard-to-reach areas to help protect them from the elements while they rebuild their lives.
After losing their home in the Nepal earthquake, Padam, her son Hum, a granddaughter (red), and great granddaughter (green) shell corn in their new Samaritan's Purse shelter, constructed with metal sheets, pipes, wire, and tarps. "We are happy and appreciate you," she said.
Extensive flooding in Myanmar this summer left people stranded and starving. Samaritan's Purse worked through local churches to distribute emergency food to thousands of desperate families, which God used to soften hearts and open doors for the Gospel in difficult areas.
Nearly 900,000 refugees have arrived in Europe in 2015, most of them fleeing war in Syria. In Greece, Samaritan's Purse is working on five islands to provide refugees with blankets, food, water, and other necessities.
In Macedonia, Dr. Nathalie MacDermott gives medical attention to 1-year-old Gazi, who is traveling across Europe with his parents and older sisters. Since September, Samaritan's Purse has distributed nearly 40,000 backpacks, filled with blankets, hygiene kits, and other necessities, to refugees in transit centers in Macedonia and Croatia.
In September, Samaritan's Purse responded to two California wildfires that burned more than 140,000 acres. Volunteers worked tirelessly to help hundreds of homeowners recover from the disaster, and, through their efforts, 49 people accepted Christ.
In October, Samaritan's Purse responded to epic floods in South Carolina. Volunteers came alongside homeowners in Jesus' Name in Columbia, as well as in Summerville and Andrews, to rip out waterlogged walls and flooring to prepare homes to be repaired.
Fifteen-year-old Gabe Feinn and his 11-year-old sister, Livvy, baked cakes to raise $35,000 to build a maternity ward at Nyankunde Hospital in the Democratic Republic of the Congo. In October, they were able to visit the new ward and meet the first baby born in it, Gabriella.
After suffering four decades of harassment from her community, Matilde, a 45-year-old wife and mother, was happy to be our first-ever cleft lip patient in Bolivia. The cleft lip and palate project team completed 29 surgeries this October in La Paz, marking our program's initial expansion from its continuing efforts in South Sudan.
Four-year-old John was diagnosed with a heart defect before he was born, but because he lives in Bolivia, he wasn't able to get the surgery he needed. In October, he flew to the U.S. to receive life-saving surgery—one of 54 children who received healing through the Children's Heart Project this year.
Franklin Graham speaks with a woman in Cambodia who received mushroom spores and training through our human trafficking prevention program. Mushrooms are helping to generate income and food for hundreds of families—giving them the opportunity for a safe, sustainable future.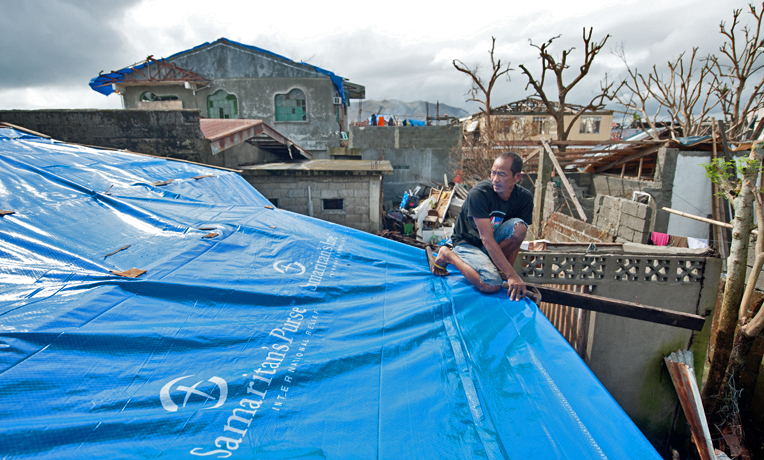 Donde más se necesita
Tu donación denominada "donde más se necesita" equipa a Samaritan's Purse con los recursos necesarios como personal, materiales, maquinaria, servicios de apoyo e infraestructura para poder cumplir con la misión de ayuda y evangelismo a nivel mundial.
---
Donde más se necesita 012000