Operation Heal Our Patriots Gives a Wounded Hero the Opportunity to Fulfill a Lifelong Ambition
Todd Plybon had dreamed of going to Alaska from the time he was a young man. When he married Tara 18 years ago, he was ready to move there.
Give
"We were 22, going on 23," Tara said. "Before he met me, he was sick of humanity and some of the bad things that were going on, so he was ready to hitchhike to Alaska with nothing but a knife and matches. Just the fact he was going to leave for Alaska tells how much it has been on his mind."
This summer, Todd finally got a chance to visit American's last frontier. All it took was nearly getting killed in Afghanistan—and God's guiding hand.
Todd and Tara participated in Operation Heal Our Patriots, the Samaritan's Purse program for wounded veterans and their spouses. They spent a week at our wilderness lodge, enjoying some of the things that Todd had only dreamed about. A special highlight was the outing to watch bears.
"It was cool to see one of his dreams come true," Tara said. "I don't have the power or the finances to do much. But to be able to say 'Todd, I'm taking you to Alaska and we're going to get to see bears, one of the things on your top ten bucket list,' that was great."
Equally as important was the opportunity to spend time on each other, away from the bustle of life, and to invest in their marriage.
"We have not really been getting a chance to pull away and just take care of our marriage and ourselves," Tara said. "A marriage needs to be pampered. This was a much-needed reprieve for both of us. It's beautiful."
It was an opportunity that would have seemed impossible four years ago, when Todd was nearly turned into "pink mist" while serving in Afghanistan as a sergeant in the Army National Guard.
It was October 2009. Todd was serving his second tour of duty. He was the gunner in a Humvee, part of a convoy returning to base camp after a 10-day mission.
"I remember thinking, 'We're going to be home soon,'" he said.
He never made it. The convoy was traveling through a narrow canyon when an Improvised Explosive Device, with several rounds of different munitions packed together, blew up underneath the Humvee.
"They just thought I was pink mist," Todd said. "They weren't even looking for me. They just assumed that I had disintegrated. Because it went off basically below my feet."
Two of his good friends were killed instantly. Todd was thrown 40 feet backwards. The top plate and turret from the Humvee landed on top of him.
Todd and Tara said it's a miracle that he didn't die. Or more accurately, it was a series of miracles. His head landed in an indentation when he was thrown clear, so the armored plate didn't crush his skull when it landed on him. The convoy had to take extra food and water because there was no supply route while it was out. He was standing on cases of water, which absorbed some of the explosion. And an orthopedic surgeon had been assigned to the base a week before the explosion.
"I shouldn't have survived," he said.
But although alive, he was critically injured. Todd suffered a Traumatic Brain Injury, herniated discs in his lower back, four broken ribs, a punctured lung, a femur broken in three places, and numerous breaks in his lower leg. The flesh of his left leg was also severely mangled.
There are still many effects that he deals with. He fights a daily battle with pain. He has to wear a brace so his leg won't collapse. His ribs hurt when he lies down. He speaks with a stutter because of the brain injury.
And there are the lingering emotional effects.
"One of my buddies that was killed, he was one of the best guys that I've ever known," Todd said. "And God took him. By all rights, he should be the one to be OK with his family. So the only thing I could come up with for why I am still here is that God's not done with me yet."
His faith and his family—Tara and their son—have helped him every step of the way. Tara has been there since the explosion, through the many operations, through the rehab, through the emotional trauma.
But even though their marriage is strong, the journey to Alaska with Operation Heal Our Patriots was just what they needed.
"Our life in Texas is pretty much full of doctor appointments and taking care of our health, but not really getting a chance to pull away and just taking care of our marriage and ourselves," Tara said.
They enjoyed the bear watching and fishing and also learned some things during the marriage enrichment classes.
"We talked about how to communicate with your wife on things that she wants versus what I think she wants," Todd said.
The Plybons are happy in Texas. Todd no longer wants to move to Alaska. But their week with Operation Heal Our Patriots is one they'll never forget.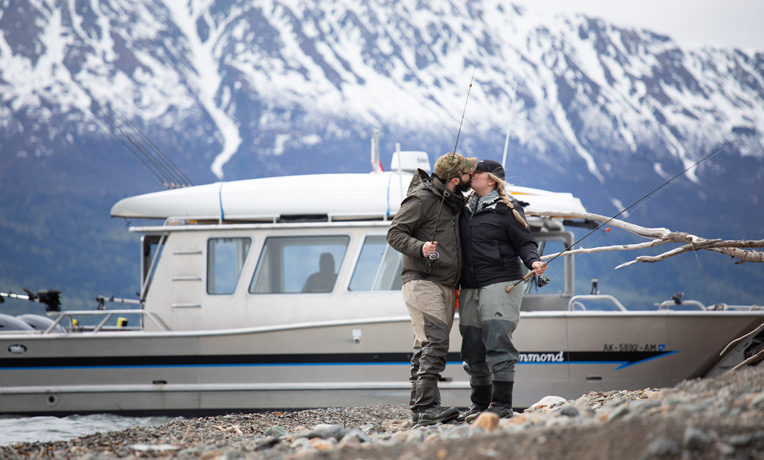 Bless the Marriage of a Military Couple
Operation Heal Our Patriots helps military couples build a strong spiritual foundation during a week of Biblically based workshops, relationship-building wilderness activities, and individual care by our retired military chaplains. We offer all this free of charge to these American heroes as a token of our appreciation for their service and sacrifice. Your gift will help us cover the costs—including transportation, lodging, activities, and long-term Family Care—so that we can help them find hope in the Lord.
---
Operation Heal Our Patriots 013960
Suggested Gift: $60