The first week of the Operation Heal Our Patriots 2019 program in Alaska concluded Friday with five couples rededicating their marriages to God and four individuals being baptized.
Bless the Marriage of a Military Couple
013960
When the nine wounded military service members and their spouses arrived at Samaritan Lodge Alaska on May 26, they were strangers, but six days later, they left as friends—renewed, refocused, and with new tools to sustain their marriages.
After starting their week with a special Memorial Day observance, the couples participated in a kayak lesson in Hardenberg Bay. Their experiences in the tandem vessels provided tangible examples for the lessons in communication and other Biblically based marriage principles throughout the week.
Taught by military chaplains, the marriage classes each morning and evening were interspersed with hiking, fishing, and seaplane excursions into the more than 4 million acres of Lake Clark National Park. During the course of the week, couples sighted moose, bear, dall sheep, and bald eagles in the midst of their adventures.
Putting God First
For retired Navy SEAL Caleb Jones and his wife, Jenna, of Gig Harbor, Washington, the week was a turning point. The night before they left for Samaritan Lodge Alaska, Jenna told Caleb, "I don't want to go there with you."
"It wasn't that I didn't want to come to Alaska," she said, "I just didn't want to come with him."
After 10 years in the military including deployments to Afghanistan and Yemen, Caleb was medically retired due to stage 4 cancer in his parotid gland. Doctors link his disease to heavy metal and radiation exposure during his duties as a SEAL.
He is currently in remission, but the stresses of four kids and his involvement in a start-up business took a toll on their marriage. They had no honeymoon, nor any vacation in the past decade.
"Just put God first. That's all that matters."
At the close of the week, Caleb said, "Within 48 hours of being here, all that stuff went away—it was like starting over completely…It has been a huge blessing to be a part of this."
Jenna also said, "We have a big, loud family and a crazy life. It took just being here to realize that we were overcomplicating it. Just put God first. That's all that matters."
The Joneses were one of five couples to rededicate their marriage to God on the shores of Lake Clark the morning before they left Alaska.
A Fresh Start
Friday morning, Army sergeant Derek Coble and his wife, Nina, of Suffolk, Virginia, not only rededicated their marriage to the Lord, but were also baptized in front of fellow patriots and the staff of Samaritan Lodge Alaska.
A believer for 10 years, Nina testified before the event, "This is just giving me a fresh start not only in my marriage, but in my faith and my family life."
Derek was hit by an improvised explosive device in Afghanistan in January 2010 and, in turn, developed an inoperable brain stem tumor.
He said of his week in Alaska with Operation Heal Our Patriots, "This gives you all the tools you need to be successful in marriage forever…It's the grace of God that we came here. Everywhere we turn people are pushing us in the right direction."
'The Battle's Been Won in Christ'
Just before getting on two of our CASA 212 aircraft to begin their journey home, the veterans and their spouses gathered around the fireside at Samaritan Lodge to share their reflections from the week.
As one-by-one each participant spoke, Derek said, "It taught me how much we can take from the Bible and apply it to life."
Army Captain Jimmy Hahn of St. Augustine, Florida, who came with his wife, Courtney, wrapped up the week by saying it comes down to paradigm shift. He said, "Everyone here—including spouses—has fought through something. It's getting excited about the fact that now the fight is raising our children. They forced us to slow down enough to encourage a different thought process. We're not going to focus on surviving. We're going to focus on progression."
Mark Lang, program manager for Samaritan Lodge Alaska, concurred as he wrapped up the time: "You've fought in war. You've fought for your country. Now you're going to fight for your families—the battle's already been won in Christ."
"It taught me how much we can take from the Bible and apply it to life."
Please pray for participants from Week 1 of Operation Heal Our Patriots as they readjust to their lives at home with the new tools they gleaned from their time in Alaska. Also pray for week two participants to encounter God during their week at Samaritan Lodge.
For articles and videos from the 2019 season, visit our Operation Heal Our Patriots landing page.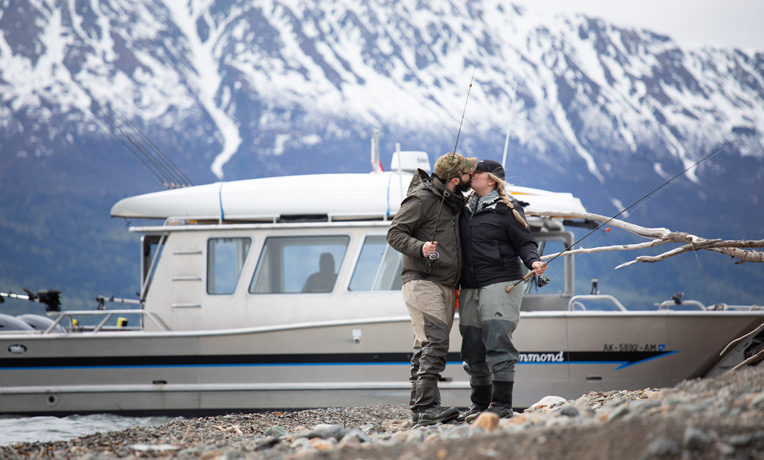 Bless the Marriage of a Military Couple
Operation Heal Our Patriots helps military couples build a strong spiritual foundation during a week of Biblically based workshops, relationship-building wilderness activities, and individual care by our retired military chaplains. We offer all this free of charge to these American heroes as a token of our appreciation for their service and sacrifice. Your gift will help us cover the costs—including transportation, lodging, activities, and long-term Family Care—so that we can help them find hope in the Lord.
---
Operation Heal Our Patriots 013960
Suggested Gift: $60