Bunj Hospital in South Sudan breaks ground on an expanded facility that will help save countless lives in Jesus' Name.
Dave Holzhauer was at a bit of a loss.
As the area coordinator for Samaritan's Purse in Maban County, South Sudan, he was hosting heads of local and national government, United Nations officials, and the refugee council leader. All of them were on hand to help break ground on a multimillion dollar expansion project to significantly expand the facilities of Bunj Hospital.
The problem was, this ceremony was impromptu, and Dave had not prepared a formal presentation for the event.
Facing the heat and several expectant eyes staring at him, Dave did what Samaritan's Purse field staff are trained to do in a challenging situation—he thought of a solution and acted quickly.
"I saw this pole—a stick actually—on the ground and decided to utilize it," Holzhauer said. "I held it up and was trying to think of what to say with it."
That is when God intervened and gave Dave the words he needed.
"I proceeded to explain how these poles are the foundation of Maban," Holzhauer said. "They [are used to] build houses, stores, and today, with this pole, we are building a new expansion on the hospital."
His words were simple, but the message this project conveys to the people of Maban County is more than what any words can convey.
"This expansion is a symbol of hope, of all of us coming together to build something that will help both the refugees and the host community," Holzhauer said.
New and Improved
Bunj Hospital is adjacent to the Doro refugee camp, where Samaritan's Purse is providing food, shelter, clean water, and healthcare to more than 45,000 people who have fled violence around their homes in Sudan. It is the only healthcare provider in all of Maban County to offer anything more than basic services—namely specialized surgical care and life-saving nutritional programs.
This one hospital has about 60 beds but often accommodates more than 100 patients, using cots and mattresses laid out on the floors. Nearly 2,000 patients come through Bunj Hospital every year.
Dr. Lance Plyler, emergency medical response manager at Samaritan's Purse, attended the groundbreaking ceremony. He was in Maban assessing how this building project would impact the hospital and what additional staffing and services would be needed after its completion.
"The new general ward, surgical theater, isolation ward, nutritional stabilization center, radiology suite, central medical storage facility, and laboratory will help us expand and enhance our medical outreach to the residents as well as refugees here," Dr. Plyler said. "Although the focus at Bunj Hospital remains surgical and obstetrical intervention, other programs will be improved, specifically tuberculosis and inpatient medical services."
The hospital functions as a referral facility for primary healthcare centers operated by other partners in the four refugee camps in Maban County and the host community. The next closest facility that offers surgical services is Malakal Hospital, which is inaccessible for most of the rainy season. Even in the dry season it is a seven-hour drive from Bunj.
Samaritan's Purse began operating Bunj Hospital in January 2012, and since then more than 600 life-saving surgeries have been performed. Most of the operations have been conducted by the only doctor we had on staff at the time, Dr. Evan Atar. He was working or on call 24 hours a day, but Dr. Atar now has the help he needs.
"With this expansion, we have increased our full-time medical staff," Dr. Plyler said. "In addition to Dr. Atar, we have added two doctors, a nursing staff director, and a nurse midwife, along with employing more nurses and lab technicians from South Sudan."
Standing Tall for Christ
Maban County has a population of more than 200,000 people, including over 110,000 refugees. Men, women, and children living in the area have a poor understanding of healthcare and hygiene, which means preventable diseases such as malaria, diarrhea, and acute respiratory infections are rampant in the area.
Many patients don't seek medical help until their illnesses are advanced. The improvement of Bunj Hospital is meant to help change that. This expansion project means we can effectively treat more patients, while sharing with them the healing power of God's love.
"We are the only ones here to help them, and we are the only witness for Christ among these people," Atar said. "Jesus gave His love to us, without asking for anything in return. Here, we do just a little to help, but God is with us. We can't do anything by ourselves."
A bright future can be hard to see from Maban County. Bunj Hospital stands as a pillar of hope for the sick and afflicted.
"We've been working hard to get to this point—many proposals, budgets, meetings, and pleas for funding have been made," Holzhauer said. "We've been blessed to work with partner agencies like MSF, Medair, UNHCR, and the Ministry of Health to create something that enriches and saves lives."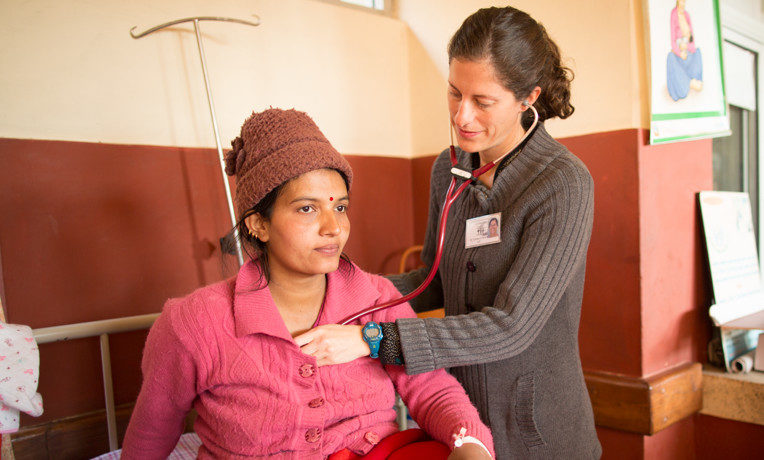 Help Renovate a Christian Hospital
Your gift will help us build or upgrade surgical suites, emergency rooms, maternity wards, and other medical facilities as a lasting testimony to God's healing power. "He received them and spoke to them about the kingdom of God, and healed those who had need of healing" (Luke 9:11).
---
Hospital Construction and Upgrades 013805
Suggested Gift: $35,000 | Share the Cost: $175