Little steps of faith propelled a World Medical Mission radiologist and his wife on a journey of service that has impacted lives on three continents.
Ten years ago, Dr. Read Vaughan and his wife Suzie were empty-nesters who were nearing their retirement years and looking for a new adventure. They felt the Lord calling them to serve abroad—something they had planned to do for years—but they had no clear direction.
"I was waiting for a voice from God telling us where to serve," Read recalled. "But Suzie suggested we should just put ourselves out there and trust Him to direct our steps."
The Montana couple traveled to North Carolina to attend their first Prescription for Renewal conference, hoping to learn about opportunities through World Medical Mission. Read wanted to put his skills as a radiologist to use, but he knew that most mission hospitals had limited X-ray capabilities.
During the 2008 conference, Read met doctors from Tenwek Hospital in Kenya, and he was excited to learn that his expertise was greatly needed there. The Vaughans had already scheduled a family vacation to East Africa the following spring, so Read decided to tack on another week to visit Tenwek.
His inaugural trip was memorable. "At the airport we confused our luggage. Read went to Tenwek with my skirts, and I flew home to Montana with his catheter equipment," Suzie said. "That was his debut."
It was also Read's first mission trip since a four-month stint in Liberia during his medical school days. Since then the Vaughans have served with World Medical Mission 10 times at Tenwek and made four trips to our partner hospitals in Honduras, Peru, and Ethiopia.
"We responded by taking baby steps, with just a small yes at an opportunity to go and serve," said Read. "Then God kept showing us ways that we could help and meet a need. Now Tenwek has become a huge part of our lives and we are able to see Him work in incredible ways there."
Finding a Niche
There's no doubt Read and Suzie are a dynamic duo, and both were acknowledged for their numerous contributions to Tenwek Hospital and the outlying community at last year's Prescription for Renewal conference.
Read was honored with the "In the Footsteps of the Great Physician" plaque, awarded each year to a World Medical Mission volunteer for distinguished foreign medical service. As a "champion" for Tenwek's radiology department, he has been instrumental in recruiting dozens of Christian radiologists, raising donations for new equipment, and serving patients with compassion and a commitment to sharing the Gospel.
Suzie was recognized for initiating the "Threads of Hope" sewing school and other programs that specifically minister to the needs of vulnerable women and children in the Tenwek community.
Read's initial introduction to Tenwek would pave the way for everything else that has transpired since 2009. He found a tight-knit community of missionaries. His skills and insight were readily welcomed in the radiology department. And the opportunity to teach Kenyan interns and residency students was a dream come true.
"It was a place where we could get plugged in," he said.
During the first few times they served in Kenya, the Vaughans would go once a year for a two-to-four week stay, fully immerse themselves in Tenwek life, and then return to their quiet world in Montana. But their level of commitment changed dramatically in 2011 with an exciting new development at the hospital—the installation of a CT scanner in the radiology department.
That meant the need for radiologists multiplied virtually overnight. At the time, there were only Read and a few others who served at Tenwek on an intermittent basis. However, Read agreed to do whatever he could from at home in Montana to help recruit volunteer radiologists.
Working with World Medical Mission staff, Read's ongoing efforts have produced a network of over 100 Christian radiologists from across the United States and Canada who are interested in overseas missions. About 40 of these doctors have either gone to Tenwek or participated from home doing teleradiology readings—sending online interpretations of scans when there is no radiologist onsite at the hospital. These volunteers interpret more than 3,000 CT scans a year for Tenwek.
Through this network, Read also helped raise funds for equipment—including three new X-ray machines and four ultrasound machines—and to remodel the radiology department. Read's and Suzie's involvement with the hospital further deepened when he was invited to join the board of directors of Friends of Tenwek, a non-profit organization that develops relationships and resources to help the hospital fulfill its mission.
"God has expanded our territory. We had not planned on or had a vision for any of these things, but as God cracked open the door, we walked through it," said Suzie.
Championing the Marginalized
While Read devotes his time to the radiology program, Suzie has found her calling as an advocate for the vulnerable women and children who live in the greater Tenwek community. Her heart is especially burdened for the single mothers, prostitutes, widows, and orphans who are castaways in their villages.
Through the "Threads of Hope" sewing school that she initiated in 2017, needy women learn a vocation and are mentored spiritually. Graduates work to earn a sewing machine after completing the eight-month program. Suzie also started a sewing ministry that employs local women to sew reusable cloth sanitary pads for schoolgirls and female prisoners.
In addition, she and Read helped establish the Faith Fund two years ago that has thus far provided physical therapy for 300 special needs children and distributed 150 wheelchairs.
Whether they are at Tenwek or working on its behalf 8,000 miles away in Montana, the Vaughans are grateful for the privilege to serve. They can't wait to see what door of opportunity the Lord opens next.
"We are so glad we said yes 10 years ago," Read said. "Our faith has deepened, our marriage has been enriched, and along the way we have made a ton of new friends. It has been a wonderful journey."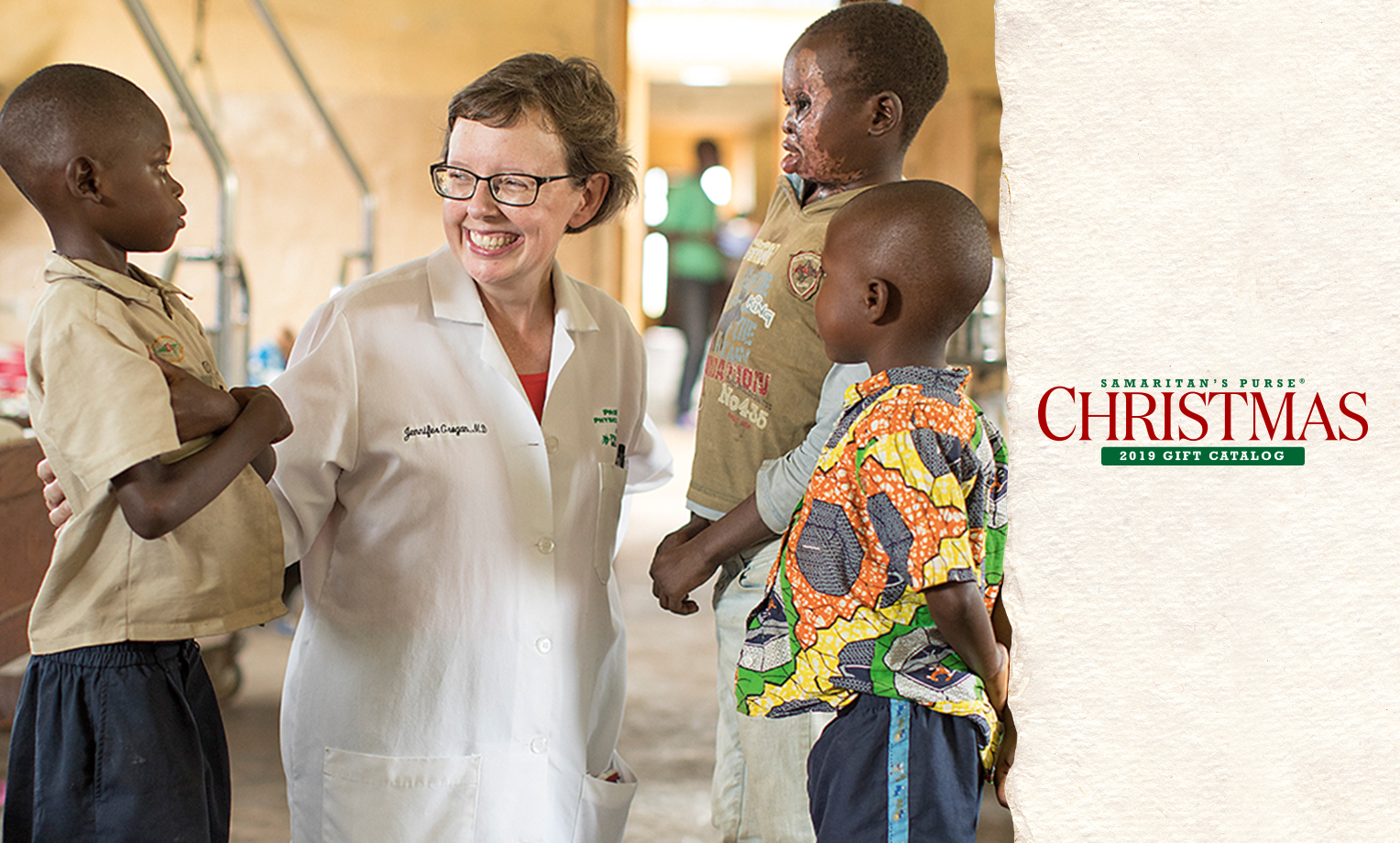 Support a Mission Hospital
Throughout His earthly ministry, Jesus demonstrated compassion for the sick and suffering, "preaching the Gospel of the kingdom, and healing all kinds of sickness and all kinds of disease among the people" (Matthew 4:23). He met their physical needs while revealing their greater need for healing from the disease of sin. Each year, Samaritan's Purse sends hundreds of volunteer doctors, nurses, and dentists to serve through our World Medical Mission on short-term volunteer assignments in Christian hospitals worldwide. These compassionate medical workers follow the example of the Great Physician, ministering to the physical needs of their patients while pointing them to the Savior and Healer of their souls. Your gift will help support Christian hospitals as they proclaim the Good News of eternal life and salvation.