Samaritan's Purse dedicated three new manufactured homes, out of 47 planned for delivery to the recovering California town.
Paradise, California, is rising up out of the ashes. The 2018 Camp Fire that took 85 lives, destroyed more than 18,000 buildings, and forced 52,000 people from their homes will not have the last word.
Through a partnership with North Valley Community Foundation and Paradise Alliance Church, Samaritan's Purse is replacing 47 manufactured homes for individuals and families who lost theirs in the horrific fire. On Thursday, partner representatives gathered to dedicate three of the new homes and to ask God's blessing on them.
'The Nicest Place I've Ever Lived'
The first home dedicated belongs to Teddy Glaum, a U.S. Army veteran. Ten days before the Camp Fire roared through the town on Nov. 8, 2018, Teddy moved into his little log cabin that had been built in the 1930s. It needed a new roof before it could be insured, so he and a friend worked to replace the old shakes with shingles. They planned to finish the ridge of the roofline on Thursday morning and get the insurance that day. But at 6:40 a.m. the sky turned black. Teddy grabbed his important papers as well as his medication for his diabetes and headed out of town. He said it took him three hours to go two and half miles because "there were places on fire all over the place."
"I was brokenhearted," Teddy said. "I loved that little cabin."
Teddy found out about the home replacement program, applied, and was grateful to move in 10 days before the dedication.
"This is a blessing beyond description," he said, "Sometimes when I think about it, I just have to start laughing. I just get bubbly inside. Not only having a place to live but how beautiful it is. This is probably the nicest place I've ever lived in."
At each stop, Bruce Poss, director of Samaritan's Purse North American Ministries, presented the homeowners with a Billy Graham Study Bible signed by people who served with Samaritan's Purse in Paradise.
After receiving his Bible, Teddy mentioned that the passage of Scripture about God's care for the birds (Matthew 6:25-34) brought him comfort as he was living out of a trailer, wondering when he'd be able to go home. When he did return, he even saw God provide for the environment around him. He'd lost 30 trees on his lot due to the fire, but Paradise Alliance gave him six new trees, including a plum and an apricot, that he planted on either side of his driveway.
A Free Gift
At each home dedicated, Bruce also presented the homeowners with a framed invoice of all the components of the home. Stamped across the frame in red letters it reads "PAID IN FULL" as a testimony to the fact that Christ paid the debt of our sin at the Cross.
When homeowner Susan Van Horn received her framed copy of this invoice, she began to weep. She admitted to struggling all her life with feeling like she needed to earn everything.
"I don't know how to express how much it means," Susan said of her new home.
She'd moved into the double-wide trailer on her property a year before the fire, but it was uninsurable due to all the additions that had been constructed by the previous owner.
She fled when the Camp Fire threatened the area and she slept in her car before a stranger offered her a place to stay. Later, she moved into a temporary trailer, but as soon as January 2019, she began visiting to her property to nurse her fig tree back to health. She also began planting eggplant, sweet potato, and cantaloupe, as well as zinnias for the hummingbirds.
"Having the garden and some sense of normalcy kept me going," Susan said.
Susan hopes to move into her new home after the final inspection takes place next week. As she walked around it in its nearly finished state, she marveled at the soft-close cabinetry, blinds that push open without a string, high ceilings, and the prospect of taking her first bath in the house.
"I'm seeing this as a new start," Susan said. "I've received so much and I've got to pay it forward."
Coming Home
Johnny Mason, his wife Suzy, and their three children are excited that their new home will be arriving on their property later this month. They moved back there in an RV three weeks ago when they found out they were approved for the rebuild program.
When Camp Fire hit, Suzy rushed to pick up their oldest son at school before fleeing with the kids through the flames. Johnny left separately in another car, and just as they met up at a restaurant in Chico, he ran out of gas. They realize that day could have turned much worse.
Suzy said it has been spectacular recently to pick out paint, flooring, and appliances for the new place that will replace their 1977 trailer. She's most looking forward to getting their dinner table in the house to have a meal together.
"If it wasn't for Samaritan's Purse, we wouldn't be able to come home," Suzy said.
The couple was emotional as they received the gifts from Samaritan's Purse. In addition, North Valley Community Foundation offered each of the homeowners gifts from local partners that included a wooden carving of a phoenix (the mythological bird that rose out of flames) as well as some cookies to help their new house feel like a home.
Pastor Josh Gallagher, lead pastor of Paradise Alliance Church, closed each presentation with a prayer of blessing for the home.
Committed to Restoration
Pastor Josh experienced the blessings of Samaritan's Purse ministry firsthand when volunteers sifted through the ashes of his home and, in answer to prayer, found remnants of his wedding ring. Paradise Alliance also served as a Lighthouse church—a base of operations for our volunteers following this fire.
Through this varied involvement with us, he's thought a lot about the parable of the Good Samaritan. Pastor Josh is grateful that his town has received much—like the hurt man who was helped. But he also sees another angle of the parable:
"The local church is now the innkeeper," Pastor Josh said. "They [Samaritan's Purse] have equipped us and given us everything we need to effectively take care of the community that they have come in and loved so well. Just as the Good Samaritan said, 'I will come back,' they have come back. There's been that follow through that's been second to none."
He notes that Samaritan's Purse has been a part of every community event they have sponsored since the fire, including the 2018 Christmas Eve service, the ongoing weekly communitywide dinners, and now, the new home replacements. Paradise Alliance plans to follow up with homeowners at four different points with 'welcome home baskets' and other gifts.
Samaritan's Purse first arrived to serve homeowners in Paradise just eight days after the fire began. More than 1,900 volunteers gave over 47,000 hours of service to complete work orders on more than 1,200 homes. During this time, 175 people came to faith in Christ. The work continues through the partnership with North Valley Community Foundation and Paradise Alliance. Pastor Josh notes that since the fire, more than 50 percent of his congregation of 375 are those who started attending after the tragedy.
Samaritan's Purse will continue to stand with Paradise in the days ahead. "Disasters happen but recovery takes a long time," said Bruce Poss. "So, it's important to Samaritan's Purse that we're able to support homeowners for the long haul."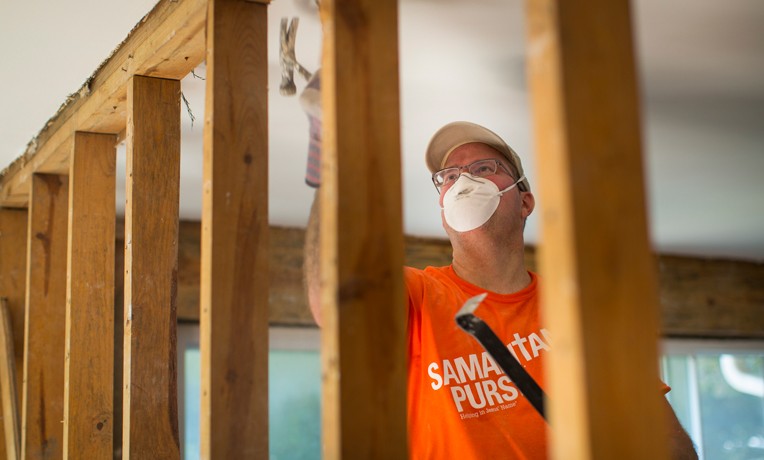 U.S. Disaster Relief
Samaritan's Purse mobilizes and equips thousands of volunteers to provide emergency aid to U.S. victims of wildfires, floods, tornadoes, hurricanes, and other natural disasters. In the aftermath of major storms, we often stay behind to rebuild houses for people with nowhere else to turn for help.
---
U.S. Disaster Relief 013622