In the country's volatile Ituri Province, Samaritan's Purse is helping build houses of worship—emblems of peace and refuge in the Lord Jesus Christ.
Build a House of Worship
013757
Pastor Mbunya smiled heartily as he welcomed visitors out of the afternoon rain and into the new building in the village of Chykele where his congregation was now able to worship. They had endured decades of uncertainty about where they would gather each week as a church family. But now that question was finally answered.
The pastor laughed, pointing in disbelief to the iron-sheeted roof where the rain chattered loudly. Having a more permanent roof over their heads had been the dream of decades for this church, Communauté Evangélique au Centre de l'Afrique (Evangelical Community of Central Africa).
"After 29 years, what can I say?" he said.
There had been many false starts along the way, but now they could finally find shelter in a finished structure where they could worship and celebrate the work of God.
And this time they would not need to tear the whole thing down, which happened in 1993 when a construction error resulted in their structure not being able to bear its own weight.
Later, in 2005, they were forced to flee to neighboring provinces and countries when armed groups drove them out—just one more tragedy in a bloody, long-running tension between local militia in Ituri and the national army. For nearly two years, the village of Chykele was without inhabitants. When they did come home, the church's unfinished building had been vandalized beyond repair.
"There were bullet holes everywhere," Pastor Mbunya said, sighing deeply as he spoke. "The roof had been shot through and gaping holes were visible as a result. We had to take everything down again."
Seeing God's Hand at Work
Churches in the Democratic Republic of the Congo (DRC) face many difficult challenges, and this is why for more than a decade, Samaritan's Purse has been working in this central African nation. As we serve alongside congregations to help hurting people in their communities, we have also been providing these churches with materials to construct, repair, or rebuild places of worship that will last for years to come.
Pastor Mbunya learned about Samaritan's Purse through our many workshops and training events in the region. He wrote our staff a letter, and then "one day we were surprised to see a truck arrive at the church compound with building materials."
Using the materials we provided and construction crews from the area, the church began to take shape again atop the foundation they had built years before. By the fall of 2022, the finishing touches on the structure were being put into place.
A reliable church building in this rural area has a multifold impact on the community. Of course, first of all, church members now have a dedicated space for gathering and a place from which to carry out the ministry of the church. But such a structure in such a place also attracts the attention of the whole area and draws people toward opportunities to hear the Gospel and experience the love of God in Christian community.
"We have seen the hand of God in all this and His blessing with this support from Samaritan's Purse," said Pastor Mbunya, who has hopes that one day soon they will be able to host conferences and training to strengthen other churches in the region. "The impact of the church construction has been very visible. A lot of people are now attending the church services after seeing the beautiful building that the church is now. We are very happy, motivated, and have courage to serve the Lord in this new sanctuary."
Thanking God for His Perfect Timing
In the nearby village of Sorodo, Trophine, a church elder, had dreamed his whole life of such a sanctuary—one that would alleviate some of the problems and structural concerns his church, Evangelical Assembly of Sorodo, had carried for many years.
For nearly three decades, the small structure of grass-thatched roof and mud walls created fears of collapse. The building struggled in the wind and rain. In September 2019, a storm ripped through the region and those concerns became reality—a strong wind blew and completely tore out the roof of the church and destroyed the building.
But now he can look back on that difficulty with more gratitude, because 2022 was the year when God used Samaritan's Purse to meet the church's need—providing materials and other resources necessary to rebuild.
"We thank God for Samaritan's Purse, for in His perfect time, He brought them to us."
In November, after many years gathering in a local school building, they held their first services in the new building.
The quality constructed permanent structure gives the church greater opportunities for outreach, education, and community engagement.
"We thank God for Samaritan's Purse, for in His perfect time, He brought them to us," Trophine said, expressing his hope for future generations of families in Sorodo. "Without those who gave to this project through Samaritan's Purse, this would not have been possible. May God bless you in abundance."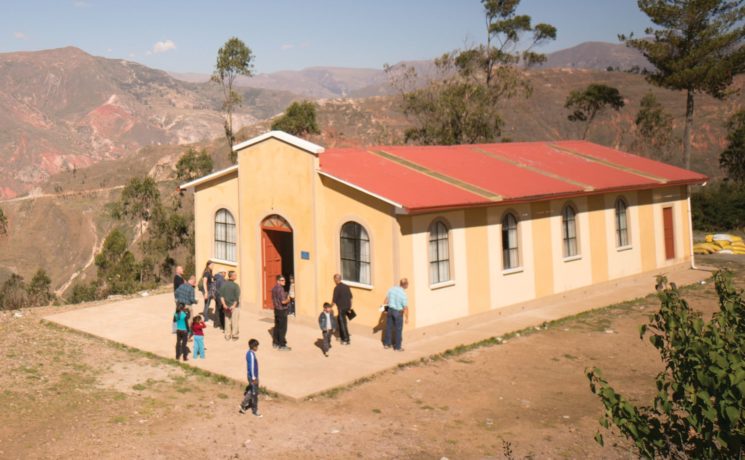 Build a House of Worship
When Jesus asked the disciples who they believed He was, the Apostle Peter declared: "You are the Christ, the Son of the living God." Jesus replied, "Flesh and blood has not revealed this to you, but my Father who is in heaven. And I tell you, you are Peter, and on this rock I will build my church" (Matthew 16:16-18, ESV). Later, Peter preached to the diverse crowds at Pentecost, and the Gospel went around the world through the power of the Holy Spirit. More than 2,000 years later, this global body of believers continues to multiply—even though many fellowships do not have a proper place to meet. Your gift helps Samaritan's Purse build or repair churches in countries like Niger and Ethiopia, where believers can meet for worship.
---
Church Construction & Bible Camps 013757