Volunteers gathered both for training and to praise the Lord for all that was accomplished in 2017, especially our hurricane relief work.
When Samaritan's Purse volunteers deploy to a disaster site, they wear orange shirts, joining forces with the Billy Rapid Response Team chaplains, who minister in blue shirts. Whether it be after a hurricane, tornado, flood, wildfire, or ice storm, the two sets of volunteers work side by side in Jesus' Name to help storm victims recover and rebuild their lives.
That marvelous mixture of orange and blue was celebrated June 8-10 at the 10th annual North American Ministries volunteer conference in Asheville, North Carolina. Some 420 volunteers and staff gathered at the Billy Graham Training Center at The Cove, and together they praised God for all He did throughout 2017—and is continuing to do as volunteers answer the call to serve when tragedies strike.
Two of our many response locations from this past year—Key West, Florida, and Pearland, Texas—were particularly in the limelight at the volunteer conference.
Powerful Combo in the Sunshine State
"The orange shirts and the blue shirts were seen in our community as helping hands," said Jonathan C. Carey, lead pastor at Glad Tidings Tabernacle in Key West.
The church served as our base of operations during our response to Hurricane Irma, which ripped into Florida last September. Pastor Carey was one of the four speakers during the volunteer conference.
Key West isn't just a popular vacation destination. It's also known for its bawdy celebrations, including its annual Fantasy Fest held in October. At times, an evangelical outreach isn't welcome in the city, especially if seen as a threat to the local economy during Fantasy Fest, which last year had "pitchforks and horns" as part of its theme.
"The quality of your work and the quality of your witness won the community over," Pastor Carey explained. "The city had a sympathetic heart toward you and toward us as a church."
In fact, he recalled a phone call from the city's mayor one day when he told him: "Johnny, every morning when I come to work, there are hundreds of people by your church in orange shirts and blue shirts, and they're holding hands and praying. Then they're going out and doing the hard, dirty work in our community to help us clean up. I totally admire what your God is doing."
That good will opened doors for evangelism. Not only did Samaritan Purse volunteers and RRT chaplains share the Gospel with homeowners and present Bibles to each household where we served, church members from Glad Tidings joined forces with the chaplains to witness on the streets during Fantasy Fest. Ninety people committed their lives to Jesus during this two-month deployment.
Mike and Terezinha Mullen of Pompano Beach, Florida, postponed an anniversary trip to New England to volunteer with Samaritan's Purse in Key West. Reflecting on their weeklong deployment assisting fellow Floridians, the couple thought of Matthew 5:16. That verse says, "Let your light so shine before men, that they may see your good works and glorify your Father in heaven" (NKJV).
"There were hundreds of people serving there, spreading spiritual seed on that fertile ground," Mike said. "What a privilege to be a small part of it. God's Word never comes back void."
Terezinha added, "Our vacation can wait. We wanted to put God first and be obedient to Him. This was an opportunity to serve the Lord and help people who were hurting."
Larry and Marianne Siers of Elizabeth, West Virginia, were also among those who came to serve in Florida last year. They were most familiar with Samaritan's Purse through Operation Christmas Child, having packed shoebox gifts for children. During this disaster relief deployment, they put into action many of the skills they use on their family farm back home—chainsawing, hauling brush, and tidying yards.
"We wanted to put God first and be obedient to Him."
The Siers especially remember a homeowner named Leona, with whom they ate meals and sang together. Leona, 83 years old and originally from the Philippines, committed her life to Jesus Christ on Oct. 3 through the ministry of our volunteers. She passed away on Oct. 9. "She was a sweetheart, a beautiful person," Marianne said. "It was an honor to have met her and be a part of her life at the end."
Working in Texas in Jesus' Name
Tom Allen, founding pastor of Crosspoint Church in Pearland, Texas—near Houston—is especially grateful for the presence and work done by Samaritan's Purse volunteers and RRT chaplains. Crosspoint hosted our teams after Hurricane Harvey stalled and dumped more than 50 inches of rain late last August. Over 550 families in Pearland were helped and ministered to during an 11-week disaster relief deployment. (Across five locations in Texas, our volunteers helped a total of 3,000 homeowners and 540 people came to faith in Jesus Christ in 2017.)
And our volunteers are still at the church, this time working on our rebuild project. We also have a similar project in Rockport. We're committed to helping put up to 1,000 families back into homes.
"Crosspoint was supposed to have had what we call a 'Going Public Weekend,' when Hurricane Harvey hit," Pastor Allen explained. "We were set to baptize 60 people, but it got rained out."
Instead, it was pushed back to October. At that time, more than 120 people were baptized. "Many of those came to faith in Jesus Christ through the ministry of Samaritan's Purse and RRT chaplains," he said. "We may now talk about the Harvey disaster, but years from now, we'll be looking back on it and calling it the Harvey revival."
Perry and Patty Conrad of McDonough, Georgia, were two of the 2,468 people who volunteered in Pearland. They especially remember the impact our teams made in the lives of a Muslim family. Our teams "mucked out" their house and prepared it to be rebuilt.
"When we got there, the daughter was taking care of things and was very cautious," Perry explained. "She wasn't hostile, just guarded. She asked us why we drove 16 hours to come help her and her parents. We told her because we wanted to show God's love to them. By the time our team finished the work, she was smiling and expressing her gratitude. That's God at work."
Emma Baker and Brenda Hart, fellow members of the Upper Path Valley Presbyterian Church in Spring Run, Pennsylvania, have volunteered more recently in Pearland on the rebuild phase.
"I want to do whatever I can to be the hands and feet of Jesus and to help others while I can," Brenda said. "It just touches my heart."
Emma added, "What I like about Samaritan's Purse is that everything is done in Jesus' Name. It's all about Him."
To see volunteer opportunities with Samaritan's Purse North American Ministries, please visit our volunteer network.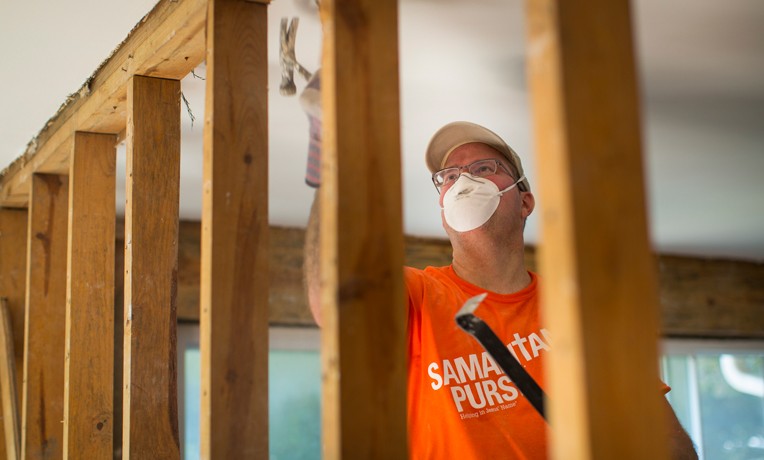 U.S. Disaster Relief
Samaritan's Purse mobilizes and equips thousands of volunteers to provide emergency aid to U.S. victims of wildfires, floods, tornadoes, hurricanes, and other natural disasters. In the aftermath of major storms, we often stay behind to rebuild houses for people with nowhere else to turn for help.
---
U.S. Disaster Relief 013622