Samaritan's Purse offers relief to a South Carolina church after a fire destroys everything but the cross.
It happened the morning of his son's birthday. Pastor Bobby Jones awoke abruptly at 3:20 a.m. on June 26 to look out his window and see a horror he only wished was a nightmare.
The church he had pastored for more than 30 years was engulfed in angry flames. Within minutes, Glover Grove Missionary Baptist Church was completely destroyed.
"My heart dropped," Pastor Bobby said. "Everything burnt—even the trees ten feet away. But the cross was still there."
This South Carolina church was one of six across the South that burned within a week and a half of the mass shooting at Emanuel AME Church in Charleston, South Carolina. On June 17, nine people were murdered at Emanuel while attending a Wednesday night Bible study.
Samaritan's Purse has responded to the fire at Glover Grove by sending a small team of North American Ministries staff with heavy equipment—two bulldozers and an excavator—to Warrenville, South Carolina. They are assisting the church in the demolition process so the congregation can later rebuild. Work on the church began Tuesday, August 4, and is expected to finish at the end of the week.
"I don't even have the words to describe the brothers down here working," Pastor Bobby said. "They're doing a tremendous job…They show what love is all about."
The Cross Still Stands
Program Manager Jonathan Blevins said the day our team started work on the church was one he personally had been looking forward to for nearly a month.
"The only request that Pastor Bobby has asked during our conversations is that we save the cross on top of the steeple," Jonathan said. "This was the only item that remained undamaged in the fire."
The team rescued the cross before the demolition was completed so they could clean it up and present it to Pastor Bobby. On Wednesday, August 5, a small group of Glover Grove's congregation circled in the place the church once stood for the presentation of the cross.
"It serves as a great reminder that no matter what life throws at us, the cross will always stand true," Jonathan said.
Pastor Bobby plans on using it in the new building. To him, the fact that the cross is the only part of his church unburned represents hope.
"God allowed this to happen to bring people together, and I know now that's the most important thing," he said. "I guess these tears I shed are tears of joy. It's brought me closer to the Lord. I didn't know you could feel as good as I feel now, even when things are so bad. But things are so good, and we haven't even been built yet."
Pastor Bobby said because of Samaritan's Purse relief efforts, the money he would have had to use to take care of the demolition and damage can now jumpstart their fund to rebuild Glover Grove.
"I can't thank you all enough," he said. "I'm 73-years-old, and I've never seen so much love in all my life, like the love that has been poured out on that field."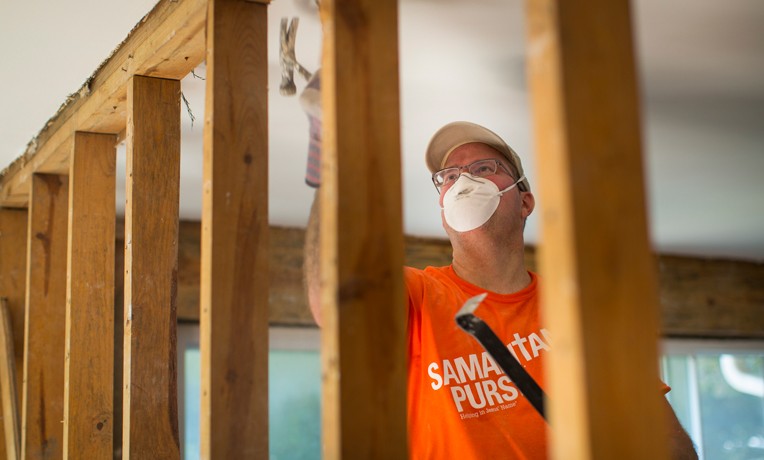 U.S. Disaster Relief
Samaritan's Purse mobilizes and equips thousands of volunteers to provide emergency aid to U.S. victims of wildfires, floods, tornadoes, hurricanes, and other natural disasters. In the aftermath of major storms, we often stay behind to rebuild houses for people with nowhere else to turn for help.
---
U.S. Disaster Relief 013622