Samaritan's Purse volunteers help after 31 years of memories are swept away by the San Marcos floods
Melonee Gordon was heartbroken when she returned to her home after the historic floods that inundated San Marcos, Texas, over the Memorial Day weekend.
"I've lived her for 31 years," she said. "I have a lot of good memories here. This is our house. For us to walk in here and see mud everywhere, you can't even walk in the door because you're going to slide down … I just started crying.
"It was a nightmare. It was like something off TV."
Nearly 1,000 miles away, Rick Simpson was watching coverage of the disaster on TV.
"I saw the flooding on the news, and I knew I had to do something," he said. "So I loaded my truck up and drove 986 miles from Evansville, Indiana, to San Marcos, Texas."
Rick volunteered with Samaritan's Purse to help people like Melonee recover from the flood.
"It's important for the homeowner to know that there is help, there is hope, that there is somebody out there who cares about them," he said.
Staff and volunteers working out of our base at PromiseLand Church in San Marcos are helping storm victims by cleaning the mud out of flooded houses and removing waterlogged belongings, tearing out damaged sheetrock, insulation, and flooring, and spraying for mold.
Through June 17, more than 1,800 volunteers had helped 250 homeowners.
That includes Rick and his team being the hands and feet of Jesus to Melonee. They arrived when she was at her lowest moment, and helped give her hope.
"God has really given me peace," she said. "Because of Samaritan's Purse, I feel a whole lot better. I can smile. If it hadn't been for the volunteers, everybody coming over and giving hugs, cleaning, talking down Sheetrock, I don't think we could have made it this far. Everyone is just loving. They just pour out love. I just receive it and pour it right back to them. I just love them."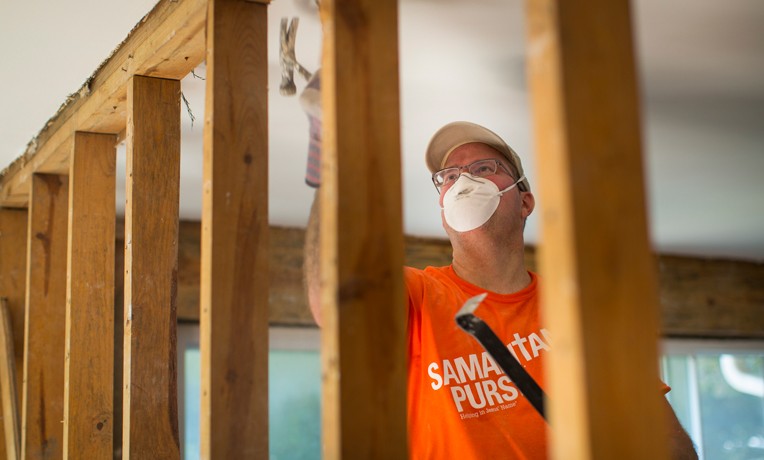 U.S. Disaster Relief
Samaritan's Purse mobilizes and equips thousands of volunteers to provide emergency aid to U.S. victims of wildfires, floods, tornadoes, hurricanes, and other natural disasters. In the aftermath of major storms, we often stay behind to rebuild houses for people with nowhere else to turn for help.
---
U.S. Disaster Relief 013622