Samaritan's Purse rebuild teams are hard at work in the Magnolia State rebuilding homes where deadly tornadoes swept through in March.
U.S. Disaster Relief
013622
Edward Graham, chief operating officer at Samaritan's Purse, visited Rolling Fork, Mississippi, August 3 to celebrate new homes provided by Samaritan's Purse for families whose homes were destroyed in the storms.
"This isn't just a gift from Samaritan's Purse. It's from the church, the body of Christ," Edward told homeowner Elijah Washington. "We go to storms to do immediate disaster relief but we also help with rebuilding communities."
Washington was in the home when the storms hit. He fled to the bathtub for cover.
"I put my boots on, and I grabbed a light knowing it would get dark and I would be scared," he said. "After I did that, I heard it and I said, 'Ok, Lord. It's here.' I put a pillow over my head and in a moment it was over. When I shone the light around, there was nothing. I got out of the tub and stepped out of the house because there was nothing else left."
Washington is one of 40 residents whose homes will be replaced as part of the Samaritan's Purse rebuild program in Mississippi. These include both single family homes and fabricated units, reinforced to withstand wind and debris during severe weather. Washington's nephew, an active duty Army service member, joined the celebration, flying in to surprise the family.
Michelle Larry and her family were also blessed by a new home "Paid in Full" through the rebuild program.
"When you ask God for something, you don't know where it's coming from," Larry said, touring her new home with Edward and her family members. "I didn't know he was going to give me this blessing."
Edward presented a special Billy Graham Study Bible to Larry and her family, explaining the special notes and insights contained in it from his grandfather, Billy Graham.
"We thank you for the Samaritan's Purse family and for blessing us to work together to get this home," Larry told Edward. "It blesses us to see people helping other people. It's above my expectations and what I expected it to be. This is everything."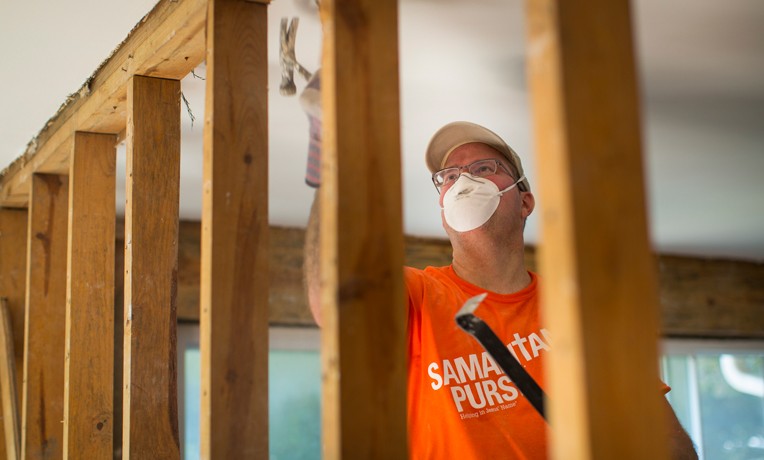 U.S. Disaster Relief
Samaritan's Purse mobilizes and equips thousands of volunteers to provide emergency aid to U.S. victims of wildfires, floods, tornadoes, hurricanes, and other natural disasters. In the aftermath of major storms, we often stay behind to rebuild houses for people with nowhere else to turn for help.
---
U.S. Disaster Relief 013622