Serving in Jesus' Name alongside local churches, Samaritan's Purse has three active bases to help those affected by Hurricane Ida.
U.S. Disaster Relief
013622
Edward Graham traveled to see Samaritan's Purse work in Louisiana on Labor Day, encouraging local families as they begin to clean up after Hurricane Ida and assuring them that our staff and volunteers are there to help in Jesus' Name.
"This is what Samaritan's Purse volunteers do all over the world—when there's disasters, we come love on our neighbor," said Graham, who serves as assistant to the vice president.
Samaritan's Purse quickly deployed to Louisiana after Category 4 Ida hit and we now have response sites in three locations (Houma; Hammond [Northshore area]; Greater New Orleans) across the southeastern portion of the state.
"This community has been devastated," Graham said of Houma. "This area had a lot of high wind damage and every roof I've seen has been destroyed. They're going to be without power for weeks."
Helping Families Get Back on Their Feet
Among those that Edward Graham met was Bradley Giroir.
Bradley and his wife, Alisha, and their six children evacuated to northern Louisiana as Ida's inland gusts roared well above 100 mph. Back home, the storm devastated their neighborhood, felling several large trees on their property.
"I was starting to get anxious about what we had to do inside, about coming back with our family and making this a safe place for us," Bradley said.
But God was already at work. Samaritan's Purse volunteers, based at Covenant Church in Houma, arrived to Bradley's home armed with chainsaws, wheelbarrows, rakes, and other supplies to help remove the downed trees.
"I just felt overwhelmed with joy that I didn't need to look for someone to help me come and do this, God was already putting the things in place that he knew I needed," Bradley said.
Our volunteers provided much needed relief. "Even in the times of crisis, in the storm, Samaritan's Purse comes serving in the name of Jesus Christ, because He loves you," Edward told Bradley.
Hurricane, Health Issues Create Challenging Situation
It was a timely encouragement as Bradley's family faces the ongoing health needs of their 7-year-old son Holden. His son's issues combined with the hurricane's aftermath had deeply burdened Bradley. "I just couldn't think straight," he said.
Holden was born with a heart defect and a genetic disorder. He has suffered through frequent medical complications and surgeries—including two open-heart surgeries within his first 15 months of life. Three years ago, the family faced another huge challenge when Holden was diagnosed with cancer following a routine doctor's visit. Still, confidence in God's plan and purpose again brought a peace beyond understanding to the Giroirs.
Praise God that Holden was declared cancer-free after months of therapy, treatment, and surgeries. "There's no doubt in my mind that prayer and a courageous team of doctors and surgeons helped this little boy beat this cancer; he's a miracle," Bradley said.
Holden's health was the key factor in the family's decision to evacuate as Hurricane Ida ravaged the coastline. He needs to be near a medical facility at all times and with hospitals losing power and overwhelmed due to COVID-19, remaining in southeast Louisiana was not an option.
Once Again, Answered Prayers
In the days following the storm, Holden developed an allergic reaction to some medication and had to be hospitalized. Bradley and Alisha, who remains up north with the kids, were forced to balance caring for their son and caring for their home, devastated by the hurricane.
Once again, the couple turned to God in the midst of the storm.
"When you have no electricity, you've lost everything in your house, and you can't find the resources you normally use, the power of prayer is amazing," Bradley said. "If you just get on your hands and knees and pray to God, He will walk alongside you in whatever it is you are going through. He will remind you I have control of this, you do not need to worry."
Bradley thanks God for answering his prayers through Samaritan's Purse volunteers.
"What you guys have done for me today is a huge blessing," Bradley said. "My prayer for all of you is that God will bless you the way that you have blessed me. I feel confident that my family is in a safe place now, Holden can get the care that he needs."
Edward Graham testified of the Lord's provision in his own life and left the Giroirs with a fitting word that recalls Hebrews 13:5: "I will never leave you nor forsake you" (ESV).
"I've known throughout my life, with my 16 years in combat in special operations, even in the storms of life, God was there," Edward said. "He never left me."
Please pray for the Giroir family and for all those struggling to recover after Hurricane Ida. Please continue to pray for our teams working in Louisiana. For more information on how you can serve alongside us in Jesus' Name, visit SPVolunteer.org.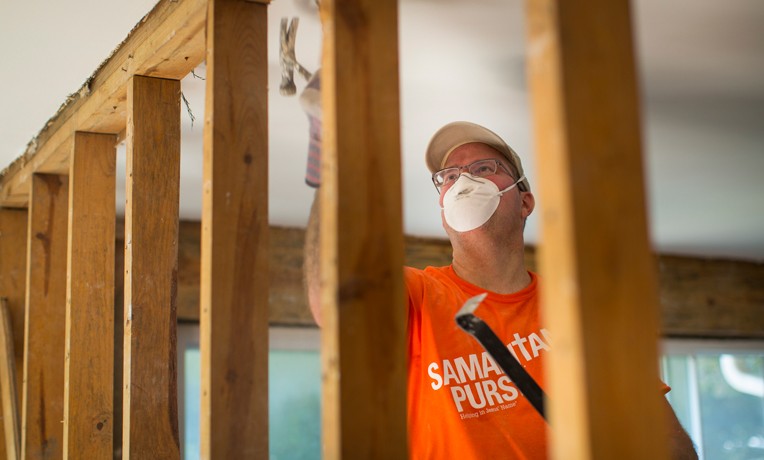 U.S. Disaster Relief
Samaritan's Purse mobilizes and equips thousands of volunteers to provide emergency aid to U.S. victims of wildfires, floods, tornadoes, hurricanes, and other natural disasters. In the aftermath of major storms, we often stay behind to rebuild houses for people with nowhere else to turn for help.
---
U.S. Disaster Relief 013622