This week is Congenital Heart Defect Awareness Week. Help raise awareness and support Children's Heart Project by sharing these facts.
February 7-14 is Congenital Heart Defect Awareness week. Along with many families, individuals, organizations, and health professionals, Samaritan's Purse would like to take this opportunity to share the needs and solutions for children suffering from heart defects at birth.
Children's Heart, a project of Samaritan's Purse, arranges life-saving heart surgeries for hundreds of children who live in countries where the required medical expertise and equipment are not available. We provide airfare for the children, a parent, and a translator and locate evangelical Christian churches and families willing to host the groups. After receiving surgery, children are encouraged to attend Heart Camps where they can connect with other children and learn about Jesus' love for them.
Since 1993, Children's Heart Project has helped more than 1,000 children receive the life-saving surgery they need.
As you learn more about congenital heart defects and how you can help through Children's Heart Project, consider sharing this post on social media to spread the word. You can share each of the facts below by clicking the Twitter button.
What is Congenital Heart Disease?
Congenital heart disease, an abnormally structured heart, is the most common birth defect and is a leading cause of birth defect-related deaths worldwide. Approximately one in 100 newborns each year are affected by congenital heart defects.
What causes Congenital Heart Defects?
Most causes of CHDs are unknown. Only 15 to 20 percent of all CHDs are related to known genetic conditions. A baby's risk of having a CHD is increased by three times if the mother, father, or sibling has a CHD.
How does CHD affect a child?
Children with CHD experience fatigue, excessive sweating, difficulty eating, poor weight gain, and heavy or labored breathing. Once a successful heart surgery is complete, the child is likely to lead a normal life without difficulty.
How does Children's Heart Project help kids with CHD?
Children in many developing countries don't have access to quality early healthcare like children in the U.S. Children's Heart Project arranges life-saving surgery, which is routine in the U.S., so children from Bolivia, Mongolia, Honduras, and Uganda can lead normal lives.
How many children are on the Children's Heart Project waiting list?
There are currently many children on our waiting list. Without surgery, their lives will likely be cut short.
How can I help?
Pray: Pray for the children who will experience heart surgery this year and for their families. Pray for the doctors performing the surgeries and the recovery process.
Share: Share this information with your friends, family and social media community. Let them know that children are waiting to receive care that can save their lives.
Give: Your gift of any amount to Children's Heart Project can help to transport a child to North America, provide surgery to repair the heart, and send a child to Heart Camp where they will learn of God's love.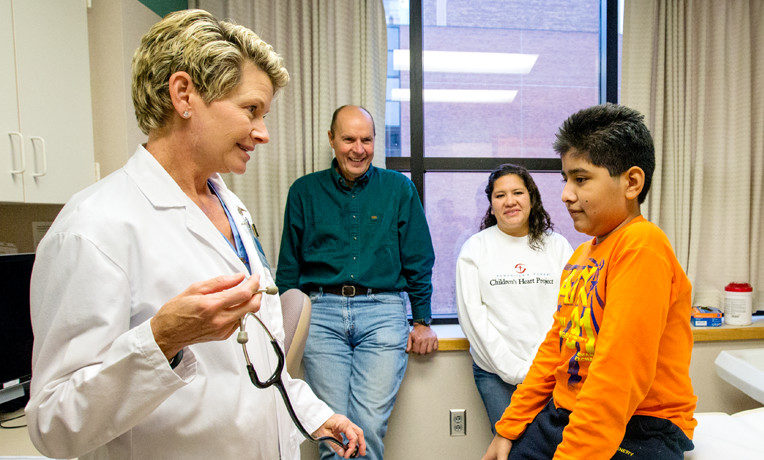 Save a Child's Life
About one out of every 100 babies has a heart defect that surgeons can routinely repair. Unfortunately, many of them are born in poor or remote places where their families cannot access the cardiac care they urgently need. Through our Children's Heart Project, Samaritan's Purse transports boys and girls from places like Bolivia, Mongolia, and Uganda to hospitals in North America. Doctors, hospitals, and host families and churches donate their time and services, but airfare is a major cost—typically $2,200 per person for international flights. For $50, you can share in this cost so that we can offer life-saving surgery and the unsurpassed hope of Jesus Christ, "the way, the truth, and the life" (John 14:6).
---
Children's Heart Project 013687
Suggested Gift: $2,200 | Share the Cost: $50