Volunteers free a disabled man trapped for days in his home by trees that fell due to Idalia's winds.
U.S. Disaster Relief
013622
As Hurricane Idalia barreled toward Florida's Gulf Coast, Samaritan's Purse U.S. Disaster Relief specialists prepositioned two Disaster Relief Units full of supplies in Georgia. The Category 3 hurricane soon made landfall on Wednesday morning, Aug. 30, near Keaton Beach in Florida's Big Bend region with 125-mph winds and a record storm surge. The team prayed for everyone in the storm's destructive path.
Kim Cannon, also in Georgia at the time, prayed for her brother and parents who were riding out the hurricane in their homes, just 17 miles north of Keaton Beach, in Perry, Florida.
"I pray every night; I pray for my mom and dad and little brother," Kim said. "While this was happening, I was praying, 'Lord just keep them safe.'"
Kim was relieved to hear that her family members were OK after the storm, but her mom said their property looked like a bomb had gone off. Kim got in her truck and drove down to her hometown.
"I couldn't visualize it," Kim said. "When I pulled into the yard I stopped, I got out of the truck, you know, my mouth fell open. I said 'Lord, Lord you got to help me. I don't know what to do now.'"
Two trees had fallen on her parents' house, and power was out everywhere, but the worst discovery was the fact that she couldn't get through the debris and fallen trees to access her brother's home, which sits behind their parents' house.
Kim explained that her brother, Kevin, is 100-percent disabled from a car accident and depends on his family for driving and other necessities. He'd been trapped inside his home with only a few milk jugs of water and canned food since the storm hit. With no way to recharge his phone, Kevin was limited to a few calls a day.
"Stay calm, we're working on it," Kevin's family reassured him. "We're going to get some help out there. Just hold on."
As Kim frantically searched for help, she found herself at the bottom of everyone's list. By Thursday night, Kevin had been trapped alone in his home for days, and she didn't know what to do next.
An Urgent Plea; a Quick Response
Samaritan's Purse assessors drove through multiple states surveying the damage from Idalia, and on Thursday afternoon, they decided to deploy a Disaster Relief Unit to Perry. The residents of this town, which is often called the "Tree Capital of the South," never imagined their tall pine forests would snap and fall over like so many matchsticks.
As the Samaritan's Purse tractor-trailer full of tools and supplies pulled up to Calvary Baptist Church, word of our arrival began to spread. Early the following morning, Kim was one of the first to step into the air-conditioned trailer and ask Samaritan's Purse for help.
Jodie Yoder, a Samaritan's Purse program manager, heard Kim's story and recognized the urgency of Kevin's situation.
"When I told her we were definitely going to make him a priority and get out there as soon as we have a team, she just broke down crying," Yoder said. "That's why it is so important to get here quickly and help those who maybe can't get help other places."
VOLUNTEER IN FLORIDA | GEORGIA
"I talked to Jodie, and I cried a couple of times," Kim said. "Tell me how much I need to pay. She says, 'You don't need to pay nothing.' 'Are you sure?' 'Yeah.' I cried again, and she hugged me."
As work orders began to roll in, so did volunteers, and a team was sent to the Cannon home that afternoon.
A Weight Lifted; a Prayer of Thanks
At least 20 downed trees blocked the road to Kevin's house, which was entirely hidden behind the debris. Kim asked the team if they could cut a path wide enough for an ambulance in case of an emergency. Chainsaws revved to life.
Other members of the volunteer team kept Kim company as she looked forward to being reunited with her brother.
"You just don't realize how I was feeling before," said Kim. "Until now, until I see all these people out here working…I have a big weight lifted off my shoulders."
Kevin heard the chainsaws and came out of his home as volunteers in bright orange shirts broke through the dense debris after hours of work.
He said, "Man, it's good to see you."
Samaritan's Purse made it to Kevin minutes after he'd finished drinking the last of the water in his house. It had been nearly three days since Idalia hit Perry.
"It just confirms that God has placed us here," Yoder said. "To be able to go out there and that actually be the first work order that we worked, and if that's the only one that we worked, it would've been worth coming out here."
For Kim, Samaritan's Purse was an answer to prayer. "Thank you, Lord, for all the good people out here today," she said.
The next day, volunteer numbers had doubled, and the team returned to the Cannon property, working all day to widen the footpath between homes so that an ambulance can fit through.
It was an amazing start to our response in Perry, and we thank God for the opportunity to help in Jesus' Name. Our work continues in Idalia's wake throughout both Pasco and Taylor counties in Florida, as well as in Valdosta, Georgia. Please pray for homeowners as they recover and for our teams as they work.
Samaritan's Purse is also at work after fires in Spokane County, Washington, and on the island of Maui. Rebuild projects are underway in Kentucky and Alabama. For more information on volunteering, please go to SPVOLUNTEER.ORG.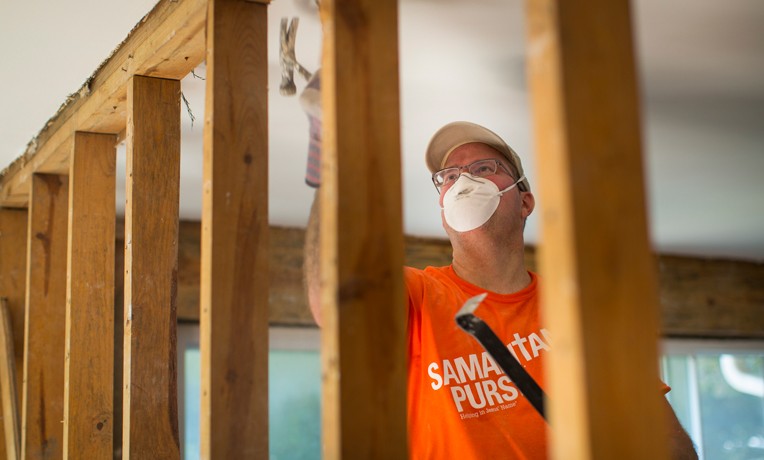 U.S. Disaster Relief
Samaritan's Purse mobilizes and equips thousands of volunteers to provide emergency aid to U.S. victims of wildfires, floods, tornadoes, hurricanes, and other natural disasters. In the aftermath of major storms, we often stay behind to rebuild houses for people with nowhere else to turn for help.
---
U.S. Disaster Relief 013622