Samaritan's Purse disaster relief teams return to Lake Charles, Louisiana, in the wake of deadly flooding.
U.S. Disaster Relief
013622
Some seven months ago, Samaritan's Purse assisted homeowner Mel Williams and more than 900 other families following destruction from Hurricanes Laura and Delta. Last week, deadly flooding swept through Lake Charles and our teams deployed once again to bring relief to hurting families in Louisiana.
"We've had a pretty rough couple of months," Mel explained. "Two hurricanes, an ice storm, and then Monday we received more than 12 inches of rain."
On Monday, May 17, heavy rainfall brought dangerous rising waters to southwestern Louisiana. A foot of rain flooded Lake Charles—marking the fourth extreme weather disaster in the area in less than a year.
"When you looked out my front door, you saw no grass," Mel explained. "Water went from one person's house to inside the other person's house—causing my home to flood completely with six inches of water inside and up on the walls. The two rooms that I added onto the house had about 10 inches of water."
Samaritan's Purse quickly deployed a tractor-trailer from our ministry center in North Wilkesboro, North Carolina—stocked with critical supplies and tools to provide immediate aid to affected families as waters receded. In coordination with Glad Tidings Church, we are sending out teams of volunteers in Jesus' Name to the hardest-hit parts of the community—reminding families that they are not alone or forgotten.
Mel's house was demolished last fall when a 75-foot oak tree landed on his home. Two weeks before the flood hit, he and his wife Sharon had just finished repairs from the hurricanes. Now, as floodwaters wreaked havoc on his newly refinished home, our teams arrived once again to help in the disaster recovery process.
"We had just completed the house: new floors, new sheetrock, paint, ceilings," Mel shared. "Now we're having to tear it all out and start all over again."
Samaritan's Purse volunteers arrived soon after the floodwaters dissipated and immediately began to help Mel rip out waterlogged drywall and flooring—both of which were brand-new only two weeks prior—and remove debris. The much-needed help from our teams provided Mel with hope in a seemingly desperate situation.
"Seeing the orange shirts and the big van, I knew help was on the way. God is looking after me by sending them to help me out. You don't know how much it means to have them contact me and say, we're back again."
A Fresh Start
Right next door to Mel, our volunteers also assisted homeowner Carl "Tony" DeVille.
Around two o'clock on the afternoon of the storm, Tony rushed home from work after getting a call from his wife about their house flooding with rainwater. By the time he arrived, nearly three inches of water filled the house and the family knew they needed to act quickly.
Tony backed up his truck to the kitchen window, let down the tailgate, and helped as his wife, 2-year-old daughter, and pet Rottweiler climbed through the kitchen window onto the truck.
In total, nearly five inches of water came into Tony's house. Unresolved damage from Hurricane Laura and Delta worsened the situation. There were still cracked bricks on the exterior and a shifted foundation had created gaps in the front and back doorframes, allowing water to seep in.
Volunteers removed waterlogged drywall, appliances, and cabinetry while also salvaging any family mementos that survived the flood. They also sprayed a solution in the home to inhibit mold growth.
"Having Samaritan's Purse here means that I'm getting a fresh start," Tony explained. "They're helping me to get a sense of accomplishment. I can move forward. I feel like I can go on right now. This has been hanging over my head for seven months. So, I just feel like I can get a fresh start."
Tony joined the team as they worked on his flooded home. After clearing debris, we presented Tony and his family with a Billy Graham Training Center Bible signed by each volunteer who had worked on his home.
"I don't think that words can express what it is for people to come into your home and help you in your time of need," Tony shared gratefully. "I can't find the words to say, you know, how much I appreciate you coming here."
Please pray for Louisiana families as they continue to recover from yet another devastating storm. Please also pray that God would protect these families from the approaching hurricane season. To volunteer, please visit spvolunteer.org.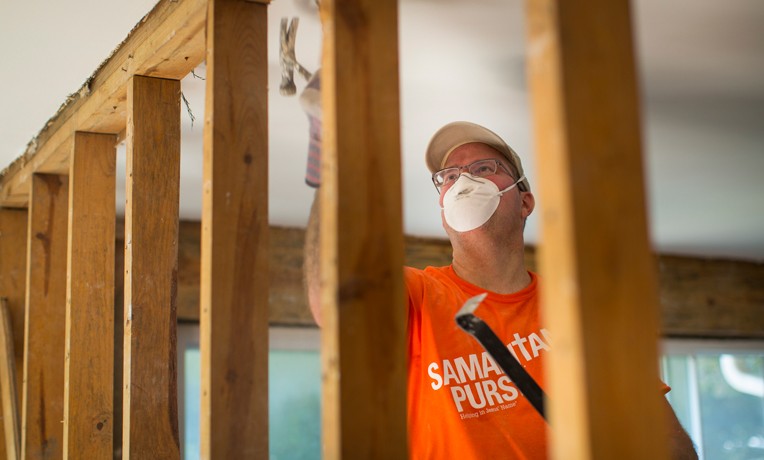 U.S. Disaster Relief
Samaritan's Purse mobilizes and equips thousands of volunteers to provide emergency aid to U.S. victims of wildfires, floods, tornadoes, hurricanes, and other natural disasters. In the aftermath of major storms, we often stay behind to rebuild houses for people with nowhere else to turn for help.
---
U.S. Disaster Relief 013622