Massive flooding has devastated many homeowners, but relief is arriving in the form of Samaritan's Purse volunteers
Natural disasters affect people in different ways. They often expose what a man or woman truly values—God and people or possessions and achievements. The storms of life can rip people apart and reduce them to prolonged despair or gradually show them how to rely on the Lord and rise above. A disaster can awaken a heart of service or provoke a withdrawal into fear and selfishness.
VOLUNTEERS NEEDED— FIND OUT MORE
Some of the good things that can come from a disaster were on display recently at the home of north Louisiana residents Royce and Carol Ogle. A little over a foot of water flooded their house in Monroe following the torrential rains of early March.
"Nobody in their wildest dream thought it would flood like this," Royce said. The couple had no flood insurance.
Yet in the midst of this trying time, the Ogles, both 70 years old, have been heartened by the love of Christian brothers and sisters—some of whom were friends and some strangers.
Church friends came and helped them during the first weekend after the rains. Eager teams of volunteers representing Samaritan's Purse did major work on their home from Monday afternoon through Wednesday (March 14-16). Among other jobs, the teams ripped out drywall and meticulously scraped up flooring, then hauled the debris to the curb.
"I'm not going to lie to you, it's hard," Royce said. The mounds of trash on the front curb of his property represented a lot of memories and hard work. Still, he added, "it's just stuff."
Carol tried to save as much as she could, but the water kept coming. "It was really scary," she said. The couple ended up being rescued in a boat by their son-in-law. They are now staying with their daughter.
It was fitting that the Ogles should be among the first homeowners to benefit from our work. They have been members of White's Ferry Road (WFR) Church in West Monroe, our local partnering church during this response, for more than a decade and a half. Carol worked full-time for nine years with the church's aid organization, WFR Relief, helping people around the world. Royce was a relief volunteer after Hurricanes Katrina and Rita. In the wake of the storms, they started a church in Bayou La Batre, Alabama.
"WFR has been great for my family, and I'm glad they were able to partner with Samaritan's Purse. I'm sure many, many lives will be better for it," Royce said.
"We're very blessed and we know that," Royce also said. After the first day Samaritan's Purse volunteers came to his home, Royce posted this on his Facebook page [in part]: "God blesses us in so many ways and much of the time he does it through people. And so, since we were flooded Wednesday, our blessings have been multiplied by the loving kindness of friends, family, and strangers with generous hearts and helping hands."
Though Carol admits it's easier to be on the helping side rather than the receiving side of a disaster, she maintains a positive focus.
"A lot of good things have happened from bad things," she said.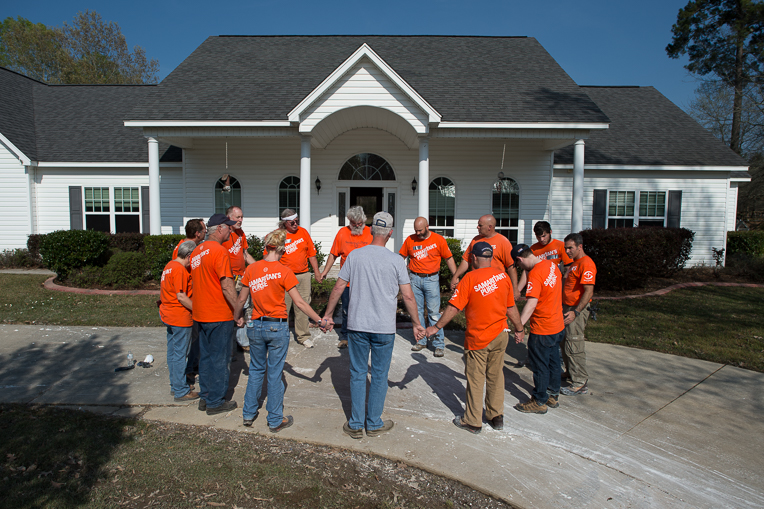 "The best thing about this is you know people care," Carol continued. Her family and friends, her church family, and the larger body of Christ—through Samaritan's Purse—have all pitched in to lend a hand and offer spiritual encouragement after this disaster.
"It' so touching when God provides what you need before you even ask," she said.
Volunteers Find Joy in Service
The Ogles were truly grateful and graciously welcomed our volunteers over the three days they spent at their home.
"You guys are real church," she told some of our volunteers, including Ken Wetzel and his teenaged son Stephen; and 72-year-old Mike Bruno and his son Steven.
The Wetzels—Mississippians—have their own story of how God did good things in their lives through bad circumstances. As Gulf Coast residents, they received much compassion in the wake of Hurricane Katrina (2005), Ken said. After those experiences he vowed to give of his time, at least twice a year, in service to others affected by natural disasters. The Monroe response was his 17th deployment through Samaritan's Purse.
Through Samaritan's Purse he brings the love of Christ to people suffering as he once did. "When we come to these disasters, we can offer hope and we can offer encouragement," Ken said. "You bring the Holy Spirit to the table, compassion to the table."
Through his deployments, Ken has also found meaningful fellowship and friendship with other believers serving as volunteers. "Whenever we serve together, there's a cohesiveness that doesn't come about in the normal environment," he said.
Following Hurricane Sandy (2012), Ken met Mike and Steven Bruno at a Samaritan's Purse work site in New York. Ken and the Brunos have since become good friends and have served multiple times with Samaritan's Purse, including three days last week in Louisiana.
Steven was saved by God's grace not long before Hurricane Sandy. "I was addicted to drugs, money, and myself for a long time," he said. When he had nowhere to look but up, God stepped in and redeemed him. He began witnessing to his parents who both became converted believers as well.
Now Steven and his father Mike are passionate about serving other in Jesus' Name. Steven said he's found real freedom in serving God and others—something the "counterfeit" pleasures of this world did not bring him, he said.
"We're created in the image of God and Jesus came to serve not to be served," Steven said. "When we do serve, we find joy that's beyond understanding. We do what we're created to do.
"If you haven't served before, serve with Samaritan's Purse," Steven said.
"When we do serve, we find joy that's beyond understanding."
And he added that you don't need to wait for a disaster to serve—"The mission field is not just at a disaster site. Start with your friends, family, start a work."
—
Please continue to pray for homeowners affected by flooding in Louisiana and Texas. Find out more about volunteering here.
Romans 8:28 tells us: "And we know that all things work together for good to those who love God, to those who are the called according to His purpose" (NKJV).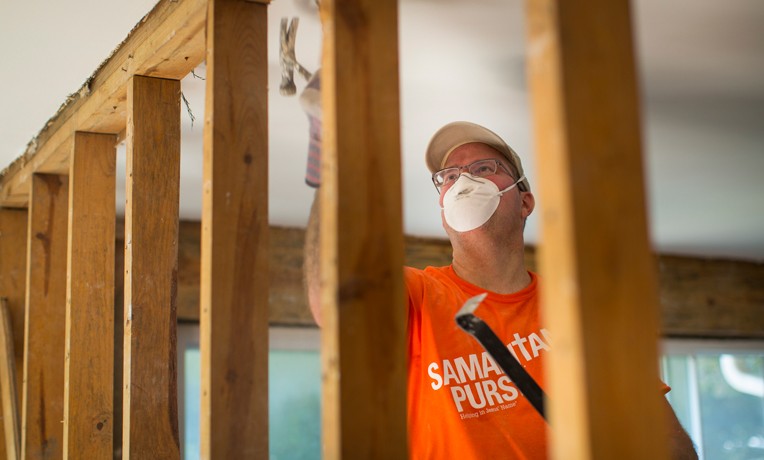 U.S. Disaster Relief
Samaritan's Purse mobilizes and equips thousands of volunteers to provide emergency aid to U.S. victims of wildfires, floods, tornadoes, hurricanes, and other natural disasters. In the aftermath of major storms, we often stay behind to rebuild houses for people with nowhere else to turn for help.
---
U.S. Disaster Relief 013622