Samaritan's Purse teams are working in Hawaii after disastrous flooding.
UPDATE (May 30, 2018): More than 160 Samaritan's Purse volunteers have provided 4,924 hours helping communities across the island of Kauai. This work has provided opportunities for prayer and evangelism leading to eight salvations.
Many volunteers from local churches have joined our recovery and rebuild efforts. One of these partnering churches, Calvary Chapel North Shore in Kileaua, had long planned to start a new church to reach the communities of Wainiha and Ha'ena, where we're working. Now, following the storm, Calvary Chapel has started services at an area restaurant. In just a couple weeks, attendance at those services has grown to 50 people.
—
The Hawaiian island of Kauai may have set a new U.S. rainfall record with nearly 50 inches of rain falling in a 24-hour period ending April 15. The unprecedented storm resulted in flash flooding, dangerous mudslides, and damaged homes.
"It was like bombs going off all night long," said Pastor Steve Rex of Calvary Chapel North Shore, which is one of the churches partnering with Samaritan's Purse as we bring physical and spiritual relief. "The floodwaters and landslides ripp[ed] through the valley—flipping cars upside down, mowing over houses, and tossing homes into the river."
Assist Homeowners in Hawaii
Although the island is prone to flooding, they had never experienced such a powerful and damaging flood. This prompted U.S. Congresswoman Tulsi Gabbard to call Franklin Graham and request assistance from Samaritan's Purse.
A few days later on May 2, we airlifted tools, relief supplies, and key personnel to Hawaii to help families devastated by the storm. Teams of volunteers have now assembled from around Hawaii—and many other parts of the U.S.—to mud-out flooded homes, tarp roofs, clear debris, and assist with permanent repairs such as new walls and roofs.
A Jaw-Dropping Scene
On the day of the flood, Diane Ferry, who has lived in Hawaii for 50 years, woke up early in the morning to go to work. As she was getting ready, she thought that this storm seemed more ominous than usual so she walked down to the river to check the water level. The never-ending lightning was bright enough for her to see the two boulders she and her husband, Scott Ferguson, had designated as flood gauges.
When she realized the floodwaters were well above their warning line, she knew they were in for trouble. Running back to the house, she woke up Scott, and they jumped into action—working to rescue as much as possible.
Scott ran to his workshop where his treasured boat and surfboard repair tools are stored. He began moving everything to higher shelves while Diane took the same approach in their home. The water was rising around his feet, and he could feel the current's strength growing. Scott knew it was time to get out. As he ran back to the house, he said it felt like the flood water was chasing him.
They left with only the clothes on their backs and their two dogs, finding safety in their friend's house. As soon as daylight broke, they walked to the bridge overlooking their property and saw the aftermath of the storm.
"It was a jaw-dropping scene," Scott said. "The whole valley was flooded."
With three feet of water in their home and nine feet in the workshop, not much was salvageable. Even the top shelf that Scott thought would be safe went under water. The damage was overwhelming.
At 72 years old, Scott's back injury and physical limitations meant he should not be doing manual labor. Despite Diane's worry, he would not rest—together, they worked on cleanup every day. Yet, they still felt like they couldn't make any headway.
Then a friend connected them to Samaritan's Purse, and a team of volunteers showed up on their doorstep. Scott and Diane were filled with relief and gratitude when they realized they no longer had to face the daunting task alone. With tears in her eyes, Diane thanked Samaritan's Purse volunteers for showing up and finishing the job.
"A lot of people think we need clothes or water, but what we really need is muscles and bodies who can help," she said.
"A lot of people think we need clothes or water, but what we really need is muscles and bodies who can help."
Perfect Timing
Jarret and Teresa Villanueva live on higher ground than most families on the island, but they were not spared by the mid-April storm. High winds damaged their roof, and water got into their home. They attempted to patch the worst spots, but these temporary repairs were not sufficient.
When a dozen Samaritan's Purse volunteers arrived at their house prepared to tarp their entire roof, they were amazed. As locals, they have lived through multiple floods and hurricanes, but this was the first time anyone helped them recover.
As volunteers skillfully tarped their roof, John and Doranne Gause, two chaplains from the Billy Graham Evangelistic Association's Rapid Response Team, spoke with Teresa. The conversation quickly shifted from physical needs to spiritual needs. Doranne had the privilege of sharing the Gospel with Teresa.
"I've been feeling like I was missing something, but now, I feel peace," Teresa said after accepting Jesus Christ as her Lord and Savior. "It's like when you take a deep breath. I feel peace."
Teresa was amazed at God's perfect timing. Having been away from home for the past week volunteering in another hard-hit area of the island, she could not believe that the day she chose to come home was the same day that Samaritan's Purse was at work. Only God could have orchestrated the perfect timing.
"I could have come home at any point, but I came home right now," she said. "I believe I was supposed to be here, not anywhere else, but right here."
What Teresa didn't realize was that an hour before she came home the chaplains had a similar conversation with her husband, Jarret, who also accepted Christ. Teresa laughed with joy as she realized that they both made life-changing decisions that day.
Teresa and Jarret received so much more than they expected—not only was their roof repaired but they found peace when they put their trust in Jesus.
Samaritan's Purse plans to work in Kauai through July—reminding homeowners that God loves them while meeting physical needs from the flood. In addition to tarping roofs, cleaning out homes, and clearing debris, some volunteer teams have also begun to help families with permanent repairs such as roofing and replacing drywall.
Note: We have also supported relief efforts on the Big Island (Hawaii) in light of recent volcanic eruptions. We provided thousands of half mask respirators that filter both particulates and sulfur dioxide gas. In addition, Billy Graham Rapid Response Team chaplains are ministering to the displaced.
This article was originally published May 24.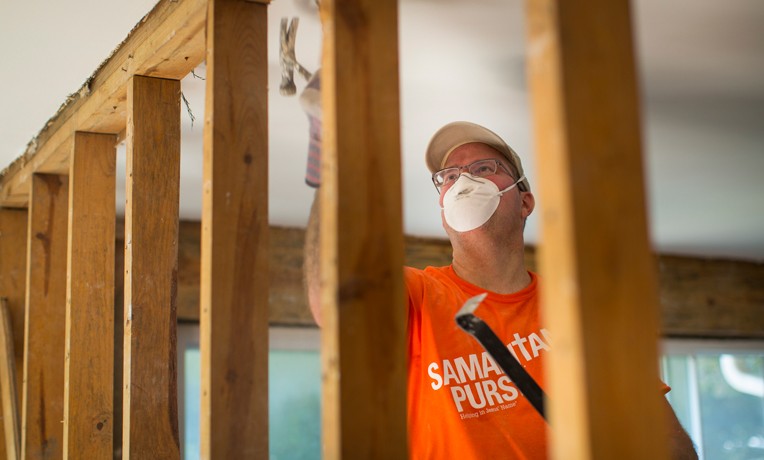 U.S. Disaster Relief
Samaritan's Purse mobilizes and equips thousands of volunteers to provide emergency aid to U.S. victims of wildfires, floods, tornadoes, hurricanes, and other natural disasters. In the aftermath of major storms, we often stay behind to rebuild houses for people with nowhere else to turn for help.
---
U.S. Disaster Relief 013622