A Mongolian mom praises God for her daughter's physical healing. In addition, she says the greatest transformation occurred in her own life when she received Jesus Christ as Lord and Savior.
Save a Child's Life
013687
In Mongolia, Enkhsaruul turned blue whenever she cried, one of the signs that she had a congenital heart defect. Her condition made her a candidate for cardiac surgery through the Samaritan's Purse Children's Heart Project. After being accepted into our program, she and her mom, Boloroo, traveled to Grand Cayman in 2022 when Enkhsaruul was 18 months old. There she received a pediatric surgical procedure not readily available in Mongolia.
"She has so much more energy than she had before," said Boloroo just after her daughter's successful surgery. "She's like a different person. Our family will be shocked."
The girl's surgery was made possible through a Samaritan's Purse partnership with Health City Cayman Islands and through donations to Samaritan's Purse that provide international transportation to and from the hospital. Our team also arranges for an interpreter to travel with the patient and a parent or guardian during every step of their journey, providing guidance and encouragement throughout the process. We pair the family with a host church located near the partner hospital, and church members host the special guests in their homes.
Boloroo's family was not only surprised by Enkhsaruul's improved health, but by Boloroo's changed demeanor and outlook. Boloroo gave her life to Christ during the trip, placing her faith in Him after watching The JESUS Film.
"Our family will not only be greeting a daughter with a new lease on life, but a changed mother," she said. "I wanted to change my life, my character, my personality to be better for my daughters, but learned what I needed to do was turn to Christ."
"I've been born again in Jesus, and it's amazing," Boloroo said.
She had heard about Jesus while growing up but stopped short of making the decision to follow Him.
"Now, I know that it isn't just about believing in Jesus, it's about living what He says, applying it to your life, touching your heart, and keeping His Word in your heart," she said.
Boloroo reads her Bible regularly. It is an electronic one that we provide to the families in their language.
"I know what Jesus has done for me, and I believe and want to follow Him," she said. "I am thankful for this opportunity to learn about Him and draw close to Him."
"It's such a great work that God's done through you in my life and in my daughter's life," Boloroo said of Children's Heart Project. "You've been there the whole time, with us the whole time, helping us, encouraging us, teaching us. I'm very thankful for you. Thank you so much for praying for us, supporting us, and encouraging us."
Enkhsaruul is one of more than 40 children in 2022 who had life-saving cardiac procedures through Children's Heart Project. Over the past 25+ years, the project has helped nearly 1,500 boys and girls in Jesus' Name.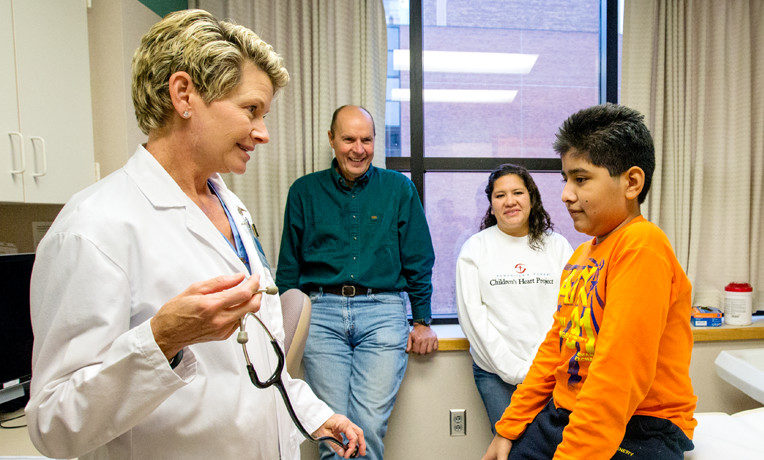 Save a Child's Life
About one out of every 100 babies has a heart defect that surgeons can routinely repair. Unfortunately, many of them are born in poor or remote places where their families cannot access the cardiac care they urgently need. Through our Children's Heart Project, Samaritan's Purse transports boys and girls from places like Bolivia, Mongolia, and Uganda to hospitals in North America. Doctors, hospitals, and host families and churches donate their time and services, but airfare is a major cost—typically $2,200 per person for international flights. For $50, you can share in this cost so that we can offer life-saving surgery and the unsurpassed hope of Jesus Christ, "the way, the truth, and the life" (John 14:6).
---
Children's Heart Project 013687
Suggested Gift: $2,200 | Share the Cost: $50