A tornado victim in Mississippi sees the command to love your neighbor fulfilled by Samaritan's Purse volunteers
One minute Joel and Kathleen Parker were watching news about the tornado hitting the Hattiesburg, Mississippi, area. The next, they were living it.
"We were watching television and saw a picture of the tornado on (Highway) 98, and then the station's camera went dead," Joel said.
Give
It was only a matter of moments before Joel and Kathleen's television went dead too.
Joel got off the couch and opened the front door to check outside. When Joel got hit with the fierce wind, he grabbed Kathleen and helped her to the hallway to take cover. Huddled together at the center of the rattling house, the couple rode out the terrifying storm.
"We were just overwhelmed by it all really," Joel said.
HELPING STORM VICTIMS: Samaritan's Purse is aiding homeowners impacted by a powerful twister in the Hattiesburg area
At first, Joel couldn't see the damage to his house. It was so dark he couldn't see anything at all. But he soon noticed some water seeping under the front door. And a leak in the bedroom. Then the ceiling collapsed in the living room and shortly after that, the dining room ceiling too.
Joel knew they needed to shelter somewhere else for the night. Kathleen has a degenerate disc in her back and has trouble with mobility, so Joel helped her into her wheelchair. He pushed her in the pouring rain through their tornado-devastated neighborhood, headed for a friend's house up the road.
He stopped when they came upon downed power lines. Kathleen would have to get out of her chair and step over the lines.
"We got down further and had to walk through a ditch," Joel said.
They were far from alone that horrific night.
"People were coming out of their houses walking around in shock," he said. "It was like a war zone."
Joel returned to his property the next day. The house they'd lived in for over 10 years was a mess. The sunroom was completely gone, large parts of the roof were caved in, and the yard was scattered with downed trees and branches toppled on each other plus shattered glass from broken windows.
The carport also was caved in, and insulation and mud covered the inside of the house. Much that wasn't blown away by the tornado was damaged.
The Parker's house in Petal, Miss., had been devastated by an EF-3 tornado that hit three counties surrounding the Hattiesburg area on February 10. The twister reached maximum wind speeds of 145 mph. At least 60 people were injured, and hundreds of homes are damaged.
Samaritan's Purse responded by sending staff and volunteers to help storm victims. Working out of our base at Petal Harvey Baptist Church, we have helped over 200 homeowners.
We came upon Joel just when he was at his breaking point. The 63-year-old man was exhausted, stressed, and on the verge of tears after a tough week trying to make his home livable again while taking care of Kathleen.
Others had promised to help and not delivered. But Joel believed Tony McNeil, Samaritan's Purse program manager leading the response in Petal, Mississippi, who told him, "Joel, if you'll just bear with us, we'll take care of it for you."
Samaritan's Purse followed through on the promise.
Our volunteers worked tirelessly to clear debris and remove trees, using heavy equipment, chainsaws, and wheelbarrows to get the job done. Several people helped Joel sort through his belongings to determine what could be salvaged.
Destroyed items were hauled to the curbside while the rest was moved to parts of the house where the roof was still intact. A tarp team patched up the gaping holes of the severely damaged roof.
"I didn't think the house was ever going to get all that stuff and debris out of it," Joel said. "You tell me what it would have cost to get this work done today? It's beyond …"
Joel began to choke up before he could finish his thought.
The volunteers helped him get over a major hurdle both physically and emotionally.
"It means everything to me," he said. "That's the second greatest thing, to love your neighbor as yourself, and I'm just floored by the volunteers and the leadership of Samaritan's Purse—it's beyond words. I've never experienced so much love, I don't think."
And it wasn't just the love he received from the volunteers that stood out. He was amazed that how well the group from different parts of the country worked together. He was impressed by their servant attitudes.
"I'd ask something like, 'Could you please help me move that?' and it's moved," he said. "It was amazing. The group just never slowed down."
A man of faith himself, Joel felt the Samaritan's Purse volunteers were living out their faith.
"This is a miracle what you all have done here today," he said. "I believe that. Call me amazed. Words fail me."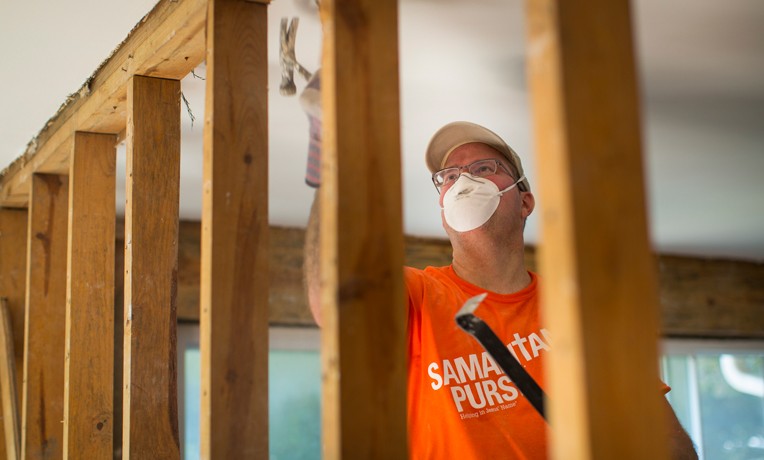 U.S. Disaster Relief
Samaritan's Purse mobilizes and equips thousands of volunteers to provide emergency aid to U.S. victims of wildfires, floods, tornadoes, hurricanes, and other natural disasters. In the aftermath of major storms, we often stay behind to rebuild houses for people with nowhere else to turn for help.
---
U.S. Disaster Relief 013622