Relief supplies for a community isolated by rising water are evidence of God's love
Heavy and persistent rain continues to cause catastrophic flooding in Bolivia. Rainwater from the entire country has converged in a handful of rivers that are carrying a tremendous volume of water to the low plains, resulting in a major disaster.
Help Flood Victims in Bolivia
The floods have affected 58,000 families nationwide and claimed the lives of at least 56 people so far. Water levels are rising on a daily basis, and officials are concerned many more people will be impacted.
FLOOD RESPONSE IN BOLIVIA: Samaritan's Purse is helping after heavy rains created catastrophic conditions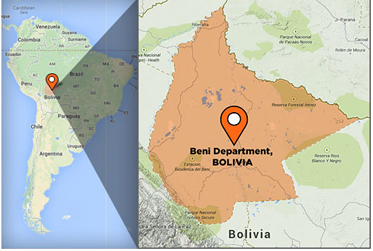 "We are asking people to remain calm," said Antonio Paz, the Director of Environmental Issues in Trinidad. "But to be quite honest, we suspect the situation will get much worse."
Samaritan's Purse has a regional office in the department of Beni and is responding in one of the worst affected areas.
Local authorities are working hard to stabilize the situation through the administration of medical supplies, food rations, and other crucial items. As the situation continues to worsen, they have expressed a growing need to involve the international community. Samaritan's Purse has been asked to help through the distribution of hygiene kits, blankets, water purification supplies, and other non-food items.
Samaritan's Purse has helped nearly 200 families in nine isolated communities so far, including Puerto Ballivian, a small community near the city of Trinidad. Two days earlier, this community was accessible by road. But now all access points are covered in water, making it impossible to travel by land. The only way to get there is by boat, as our relief team soon discovered.
As houses were submerged under water, people were forced to relocate to higher ground. Water levels had risen so much that the school is now the only piece of dry ground left in the community. When Samaritan's Purse arrived, beds were lined up along the compound's patio.
"The situation is really bad," said Bernardina Arauz, a Puerto Ballivian resident. "Everything is under water, including my house."
The community is concerned that water levels are already coming to the par with the catastrophic floods of 2008. With at least two more months of the rainy season left, this could present significant challenges.
Samaritan's Purse distributed hygiene kits to each of the families in this community. The kits include soap, toothbrushes, toothpaste, and other basic supplies. Each family also received blankets and chlorine bottles to help them purify water sources that have been contaminated by the flood. Chlorine will help mitigate the risk of contracting waterborne diseases.
"I am very content," Modesta Yarari said as she received her hygiene kit. "Before this visit, I didn't know how we would purify water. Now we have a solution."
Modesta is one of hundreds of families who will receive these relief supplies in the days to come.
The distribution was carried out with representatives of the local government.
"On the behalf of the municipality and this community, we want to thank Samaritan's Purse for the timely response," one of the government officials said.
The distribution was also an opportunity to encourage victims of the disaster and to share the love of Jesus Christ.
"We have a powerful God", said Adolfo Reyna, regional director for the Samaritan's Purse office in Beni. "He loves you and makes it possible for people like us to bring aid. God wants you to know that He loves you and that He is with you at this critical time."
Bolivia Projects
Nearly half of all children living in Bolivia's highlands suffer from anemia due to malnutrition. To improve the quality of life for children and their families, Samaritan's Purse provides agricultural and livestock training, feeding programs at schools, and nutrition education classes for mothers. Meeting people's physical needs is coupled with evangelism and discipleship opportunities pointing people to the ultimate source of life and hope, Jesus Christ.