With many tens of thousands of ethnic Armenians fleeing Nagorno-Karabakh, our medical teams are helping burn patients—survivors of a gas explosion—begin their long road to recovery.
International Emergency Relief
013310
Edik had lost hope that he would ever walk again.
On the day of the explosion, he had walked 12 miles with his cousin, Valeri. They stopped to fill their fuel cans, the last task to complete before leaving Nagorno-Karabakh.
"Suddenly, we were thrown to different places. I was in some kind of pit. Once I regained consciousness, I tried to get myself out, but I couldn't find my brother," Edik said.
The deadly gas station explosion in Nagorno-Karabakh killed 170 Armenians and injured nearly 300 others. The blast had left Edik with burns over 40 percent of his body and with deep burn wounds to his face, back, and limbs. His legs and hands took the brunt.
Strangely though he didn't know how bad it was. He walked several more miles after that. Now, though, he wasn't carrying empty fuel cans, but the weight of surviving and concern for his family.
"At the time, I didn't feel that I had deep wounds. I thought I was okay. But then I couldn't eat anything for three days—only water—and I couldn't move at all," Edik said.
He fought the almost-constant urge to give in to the shock his body was experiencing as it reacted to the life-threatening injuries. He was determined to make it back to his family alive.
Responding to the Crisis
Since this latest escalation of conflict in Nagorno-Karabakh, over 100,000 ethnic Armenians, including Edik and his family, fled the embattled region. The humanitarian crisis intensified with the unexplained gas explosion.
"The depth and extent of these are probably some of the worst I've seen in my 27 years of experience working in burn treatment. The amount of suffering here is beyond human comprehension," said Joany McDougall, a nurse on our Disaster Assistance Response Team (DART).
On Sunday, Oct. 8, our DC-8 aircraft landed in Armenia with more than 30 tons of relief–including medical supplies, food, blankets, and solar lights–to assist suffering families fleeing their homes. We have 28 people on the ground now in Armenia, including burn specialty teams, helping to meet critical needs as we work alongside local church partners and hospitals.
Since the beginning of our response, our burn specialists have treated several dozen burn victims with wound care and skin grafts, and, in the most severe cases, with post-operative physical therapy.
"It's been a whirlwind lately, but in the best way possible. God has put us here at just the right time. There are no other organizations here to assist the Armenians with this specific burn situation," said Jessica Burger, a physical therapist on our Disaster Assistance Response Team (DART).
Jessica's physical therapy skills are crucial for helping patients regain their independence and mobility after such severe damage to skin layers, muscle, and connective tissue. Edik was one of her first patients after her arrival in the region.
'The Pain Was So Unbearable'
Each time Edik moved it was torture for him and his despair deepened.
"After my second surgery on my leg, I had no hope that I would ever walk again because the pain was so unbearable," he said. Tears began to stream down his face, as he recalled the dark places his mind has gone the last few weeks. "I've realized that physical pain is not as significant compared to the mental, emotional, and spiritual pain—that is deeper."
Jessica Burger understands that her work with burn patients is at first physical but ultimately emotional and spiritual as they begin their journey toward recovery. It's a long path.
"My job is to use movement as medicine to help them heal."
Her day-to-day work involves strategically mobilizing patients to help strengthen their bodies and prevent further injuries. For some, that means sitting up on their own. For others, it is learning to walk again.
"My job is to use movement as medicine to help them heal," said Jessica.
Jessica said most burn patients deal with discouragement and depression. After our burn teams began serving with the local staff, the heaviness began to lift.
"They're a fun group of guys in Edik's room. They're ready and willing to work. These guys encourage each other as they do exercises. The camaraderie is just as healing as the therapy because they've all gone through the same trauma together," Jessica said.
Stepping Into Hope
In the few days that Edik has worked with Jessica, his outlook has brightened. Even as tears streamed down his cheeks, he began to smile. He shared his progress.
"I asked her [Jessica] whether she can help me stand because I couldn't do that," Edik said. "With her help, I was able to stand and do some movements for the first time."
Within two days of working with Jessica, Edik began to walk again.
"Two days ago, I was so depressed that I thought I would never come out of this hospital," he said. "But because of Jessica, I have hope. Her positivity brought a lot of change in this hospital. I'm very grateful for her. When she comes here, it gives us hope. Thank you, thank you very much!"
Our two burn specialty teams continue to assist local Armenian hospitals with intensive wound care, debridement, skin grafts and physical therapy, but most importantly, they're praying with patients and reminding them that God has a plan for their lives because He loves them.
Join us in praying for Armenia. Pray for both the physical and spiritual recovery for these Armenian burn patients. Pray for our DART staff as they serve as the hands and feet of Jesus, bringing light to both the patients and the local hospital staff.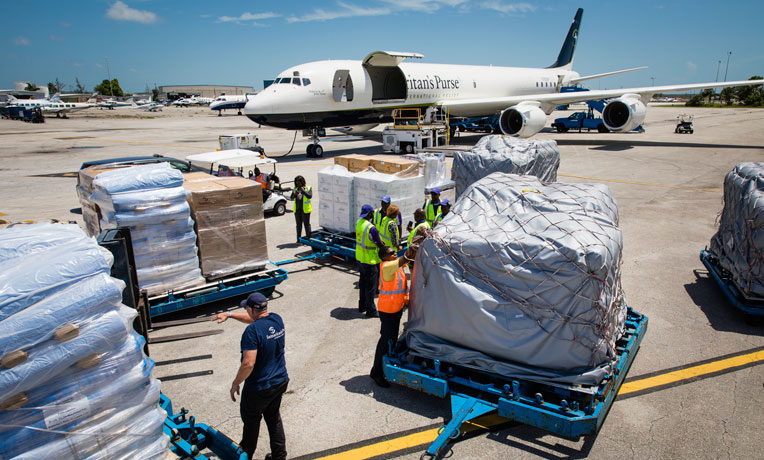 International Emergency Relief
When natural disasters strike or armed conflict causes people to flee, Samaritan's Purse responds quickly to bring relief to those in urgent need. We can provide food, clean water, and shelter, among other necessities. One way we help in disaster situations is by handing out "family survival kits" that include warm blankets, buckets with water filters, cooking utensils, soap, and other daily essentials. For just $45, we can provide a lifeline to a family that has lost everything, to help them get back on their feet.
---
International Emergency Relief 013310
Suggested Gift: $45