Samaritan's Purse provided clean water and other aid after heavy rains created catastrophic conditions
The beginning of the wet season in Mozambique brought catastrophic flooding in several areas of the country, causing over 186,000 people to be forced from their homes and many local farmers to lose their entire livelihoods. Samaritan's Purse responded with emergency relief supplies for tens of thousands of families.
A disaster response team, working in conjunction with our field office, provided clean water, plastic sheeting for emergency shelter, blankets, jerry cans, soap, and other necessary items for people who were forced to leave their homes.
The emergency response phase ended on February 27, but our field staff in Mozambique will continue to provide critical assistance to flood victims.
"We're moving into early recovery from the initial relief stage. It's a very important transition," said Jeremy Kilday, leader of the Samaritan's Purse disaster relief team. "A lot of people will see the initial recovery and think the work is over, but now what we're doing is trying to get people back on their feet."
SMALL ITEMS MEAN SO MUCH: A woman affected by flooding in Mozambique receives materials from Samaritan's Purse to help her family rebuild their lives
Between Jan. 23 and Feb. 27, we trucked clean water to six water distribution points, providing more than 1.9 million liters of safe drinking water to 10,600 families. Our team also gave hygiene education to nearly 43,752 people and built 28 hand-washing stations and 364 latrines.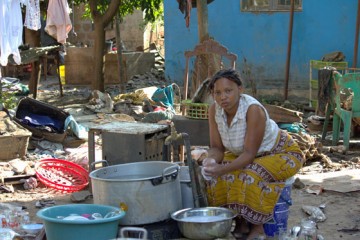 One group of approximately 57,000 people became an official camp called Chiaquelane. Samaritan's Purse provided 75,000 liters of water per day and additional latrines to the people in this camp.
"It was heartbreaking to see so many families that had lost everything in the floods," Alyssa Burt, an intern with Samaritan's Purse, said while in Chiaquelane. "In every direction, families had their piles of things that they managed to grab before evacuating their now destroyed homes. Some of the families had managed to build their own shelters with tarps that we distributed, while others had to huddle under trees when the weather was rainy or scorching hot because they had not received one yet. Samaritan's Purse had built some latrines and food and water had been distributed, which seemed to help everyone affected."
Please pray for the people still trying to recover from the disaster, and for our staff members as they try to meet the needs of the suffering. Samaritan's Purse will continue to be there for these people as they begin to move on from the initial disaster and rebuild their lives.
"One of the great things about the response here in Mozambique is the people here are very resilient," Kilday said. "I really think they're seeing the love of Christ in action."
Mozambique Flooding Response
Between January 23 and February 27, Samaritan's Purse provided the following assistance to flood victims:
· Provided more than 1.9 million liters of clean drinking water to over 10,600 families at six water points.
· 1,062 families received Certeza water purification treatments.
· 43,752 people received health and hygiene education.
· Constructed 364 latrines and 62 bathing shelters.
· Built 28 hand-washing stations.
· Distributed 1,401 bars of soap.
· Distributed 6,914 tarps to provide family shelters.
· Supplied 1,477 jerry cans and 1,820 buckets.
· 156 metric tons of food distributed to 27,275 people.
· Distributed 661 mosquito nets.
· Gave 551 blankets.