Sim Chhengty is the Samaritan's Purse We Can Read and Write project coordinator in Cambodia.
Sreyrous is 12 years old and in the fourth grade at Khlengpor Primary School in Banteay Meanchey Province in Cambodia. To afford her schooling, her parents have to work in Siem Reap, and Sreyrous lives with her aunt. It is difficult for Sreyrous to be away from her parents. She would cry and beg her parents to bring her with them to work.
Her school situation wasn't good, either. The school, like many remote schools in Cambodia, was an old wooden building and no longer sturdy or safe. During rainy season, strong winds threatened and weakened the structure.
Enrollment increased every year and the school did not have enough tables and chairs for the students. Many students, including Sreyrous, often missed classes and earned low grades.
The Samaritan's Purse We Can Read and Write Project helps decrease school dropout rates by increasing the quality of teaching and ensuring that schools are child-friendly. Through this project, teaching materials such as books, tablets, toolkits, tablets with learning apps, and story books have been provided to Khlengpor.
A new school building has also been constructed, and a strong concrete structure has replaced the old wooden building.
Sreyrous is now motivated and encouraged to regularly attend school. She studies very hard and receives additional support from a literacy coach to improve her reading and math skills. At the end of the school year, all her hard work paid off. She ranked number two among the outstanding students.
Sreyrous dreams of becoming a teacher and is grateful to Samaritan's Purse for helping her pursue that goal.
"Thanks to Samaritan's Purse for providing us with plenty of study materials, especially a new concrete school building," she said. "I wouldn't be who I am today if Samaritan's Purse didn't come."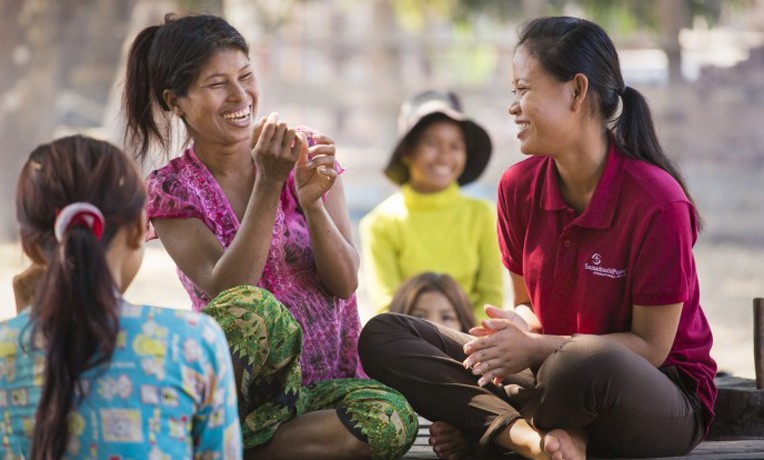 Cambodia Projects
Cambodia, one of the poorest nations in the world, has few resources available to care for its people, the majority of whom live in rural areas. We help meet desperate needs for food and livelihoods through animals and agriculture projects, as well as providing access to safe, clean drinking water. Children's education projects ensure boys and girls remain in school, while increasing their quality of life. Our maternal and child health program reduces the mortality rates of women and their young children by improving obstetric care, teaching essential nutrition practices, and increasing access to quality healthcare. We also combat human trafficking through education and training. Only 2 percent of the country is Christian, and a crucial aspect of our work involves partnering with local churches to help spread the Gospel in their villages.