A couple comes to faith in Christ after a Samaritan's Purse crew works on their flood-damaged home in Texas
Living on four continents has afforded Josephine Torres a multitude of exciting and memorable experiences. But last month's watery nightmare in central Texas is one adventure she wishes she could forget.
"I was born in Vietnam, grew up in France, and lived for several years in Australia, but until last month I had never experienced a flood or any kind of disaster," she said. "I don't want to go through anything like this again."
Since 2009, Josephine and her husband, Robert, have relished a simple life in an unassuming neighborhood in San Marcos. The two met at Texas State University, about three miles from their current home.
"Five blocks away the Blanco River had turned into a raging beast that was sweeping water back toward their neighborhood."
Just a couple of weeks ago they were eagerly awaiting the Memorial Day weekend, planning to tackle a few home improvement projects. They hoped to celebrate the holiday by inviting friends over for a backyard barbecue.
Heavy rain put a damper on Saturday's activities. It was still falling when they went to bed that night. They didn't know that five blocks away the Blanco River had turned into a raging beast that was sweeping water back toward their neighborhood.
Somewhere between 3:30 and 4 a.m. Sunday, Josephine and Robert were awakened by blaring police sirens and loudspeakers ordering immediate evacuation.
"By the time we got dressed and ran out of the house, there was already several inches of water in the yard," Robert said. "We had a hard time opening and closing the car doors because of the force of the current. Water was coming up into the floorboard. I didn't know if the engine would start."
Thankfully the Torres were able to drive away and find refuge with other families in the San Marcos activity center.
After the water receded, they returned to their home to find a coating of river mud and soaked belongings. The water line measured 20 inches high on the walls.
Josephine's prized books and keepsakes from her life in Vietnam, France, and Australia were among the many personal belongings ruined by the flood. Also lost were most of their photos. Josephine sighed with relief when she saw the framed wedding picture hanging safely on the living room wall.
"When I saw all the mud and the mess, I was too overwhelmed to even cry," Josephine said. "I didn't know how I was going to clean it up. Everyone on our street was in the same situation."
Like many of their neighbors, the couple did not have flood insurance. The long process of recovery seemed overwhelming.
A Sea of Orange
Samaritan's Purse staff arrived shortly after the floodwaters receded to talk with homeowners and assess the damage. Promiseland Church outside of San Marcos offered its facility as a base of operations.
Requests for help came pouring in, and so did volunteers willing to brave the mud and stifling heat.
Through the first week of June Samaritan's Purse received more than 225 requests for help, and nearly 1,600 volunteers—some from as far away as New York and California—willing to help storm victims and share the love of Jesus Christ.
Josephine was astonished when about 15 strangers clad in bright orange T-shirts arrived at her doorstep May 30 to assist her family with cleanup. The group moved furniture, tore out wet sheetrock and insulation, and pulled up the ruined flooring.
While volunteers were hard at work in the Torres' home, similar operations were taking place up and down both sides of the street. The tide of orange represented churches, youth groups, college students, and individuals who wanted to make a difference.
"You brought hope to me," Josephine said, as tears welled up in her eyes. "God has used all of you, people I've never met before, to help us. I grew up Buddhist, but I don't see any Buddhists here today. It is the Christians who have come to help."
Josephine's spirits were further lifted when chaplains from the Billy Graham Evangelistic Association Rapid Response team comforted and prayed with her.
As she began to grasp the true meaning of God's love for her, days of anxiety were replaced with a newfound peace. She received Jesus as her Savior, and on Sunday she and Robert attended Promiseland Church for the first time. Both came forward for prayer during the pastor's altar call.
Later that afternoon the team of volunteers wrapped up their work and presented Josephine and Robert with a Bible each member had signed. The couple joined the group in a circle of prayer on their patio, thanking God for His tender care and continual presence in their lives.
"Thank you for being so good to us," she told a volunteer. "We were strangers when you came. Now we are part of the same family—God's family."
Blessed to Be a Blessing
Josephine says the selfless example of the volunteers has given her an entirely different perspective on God's call to love our neighbor.
"Before I thought life consisted of going to work, making money, coming home to rest, and then going to work again," she said. "There's nothing wrong with that, or wanting a better life. But I want something more. I want to love people. To reach out to my neighbors and help people like all of you have done for us."
Patience is what they need most these days. It could take months before the Torres' are able to fix up their house. The psychological healing will take time too. Whenever there is a prolonged rain, Josephine gets nervous.
What's different is a reassurance of her Savior's presence in the midst of the storms.
"God brought you here from different places to help us understand that He loves us and is always with us," she said. "Whether you live in a house that gets flooded or a mansion, it's only temporary. One day we will be with God in His heaven."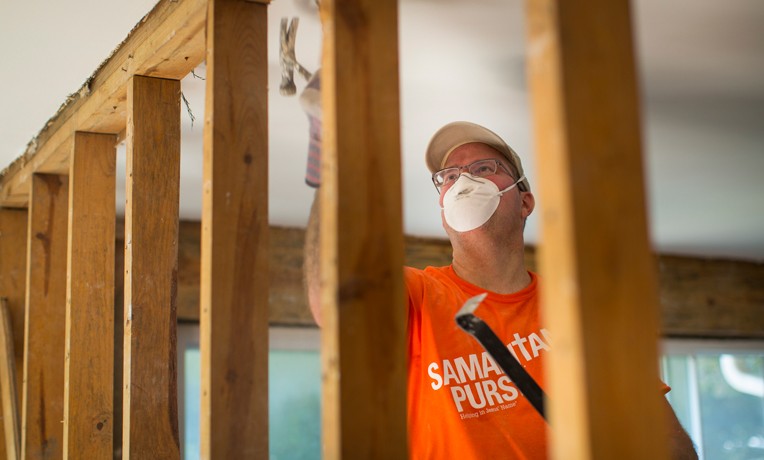 U.S. Disaster Relief
Samaritan's Purse mobilizes and equips thousands of volunteers to provide emergency aid to U.S. victims of wildfires, floods, tornadoes, hurricanes, and other natural disasters. In the aftermath of major storms, we often stay behind to rebuild houses for people with nowhere else to turn for help.
---
U.S. Disaster Relief 013622