Samaritan's Purse welcomed Liberty staff and students during their spring break to help us rebuild hurricane-damaged homes in southeast Texas.
Olga Chapa was afraid Hurricane Harvey was going to destroy her home last year, taking with it 60 years of memories. "I thought the wind was going to take us," said the 72-year-old mother and grandmother who raised five daughters in that house.
She was surprised to see the structure was still standing, though badly damaged, when she was able to return to it days after the storm passed. She was even more surprised when our staff said we were going to rebuild her home—at no cost to her—in Jesus' Name.
Samaritan's Purse volunteers have arrived weekly the past few months to fix the exterior and interior of her home. Last week, 18 students from Liberty University's Send Now program spent their spring break in Gregory, Texas, learning how to cut and hang dry wall, install new ceilings and insulation, and replace flooring.
They also learned how to cut and install fascia and replace siding that had been damaged or ripped off by the storm. The group worked on two homes: one was Olga's and the other belongs to the Turrubiates family.
"Every time I hear that hammer I hear: 'God loves you. God loves you,'" said homeowner Christi Turrubiates. She says each group of Samaritan's Purse volunteers has become like family to her. "Every week a new crew shows up. By Wednesday you've become friends. By Friday you're crying because they're leaving. This group in particular talks and laughs a lot and we told them we love to hear that, because we love to hear you enjoying working on our home."
This is just the latest of several partner deployments between Samaritan's Purse and LU Send Now.
"We want to develop lifelong servers," said Anna Claire Shellenberg, a Send Now logistics coordinator. "They are here learning how to work as a team and learning how to serve others."
Christ's Love Compels Them
Criminal psychology major Kathryn Brooks was meticulously adding a second coat of paint to the eaves of the Turrubiates home, coming behind crews that had painstakingly caulked the spaces between boards.
"The homeowner may never notice whether everything was perfectly caulked, but this shows how the body of Christ is supposed to love each other— not just in the big noticeable things but in the little things," she said.
For David Cox, a sophomore in the accounting program at Liberty, it's a privilege to serve in a place so close to his heart.
"I have family in Texas so it's more personal for me," Cox said. "I really enjoy helping people and I thought this would be a great opportunity to come and serve in a place I really love. And it's just awesome to see what this house was like and to see how far we've come and that we're doing everything out of God's love."
Hundreds of college students have used their spring break this year to come alongside Texas homeowners whose properties were damaged by Hurricane Harvey. In total Samaritan's Purse is helping to rehabilitate and rebuild 500 homes as part of our ongoing response to Harvey's devastation in Texas.
See Volunteer Opportunities
When asked why she used her spring break to come help in the Texas sun, sophomore LeAnna Crockett said it was a chance to do something of lasting value.
"When you have the opportunity to give, I think you should take it," she said. "If Jesus could physically be here fixing Olga's house, I think he would be, too."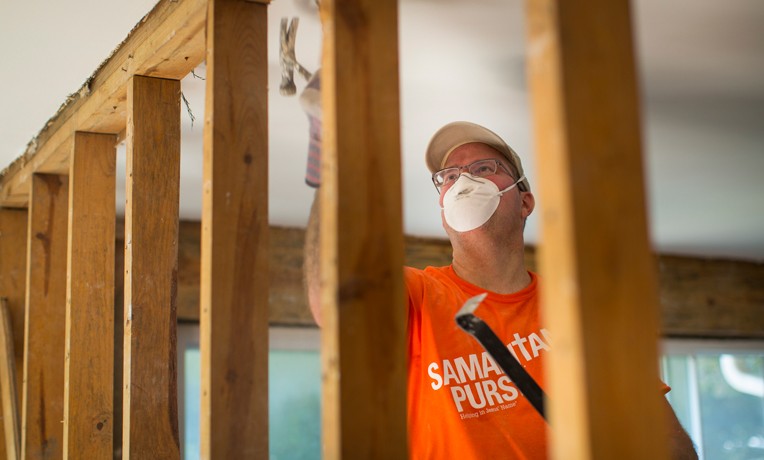 U.S. Disaster Relief
Samaritan's Purse mobilizes and equips thousands of volunteers to provide emergency aid to U.S. victims of wildfires, floods, tornadoes, hurricanes, and other natural disasters. In the aftermath of major storms, we often stay behind to rebuild houses for people with nowhere else to turn for help.
---
U.S. Disaster Relief 013622