This summer, nearly 150 couples spent a week in Alaska growing closer to God and each other.
Operation Heal Our Patriots recently marked the close of 15 weeks of summer wilderness retreats in Port Alsworth, Alaska, a season during which nearly 150 couples received encouragement for their lives and marriages in the Name of Jesus Christ.
A project of Samaritan's Purse, Operation Heal Our Patriots ministers to military couples with at least one spouse who has been injured or wounded in combat or combat-related activities since the 9/11 attacks. Through the program, couples enjoyed a week in Alaska where they participated in marriage resiliency classes, daily devotions, and guided outdoor activities—fishing, hiking, bear watching, kayaking, etc. Retired military chaplains led the classes and devotions and also offered optional counseling for individuals or couples.
Give
"We started on June 2 and though every group is different, the participants have shared the same struggles," said Samaritan's Purse President Franklin Graham. "Our motive is to let the soldiers know that God loves them and wants to have a personal relationship with them."
With the 12th anniversary of 9/11 just past, it is important to not forget the ongoing challenges U.S. military families face.
"We have a special love for those who have made such sacrifices to defend our nation," Graham said.
The Operation Heal Our Patriots experience in Alaska is just the encouragement many couples need to make lasting changes, rededicating themselves to God and each other. For some, it is the start of a brand-new relationship with Christ. Over 15 weeks, 51 individuals placed their faith in the Lord, 56 participants were baptized, and 36 couples rededicated their marriages before Him and those assembled.
Husbands and wives treasured their time alone to relax together surrounded by pristine natural beauty—a marked contrast for many of them still struggling with pain, anxiety, nightmares, financial stress, and other fallout from their wounds. Our volunteers and staff, including Chaplain Jim Fisher and Chaplain Daniel Stephens, created a special atmosphere of Christian service and care—noticeable from the hearty welcome patriots received when their planes touched down to the world-class meals to the smiling hospitality of those who maintain the grounds and cabins. Mark Lang, program manager, and his wife, Sandy, facilities manager, kept everything running smoothly.
"A New Start"
Staff Sergeant Steven Ellsberry, USA (Ret.), and his wife, Tasha, came to Christ during the 15th and final week.  A veteran of Afghanistan and Iraq, Steven struggles with physical and psychological injuries resulting from multiple firefights and explosions.
"I grew up in the church," he said. "But after you've been through what we have, you kind of lose faith. Now we have a new start."
Many combat veterans are plagued by moral disorientation, depression, and strong feelings of guilt stemming from a variety of causes. Life can become bleak.
"A lot of us look at the outside—the physical injuries—but there are also internal injuries these guys have," Chaplain Fisher said. "There's really something that happens to the soul in combat and these guys have a hard time wrestling with it, struggling with it."
Tina and Staff Sergeant Richard Gonzalez, USMC, also visited Alaska during the final week of the season, which coincided with their 13th wedding anniversary. Richard has been deployed three times as an explosives expert and was shot in the arm and back in Fallujah, Iraq, in 2004. He spoke with a chaplain about issues weighing heavy on his heart.
"We've struggled in our marriage and struggled spiritually, though we were saved several years ago," Richard said. "Our trip here came at just the right time for Tina and me. We now have momentum for the future. It was just an amazing experience."
Samaritan's Purse deals with issues that the military and most public services cannot. The grace of Christ is the only way to hope and healing for individuals and couples, Chaplain Fisher said.
"It's an issue of the soul being restored. 'He leads me beside quiet waters. He restores my soul. He guides me in the paths of righteousness for His Name's sake,'" he said, quoting loosely from Psalm 23. "So, we really are all about soul restoration at Operation Heal Our Patriots."
Follow up through Operation Heal Our Patriots occurs on an ongoing basis, with the highlight being an annual reunion that brings together participants and staff. This year's reunion will be held February 28-March 2, 2014, at the Billy Graham Training Center (The Cove) in Asheville, North Carolina.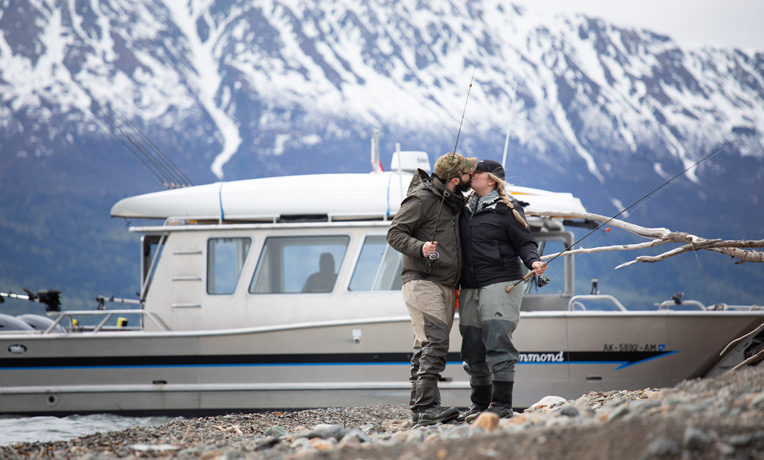 Bless the Marriage of a Military Couple
Operation Heal Our Patriots helps military couples build a strong spiritual foundation during a week of Biblically based workshops, relationship-building wilderness activities, and individual care by our retired military chaplains. We offer all this free of charge to these American heroes as a token of our appreciation for their service and sacrifice. Your gift will help us cover the costs—including transportation, lodging, activities, and long-term Family Care—so that we can help them find hope in the Lord.
---
Operation Heal Our Patriots 013960
Suggested Gift: $60