Army Staff Sergeant Wayne Wilson and his wife Grace visited Samaritan Lodge Alaska, where they found healing for the wounds of war and hope for the future.
Bless the Marriage of a Military Couple
013960
The first time Wayne Wilson learned how to drive, it was behind the wheel of a Humvee in Iraq. The 17-year-old had joined the Army to escape from an abusive home, going straight from high school into basic training. He graduated from Airborne School and was immediately deployed on his first combat tour in 2002. "My first year out of the home was spent in a war zone," Wayne said. He was one of the youngest soldiers in his brigade when the Iraq war began.
On July 23, 2003, Wayne was excited to have reached his one-year combat anniversary date. New replacement troops were joining the brigade, and he was no longer the youngest or most inexperienced.
That night, Wayne's unit was out for a routine mission when they were ambushed. "The enemy got the drop on us," he recalled. Three soldiers were killed, including one of his closest friends. The loss was devastating, and the fact that it happened on Wayne's service anniversary only magnified the trauma. A day that should have been a proud milestone was marred by tragedy.
When Wayne's deployment ended, his comrades returned home, but he continued living in the barracks. "I felt so alone because everyone I had gotten close to went back to their lives and their families." Wayne knew he couldn't return to the drug-ravaged town where his family lived in eastern Kentucky.
Though his family professed to be Christian, his home was a toxic environment. "We went to church, but home was a nightmare," Wayne remembered. His father was absent, and his step-mother was emotionally and physically abusive.
—
When he was 9 years old, Wayne had responded to an altar call at a church revival, but he was never sure that his relationship with God was genuine. "I knew what I believed in my mind, but I couldn't feel it in my heart. I wasn't practicing it in my life."
His difficult upbringing, combined with the trauma of the battlefield, drove him far from the Lord. "I was angry at God," he confessed. "I carried around a lot of hate, anger, and resentment."
Wayne also bore physical and mental strain from his time in combat. He suffered from post-traumatic stress disorder (PTSD), traumatic brain injury, and chronic pain from a fractured neck. Like many other struggling veterans, Wayne turned to alcohol to help him cope.
Haunted by Grief, Starting to Find Hope
After returning from his second deployment in Iraq, Wayne was assigned to recruiting duty. That's when he met Grace. She was 18 and, like Wayne had been, was desperate to leave home and strike out on her own.
The couple began living together and had a courthouse wedding a few years later. "We rushed things and got married quicker than we should have," Wayne said. "She's been really good to me. I don't think she understood what she was getting into when our relationship started."
Wayne continued to struggle with grief for his fallen comrades and flashbacks from his time in combat. At night, he would wake up screaming, and even barricaded himself and Grace in the bedroom after a particularly horrible nightmare.
And each year when July 23 came, he mourned the loss of his friends. On that date in 2009, Wayne had been drinking heavily when he reached a breaking point. He finally sought professional treatment for his alcohol abuse, and it was only then that the full extent of his injuries was realized.
At the time he was still in the Army, but was told he would never deploy with an infantry unit again. "I was crushed," he remembered. In December 2011, he was medically retired.
Wayne and Grace were blessed with a daughter, and then a son. It felt like a new beginning—the little boy was born on July 23, 2014. "We were given life on that day. It can be hard because I still deal with the emotions associated with that date," said Wayne. "But I try to remember that those guys who paid the ultimate sacrifice would want me to honor their memory by enjoying my family. I view it now more as a celebration of life, and God's grace, and things coming full circle."
Pursued by Christ
When the Wilsons were invited to come to Alaska for a week of marriage enrichment with Operation Heal Our Patriots, a project of Samaritan's Purse, they knew that God was up to something. They had recently started attending a local church, and Grace had committed her life to Christ.
Wayne still wrestled with the emotional numbness and detachment that is common with PTSD, but he could sense the Lord pursuing him. "I wasn't actively looking for anything or trying to communicate with God," he said. "But I could tell He was trying to get my attention."
They arrived at Samaritan Lodge to a warm welcome from Operation Heal Our Patriots staff, local residents, and Franklin Graham, President of Samaritan's Purse.
As they hiked, fished, and bear watched in the beautiful Alaskan wilderness, God gave them rest and opened their hearts. Through daily marriage resiliency classes, they gained tools for a healthy bond. "I hope that getting out of the day-to-day grind, and getting up here, can help break some of these cycles that we've been in," Wayne said.
Spending time with other veteran couples helped reassure them that they are not alone in their struggles. "We have a lot in common," Grace realized. "When we isolate ourselves, it's hard to see that. You think nobody else is in this situation. But they are."
The couple received counseling from our retired military chaplains and their wives. And during one of these sessions, Wayne surrendered his life to Christ. After years of doubt and anger, his faith finally became real. "I'd been on the fence for a long time," he said. "I kind of understood in my head about God, but wouldn't let it into my heart."
At week's end, Wayne was baptized in the waters of Lake Clark. Addressing staff and fellow military couples beforehand, he shared a testimony of the hope he has found in Jesus. "This is a reboot, this is a second chance, this is a new beginning."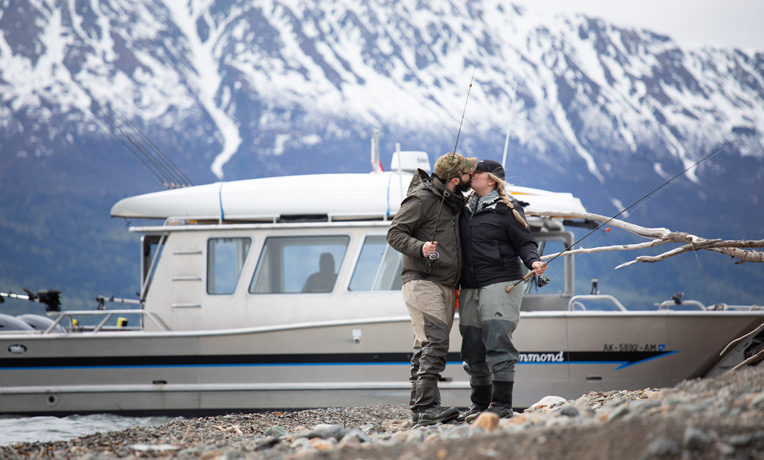 Bless the Marriage of a Military Couple
Operation Heal Our Patriots helps military couples build a strong spiritual foundation during a week of Biblically based workshops, relationship-building wilderness activities, and individual care by our retired military chaplains. We offer all this free of charge to these American heroes as a token of our appreciation for their service and sacrifice. Your gift will help us cover the costs—including transportation, lodging, activities, and long-term Family Care—so that we can help them find hope in the Lord.
---
Operation Heal Our Patriots 013960
Suggested Gift: $60