Samaritan's Purse volunteers helped more than two dozen homeowners pick up the pieces of their lives after the tragic fire in New Mexico.
U.S. Disaster Relief
013622
UPDATED MAY 3
Our response to the McBride Fire has concluded now as we celebrate God's work through our teams who served as the hands and feet of Jesus to so many hurting families. During the more than two week response to a community near Ruidoso, New Mexico, nearly 100 volunteers joined our efforts in the area to help more than two dozen homeowners recover precious belongings and keepsakes not claimed by the fire. As a result, two residents prayed to receive Jesus Christ as Lord and Savior and many others were impacted by the efforts of our teams working tirelessly in Jesus' Name.
Please continue to pray for the people in this New Mexico community.
—
The deadly McBride Fire near Ruidoso, New Mexico, ignited on April 12 on a nearby mountain range and quickly spread to residential areas as winds gusted over 70 mph. Fueled by dry timber and an extremely arid landscape, the wildfire torched over 6,000 acres and destroyed more than 200 homes in the area. The blaze has claimed at least two lives.
A Samaritan's Purse North American Ministries team is now on the ground in Ruidoso, which is located 180 miles southeast of Albuquerque, high in the Rocky Mountains. U.S. Disaster Relief Unit #5—a tractor-trailer filled with relief supplies and equipment—was deployed from our Southwest Ministry Center in Coppell, Texas, on April 20.
Volunteer teams are working to clean up debris and help homeowners sift through ashes to retrieve personal items. More folks are needed to come serve as the hands and feet of Jesus Christ, bringing encouragement and the hope of the Gospel to those who are hurting right now. Our host church is River Crossing Church, 1950 Sudderth Drive, in Ruidoso.
For more information on how you can volunteer, visit SPVolunteer.org.
Billy Graham Rapid Response Team chaplains also have been sent to the affected area to offer additional spiritual support to those suffering in the wake of the destruction.
Please pray for the people of Ruidoso, home to more than 7,000 residents, and for our staff and volunteers as they minister in Jesus' Name to those who are hurting.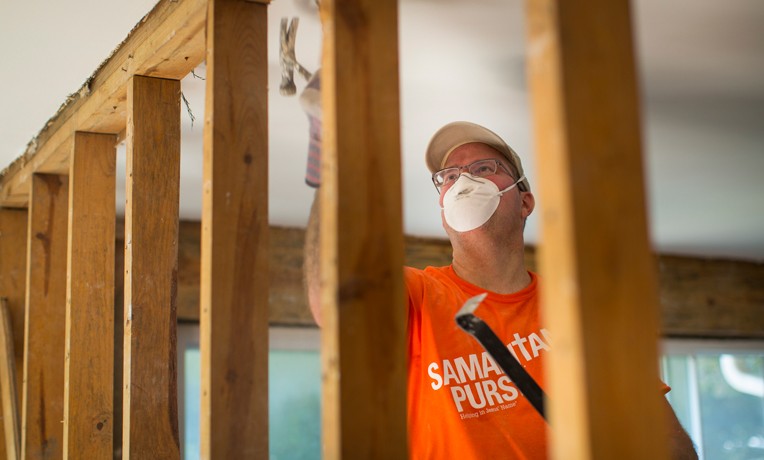 U.S. Disaster Relief
Samaritan's Purse mobilizes and equips thousands of volunteers to provide emergency aid to U.S. victims of wildfires, floods, tornadoes, hurricanes, and other natural disasters. In the aftermath of major storms, we often stay behind to rebuild houses for people with nowhere else to turn for help.
---
U.S. Disaster Relief 013622