Samaritan's Purse teams have completed their work in Grizzly Flats, California, where volunteers have been ministering to homeowners after a wildfire ravaged their community Aug. 14.
U.S. Disaster Relief
013622
UPDATED Oct. 29:
The massive Caldor Fire in Northern California ignited on Aug. 14 in the Eldorado National Forest. The blaze, driven by dangerously hot, dry winds, charged through the tinder-dry forest and torched everything in its path from one side of the Sierra Nevada to the other. In all, the inferno burned over 221,000 acres and destroyed over 1,000 structures, including more than 700 houses along the California-Nevada border.
Few homes in the forest town of Grizzly Flats survived Caldor's savagery, as the wildfire gutted the community of nearly 1,200 people. Hundreds of residents returned to their properties only to discover smoldering ash, mangled metal, and scorched pine trees towering over the charred ruins of what had previously been quiet, clean neighborhoods, where, for generations, children played and laughed, birthdays were celebrated, and windows and lawns were festively decorated at Halloween and Christmas.
As the Caldor Fire struck, our volunteer teams had already been working since Aug. 22 several hours north–in Greenville, a town in California's Plumas County–where the Dixie Fire had unleashed a similarly destructive force. Our teams were able to help more than 130 homeowners in that area recover personal belongings from their incinerated homes.
Our volunteers then moved their work on Oct. 13 to the Grizzly Flats community of El Dorado County . Over the course of more than two weeks, we deployed more than 100 volunteers to the area and helped 38 homeowners salvage precious items not consumed in the blaze–a recovery effort that was both mournful and healing to them.
This has been an unspeakably difficult time for this region. The River, Dixie, and Caldor fires charred over 1.2 million acres. In the path of the fire, 1,138 homes were destroyed.
But as we completed our work on Oct. 28, we praise God that we were able to celebrate His work in the hearts and lives of so many families in the wake of such tragic, sudden loss. In Grizzly Flats, six individuals made decisions to follow Christ. Over the course of our fire responses to this area of California, 21 people received Jesus Christ as Lord and Savior.
For more information on how you can volunteer, visit SPVolunteer.org.
This response is closed. Please continue to pray for those affected by the Caldor Fire and for our host church, Pioneer Bible Church in Somerset, California, as they continue to serve as the hands and feet of Jesus for a still-hurting community. Pray that many more would know the love of God through the work of this faithful congregation.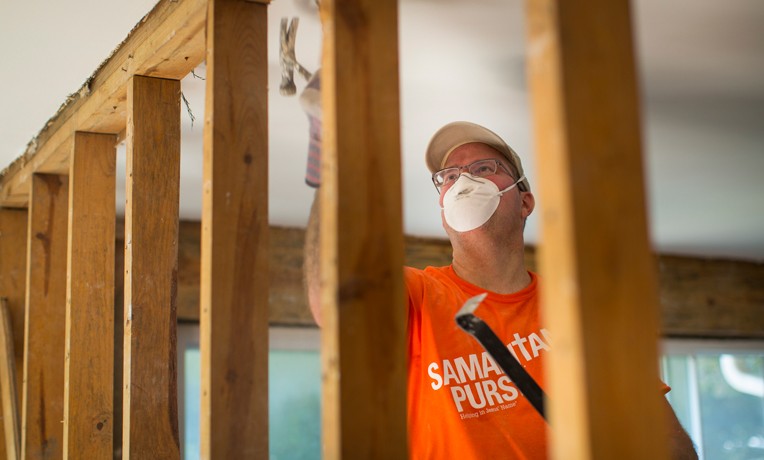 U.S. Disaster Relief
Samaritan's Purse mobilizes and equips thousands of volunteers to provide emergency aid to U.S. victims of wildfires, floods, tornadoes, hurricanes, and other natural disasters. In the aftermath of major storms, we often stay behind to rebuild houses for people with nowhere else to turn for help.
---
U.S. Disaster Relief 013622