Samaritan's Purse teams are helping residents in Grizzly Flats, California, salvage personal items, after a wildfire ravaged their community.
U.S. Disaster Relief
013622
The massive Caldor Fire in Northern California ignited on Aug. 14 in the Eldorado National Forest. The blaze, driven by dangerously hot, dry winds, charged through the tinder-dry forest and torched everything in its path from one side of the Sierra Nevada to the other. In all, the inferno has burned over 221,000 acres and destroyed over 1,000 structures, including more than 700 houses along the California-Nevada border.
Few homes in the forest town of Grizzly Flats survived Caldor's savagery, as the wildfire gutted the community of nearly 1,200 people. Hundreds of residents returned to their properties only to discover smoldering ash, mangled metal, and scorched pine trees towering over the charred ruins of what had previously been quiet, clean neighborhoods, where, for generations, children played and laughed, birthdays were celebrated, and windows and lawns were festively decorated at Halloween and Christmas.
A Samaritan's Purse Disaster Relief Unit from Fullerton, California, responded on Aug. 22 to the Dixie Fire in Greenville. Our staff and volunteers helped more than 130 families recover personal belongings from their incinerated homes.
Our team is now based in the Grizzly Flats area where volunteer teams are sifting through ashes and burnt debris to help residents salvage items that are precious to them. But more volunteers are urgently needed as we expect an increase in work requests. Please prayerfully consider volunteering with us to minister to these hurting homeowners in Jesus' Name.
Our host church is Pioneer Bible Church at 6851 Mount Aukum Road in Somerset.
For more information on how you can volunteer, visit SPVolunteer.org.
Please pray for those affected by the Caldor Fire and for our staff and volunteers as they serve as the hands and feet of Jesus and let those who are struggling know that God loves them and has not forgotten them.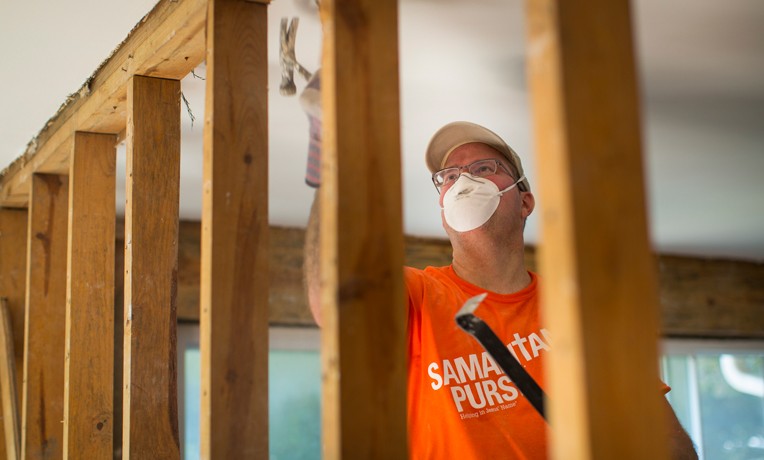 U.S. Disaster Relief
Samaritan's Purse mobilizes and equips thousands of volunteers to provide emergency aid to U.S. victims of wildfires, floods, tornadoes, hurricanes, and other natural disasters. In the aftermath of major storms, we often stay behind to rebuild houses for people with nowhere else to turn for help.
---
U.S. Disaster Relief 013622