By God's grace, Army couple unexpectedly finds new life, new outlook in Alaska through Operation Heal Our Patriots.
Bless the Marriage of a Military Couple
013960
Retired Army Staff Sergeant Ray Davis and his wife Rebecca applied to attend Operation Heal Our Patriots because they wanted to see Alaska: the Last Frontier. It wasn't until the end of their week at Samaritan Lodge though that they realized just how desperately they had needed the time together. Yes, they expected to reconnect, but they never expected their entire lives to change.
Ray served in the military for 20 years before retiring in 2020. During those two decades of service, he deployed to Iraq three times, Afghanistan two times, and once to Poland for a rotational deployment.
During his combat deployments, he had multiple near-death experiences. Ray hit five IEDs, which resulted in many physical wounds, including hearing loss, memory loss, and knee and back injuries leading to 17 major surgeries. Despite this physical trauma from combat, it was actually the deployment to Poland that caused the most damage.
For six months, Ray was based in a college town in Poland, and he had the opportunity to travel Europe, go out to restaurants, and party with his Army buddies. Meanwhile, Rebecca was home in the U.S. raising her 15-year-old stepson. Over time, this drove a wedge in their relationship.
"It was like I checked into this big role change, and he checked out," Rebecca said as she remembers navigating doctor's appointments, school systems, and raising a teenager on her own.
Finding the Missing Piece
When they arrived in Alaska, they knew something was missing in their lives and marriage. Rebecca described it as a hole in her heart. She knew there was a gap, but she couldn't find anything that satisfied or filled the void. Alcohol and other vices left them feeling empty.
Rebecca considered herself agnostic. She believed in a higher power, but she had no desire to know God personally. Ray was also hardened towards the church. He grew up extremely poor, and instead of finding church to be a safe place, he found it as a place of judgement and condemnation.
As soon as they arrived at Operation Heal Our Patriots, they were overwhelmed with the genuine love each staff member and volunteer expressed—from housekeeping, to fishing guides, and the maintenance crew. They witnessed Christ followers who were unashamed to live out their faith. Slowly, light and truth began to illuminate their misconceptions about Christianity.
They learned the power of true forgiveness and how this is the first step in rebuilding trust.
"I always feared Ray would love the Lord more than he loved me. I learned that's kind of the point…It's like a whole new outlook on what faith and loving the Lord really is," Rebecca said.
Ray and Rebecca both made decisions in Alaska to follow Jesus Christ as their Lord and Savior. In that moment, they realized that Jesus was the only one who could truly fill the hole in their hearts.
"We got way more than we bargained for—to meet Christ and to realize that He is what we were missing in our marriage—wow."
They were baptized in the icy waters of Lake Clark, publicly dedicating their lives to God and committing to start fresh on a firm foundation of faith.
"We wanted to see Alaska. We wanted to spend a week together," Rebecca said. "We didn't know we needed this time. We got way more than we bargained for—to meet Christ and to realize that He is what we were missing in our marriage—wow."
Ray and Rebecca left Alaska completely different than when they arrived. They went home excited to grow in their faith together, get plugged into a local church, and raise their three-year-old son in a household focused on Jesus.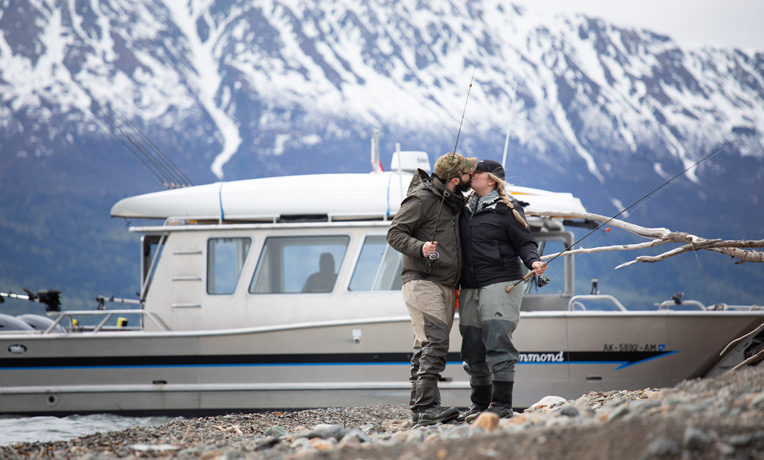 Bless the Marriage of a Military Couple
Operation Heal Our Patriots helps military couples build a strong spiritual foundation during a week of Biblically based workshops, relationship-building wilderness activities, and individual care by our retired military chaplains. We offer all this free of charge to these American heroes as a token of our appreciation for their service and sacrifice. Your gift will help us cover the costs—including transportation, lodging, activities, and long-term Family Care—so that we can help them find hope in the Lord.
---
Operation Heal Our Patriots 013960
Suggested Gift: $60