Scores of motorcyclists rode through the mountains of North Carolina to help raise awareness and support for Operation Heal Our Patriots, a Samaritan's Purse project for wounded veterans and their spouses.
Bless the Marriage of a Military Couple
013960
The 10th annual High Country Warrior Ride, held May 15, raised significant financial support for Operation Heal Our Patriots, the Samaritan's Purse ministry to military couples with a spouse wounded in combat operations after 9/11.
"We want these warriors to know that God loves them. And that's the message that Samaritan's Purse is all about. Wherever we go, wherever we work, this is the message—we want people to know that God hasn't forgotten them," said Samaritan's Purse President Franklin Graham, addressing the riders prior to their excursion.
Edward Graham, a 16-year Army veteran and Franklin Graham's son, along with Warrior Ride founder Mark Speir, were part of a group of 144 motorcyclists who rolled out on 116 bikes Saturday morning from Samaritan's Purse international headquarters in Boone, North Carolina. Board member Jim Furman, who's ridden in all 10 Warrior Ride events, also participated. Their winding journey across the Blue Ridge took them to our campus in North Wilkesboro for lunch.
Each Warrior Ride helps raise funds to send military couples to Alaska where they can experience the beauty of God's creation in the Last Frontier and the healing power of the Gospel of Jesus Christ for their lives and marriages. The event also encourages prayer for veterans and their families.
"We should always be praying for our military men and women. We live in the greatest country on earth, and these veterans have defended and sacrificed for our freedom. So many of these marriages are broken by the trials of combat and injury," Edward Graham said. "This is a ministry that shows and points to Jesus Christ being the foundation that marriages should be built on instead of the emptiness and brokenness of so many marriages."
The Boone Chapter of the Christian Motorcyclists Association and local law enforcement ensured the safety of riders throughout the morning.
Following last year's cancellation due to COVID-19 precautions, we praise God that this year's ride, which fell on U.S. Armed Forces Day, allowed for a mask-free gathering and perfect riding weather.
A Lifetime Ministry
At our North Wilkesboro center, Warrior Ride participants gathered for a barbecue lunch and toured the facilities with North American Ministries Vice President Luther Harrison.
This location houses our Operation Heal Our Patriots team, U.S. Disaster Relief, World Medical Mission warehouse, and many components of our international disaster response capability—including our Emergency Field Hospitals.
Over lunch, motorcyclists also heard from a military couple who, by God's grace, was transformed through Operation Heal Our Patriots—a project which begins in Alaska but walks alongside couples for a lifetime.
U.S. Navy Corpsman Ben Hebert and his wife, Heidi, went to Alaska in 2013. It was there they learned of God's love for them and that the seed of the Gospel was planted in their hearts. But it wasn't until they had left Alaska that they eventually experienced new life in Jesus Christ.
At our 2015 Annual Reunion at The Billy Graham Training Center at The Cove, while listening to the Gospel shared by General Jerry Boykin, the couple finally committed themselves to Christ.
"That night we said that invitation prayer to God to come into our hearts," Ben said. "Now we have a relationship with Jesus Christ, and that relationship all started because of Operation Heal Our Patriots."
Heidi said it saved their marriage.
"It is not just a trip to Alaska, it is not just a marriage retreat," she said. "Without this ministry we would not be standing here today, and we would not be married today. For everyone who has donated to this or who has prayed for this ministry, it impacted someone's eternal life. It affected my eternal life. It affected my husband's eternal life."
The Heberts now have joined two dozen other couples in the ministry's Key Leader program, providing opportunities for couples to mentor and minister to their fellow military couples.
This is all part of the Operation Heal Our Patriots Family Care ministry that provides 24/7 access to our regional chaplains, connection to a local church, marriage enrichment events and gatherings, our annual Reunion, opportunities to serve in U.S. Disaster Relief through Team Patriot, and, of course, ongoing connection to a network of hundreds of military couples.
John Pryor, a former U.S. Marine and director of Operation Heal Our Patriots, says Alaska is just the beginning.
"When they become part of Operation Heal Our Patriots, they become a part of a family. We've all shared the military and we share that common bond," Pryor said. "We are committed to these couples for a lifetime. The need is great and I'm blown away at the impact God is having on these couples in Alaska but even years down the road. The Heberts are a perfect example of that."
Please pray for the 1,232 military couples who are part of the Operation Heal Our Patriots family and for the 180 couples, including 20 law enforcement couples, who are scheduled to come to Alaska this summer season (May 30-Oct. 1).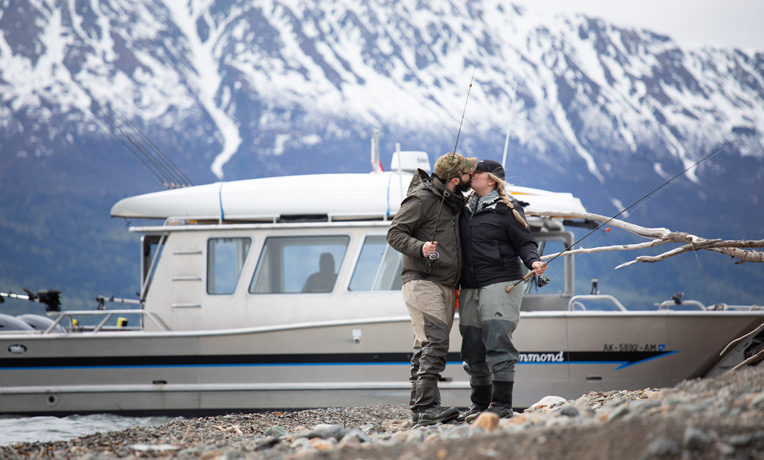 Bless the Marriage of a Military Couple
Operation Heal Our Patriots helps military couples build a strong spiritual foundation during a week of Biblically based workshops, relationship-building wilderness activities, and individual care by our retired military chaplains. We offer all this free of charge to these American heroes as a token of our appreciation for their service and sacrifice. Your gift will help us cover the costs—including transportation, lodging, activities, and long-term Family Care—so that we can help them find hope in the Lord.
---
Operation Heal Our Patriots 013960
Suggested Gift: $60