At the 2023 Operation Heal Our Patriots Reunion, couples were urged to bring before God the spiritual battles raging in their lives and families.
Bless the Marriage of a Military Couple
013960
Nearly 500 military couples were encouraged to rely on Jesus Christ, to read and believe God's Word, and to stay connected with fellow couples at the 2023 Operation Heal Our Patriots Reunion, April 28-30, in Orlando. The annual event kicked off Friday evening with an address from Samaritan's Purse President Franklin Graham who invited attendees to place their faith in Jesus Christ.
"I want to talk to you tonight about the most important thing you own," Franklin Graham said. "We all have a soul. Your soul is the most important thing that you own. And the Bible says you can gain the whole world and lose your soul. Is your soul secure? I want to give you an opportunity tonight to receive Jesus Christ as your Savior."
We praise God that close to 60 individuals made decisions for Christ that evening. We're also grateful for the ways couples were encouraged during the multi-day event in their marriages, faith, and the importance of reading God's Word.
"All Scripture is God-breathed," Edward Graham told attendees during the weekend, challenging them to join him in reading the Bible over the next year. "What good is the Bible you received in Alaska if it's just sat on a shelf. This is God's way of communicating with us. Why not read it?"
Edward Graham, youngest son of Franklin Graham, is a retired Army Ranger and now serves as chief operating officer of Samaritan's Purse. In addition to encouraging fellow veterans at the Reunion, he also spoke on a panel at the conference about military marriages and seeking forgiveness.
"We're the men in our families, so we need to say we're sorry," he said. "My wife and kids have taught me more about forgiveness and grace than I've ever taught them."
Learning and Growing
Couples also had opportunities to attend breakout sessions addressing topics common among military families—dealing with trauma, controlling anger, how to parent, and how to forgive.
"You need to revisit that choice to forgive," Chaplain Pat Fleming told attendees during a panel discussion. "Sometimes you'll need to revisit it every morning, because Satan will rear that person's name or face and you'll really start to get angry and you have to say not today. I've forgiven them."
Sessions also discussed how to study the Bible, developing intimacy in marriage, and making Christ the center of a marriage.
During the general session on Saturday evening, attendees heard from U.S. Navy Lieutenant Commander Tammie Jo Shults. Shults, an F-18 pilot, was one of the first female fighter pilots to serve in the Navy. She came into the public eye again in 2018 after safely and heroically landing a severely damaged Southwest Airlines plane.
She and her husband, Dean, have encouraged our military couples the last several years through Operation Heal Our Patriots, including several visits to Samaritan Lodge Alaska. At the Reunion, Shults shared the harrowing events of the Southwest Airlines incident, even as she encouraged attendees to value their spouse and embrace community.
"God has already gone before us," Shults told attendees. "He knows the things we're going to stumble on. He knows the importance of being together with other people and taking time to be together with our spouse."
On Sunday, U.S. Army Major General Doug Carver, former Chief of Chaplains, encouraged couples.
"Twenty years ago, just think of where we were," Carver said, referring back to the September 11 attacks. "You have proven yourselves to be the heart and foundation of this nation. As I've looked in your eyes and heard your stories, I have renewed confidence in what God can do through you in your community."
Supporting Each Other as Family
The weekend underscored the importance and strengthening power of the Operation Heal Our Patriots community, serving each other and serving together.
"The military has this comradery and they may have never met on the battlefield. but here they come together and become a band of brothers and sisters," said Luther Harrison, vice president of North American Ministries at Samaritan's Purse. "So our Key Leaders are reaching out to new couples, they're going out with Team Patriot and often helping other veterans who've lost everything. These are the ways Operation Heal Our Patriots is becoming like a family. Every year the family gets bigger, and Franklin Graham honors them as patriots who've protected our country and he's serious about them having a relationship with Jesus Christ."
Marine Chad Hiser understands this need for connection. He remembers someone telling him to find a "new normal" after he returned from Afghanistan in 2004. During a Key Leader training at the Reunion, Chad said his tendency back then was to cut himself off from everyone.
"Trauma rewires the brain," he said, offering a glimpse into his own experiences during the 2003 Iraq invasion. "It's very easy to isolate. It's much easier to stay home than to have sky-high anxiety at a restaurant, almost to the point of paralysis, simply because my back is to the door."
Nearly two decades after his early deployments to Iraq and then Afghanistan, 2013-2014, and their long journey toward healing, Chad and his wife, Lindsey, came to Samaritan Lodge Alaska in 2017. There they recommitted their marriage to Christ and committed themselves to helping fellow veterans. Now the Hisers are one of 35 Key Leader couples with Operation Heal Our Patriots.
"Isolation is a downward spiral," Chad said. "It's a very dark place. It becomes an echo chamber when there's no one to challenge your false beliefs. That's just where the enemy wants us."
The Key Leader Program is a critical piece of the broader Operation Heal Our Patriots Family Care ministry, which includes regional chaplains, regional gatherings, Fortify Your Marriage weekends, Team Patriot disaster relief deployments, an ever-strengthening network of military couples, and the annual Reunion open to Alaska alumni.
"There are more ways for couples to stay involved than ever before," said John Pryor, director of Operation Heal Our Patriots. "We want people to come to the Reunion and reconnect with the people they met in Alaska, but we also want them to connect with couples in other ways. Connecting in these different circles is going to make us a more tight-knit community."
Another one of those "circles" emphasized throughout the weekend was Team Patriot. Army veteran Josh McCart, who has served with his wife, Amber, on multiple Team Patriot deployments since the program started in 2019, was encouraging other couples to sign up at the Reunion. He said that working at disaster relief sites has encouraged him and connected him with other veterans as they share a mission to help hurting people.
"Relationships in this country are under spiritual attack, and men are being broken down and demoralized by our culture," Josh said. "Community is so important. That's what I love about Team Patriot. I love seeing guys come out for the first time, and they begin to understand their value again as a man and a soldier."
Please pray for the many military couples in Operation Heal Our Patriots and for the many more who will be traveling to Alaska this year over 17 weeks from May to September. Pray that God would create strong bonds within marriages and within the community, and that many wounded veterans and their spouses would receive Jesus Christ as Lord and Savior.
Find out more about Operation Heal Our Patriots.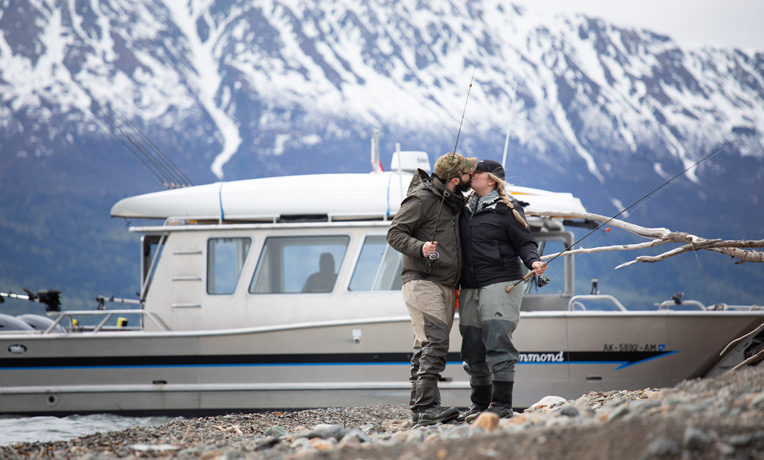 Bless the Marriage of a Military Couple
Operation Heal Our Patriots helps military couples build a strong spiritual foundation during a week of Biblically based workshops, relationship-building wilderness activities, and individual care by our retired military chaplains. We offer all this free of charge to these American heroes as a token of our appreciation for their service and sacrifice. Your gift will help us cover the costs—including transportation, lodging, activities, and long-term Family Care—so that we can help them find hope in the Lord.
---
Operation Heal Our Patriots 013960
Suggested Gift: $60