Volunteers of all ages and abilities are working with Samaritan's Purse to help flood victims in Colorado
They said she was an "integral part of the team" and a joy to be around. Donna Osbourne drove 45 minutes from Arvada, Colo., to volunteer with Samaritan's Purse and help her nearby neighbors after the flood hit early September.
Donate to U.S. Disaster Relief
It was true. Donna was willing to do anything and everything to help. The only thing she couldn't do was understand what others said when they were wearing the protective face masks in the basement because it blocked her from reading their lips.
"I'm deaf, so the masks posed a problem. But you have to laugh about it," she said. "I don't like thinking that communication is all about eyes and ears. We're together as a team. That's how we communicate: Teamwork."
So Donna helped in other very important ways. She stood outside the basement window with a wheelbarrow so face mask-wearing volunteers could reach out and hand her the debris for removal without having to say a word. When she saw others working on different tasks, she joined in without having to be asked.
"What a wonderful trooper," said Carl Martin, who led her volunteer team. "I was not concerned about her abilities or anything. The first thing that popped into my head was she had true grit. There was nothing she couldn't do. She always said what she can do."
SEVERE FLOODING IN COLORADO: Samaritan's Purse is helping homeowners after heavy rains affect thousands across a wide area of the state.
This was Donna's second time volunteering with Samaritan's Purse. The first time was a couple of years ago in Alaska.
"I always wanted to be a part of a team," she said. "I find myself a way to help out, and we help each other."
Samaritan's Purse relies heavily on volunteers with servant hearts like Donna for the disaster relief efforts all over the country to function efficiently and effectively.
"Never tell me you're not qualified. You are. Everyone is qualified to work in a disaster relief site," Carl said. "I truly believe that. I don't care who you are. When you come to the field with us, you're part of the team. We'll find something for you that you can do."
Even Carl, who has been volunteering with Samaritan's Purse since 2006 during Hurricane Katrina, said he too used to think he was unqualified. When he thought about volunteering in a disaster zone, he said he used to envision that he'd need to frame a house or be a carpenter. It wasn't until his wife encouraged him to just try it once that he realized he really had all the qualifications he needed all along.
"I was nervous and low in the confidence level, but I let the Lord take care of it, and I loved it," he said. "I hadn't slowed down since. I was hooked."
Carl went on 14 different weeklong disaster relief trips with Samaritan's Purse in the first two years after Katrina. His own experience and personal growth is why he is extra passionate about getting everyone involved who has a desire to volunteer, regardless of what others may think could hold them back.
Along with Donna, a 72-year-old man from Broomfield, Colo., volunteered for the day. Bill Denison was diagnosed with cancer last year and was managing it naturally without treatment while also was suffering from two very bad knees. However, he had a background in construction and public service and more importantly he had the desire to help flood victims in any way possible.
So, he was assigned to be a safety supervisor and helped by being Carl's second pair of eyes while managing the large team of volunteers. His job was to make sure no one did anything unsafe while working under potentially hazardous conditions. He also ran errands for the group by picking up more safety masks from the store.
"I had been setting at home thinking about everything going on here and felt like I needed to do something," Bill said. "I can't do much, but I can do what I can."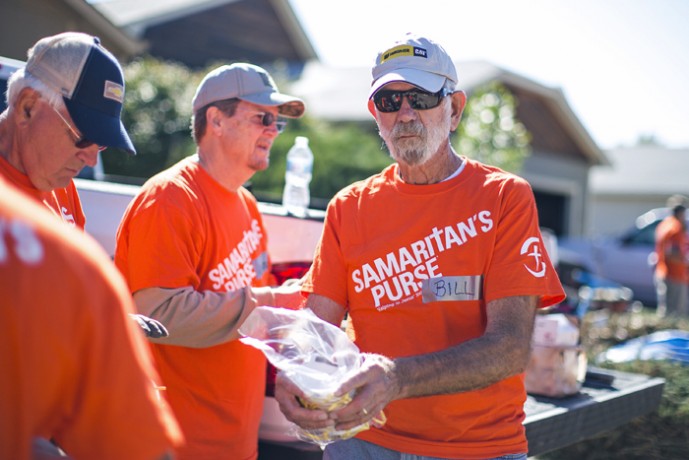 Carl said he'll never forget the moment Bill left one afternoon after working most of the day. He was tired and apologized for having to leave as he shook Carl's hand, but Carl assured him over and over again how invaluable his service was that day and that he shouldn't have to apologize. Bill had made a difference that day and was a valuable member of the team.
"It was a real blessing to me to be able to give him something to do," Carl said. "You could see it in his eyes that his talents were being utilized."
Samaritan's Purse volunteers come from all over the country, from all kinds of backgrounds and range in age from 14 to even the 90s. No matter what their skill level is, each person is valuable and a necessary member of the team. And together, there is no job too big or too small to handle.
"All you need is a big heart and hands," Donna said. "Just because I can't hear doesn't mean anything. I can do anything because God helps me and gives me strength. Nothing limits me."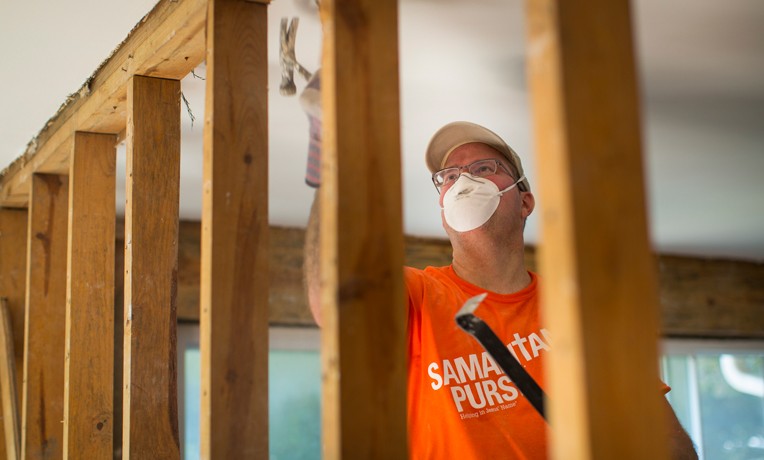 U.S. Disaster Relief
Samaritan's Purse mobilizes and equips thousands of volunteers to provide emergency aid to U.S. victims of wildfires, floods, tornadoes, hurricanes, and other natural disasters. In the aftermath of major storms, we often stay behind to rebuild houses for people with nowhere else to turn for help.
---
U.S. Disaster Relief 013622
See videos from our response to help flood victims in Colorado