The Samaritan's Purse project for military couples closes Week 12 in Alaska by celebrating what God did among couples representing the Navy, Marines, and Army.
Samaritan's Purse staff and volunteers rejoiced as three individuals were baptized and four couples rededicated their marriages in Alaska last Friday, August 21. During Week 12, seven individuals received Christ as Lord and Savior.
Since its start in 2012, Operation Heal Our Patriots has served hundreds of military couples in which at least spouse has been injured or wounded in combat or combat-related activities following 9/11. We fly couples to Alaska for a week of Bible-based marriage enrichment training at a pristine location on Lake Clark. There our retired military chaplains provide classes and counseling, and additional staff offer guided wilderness activities, such as fishing, hiking, and wildlife viewing. An aftercare program is in place to follow up with couples for years to come.
Among the ten couples who participated in activities for Week 12, 2015, were Logan and Gianna Hale, a Navy couple from Willow Park, Texas; Chris and Sally Snider, a Marine couple from Florence, South Carolina; and Pat and Mandy Harris, an Army couple from Hershey, Pennsylvania.
Navy Petty Officer Second Class Logan Hale goes to nursing school during the day and Gianna works in the evenings. So they were thankful for the time together to concentrate on each other.
"It was great to get away and be able to relax," Logan said. "We learned a lot from couples that have been married a long time—like the chaplains and volunteers."
The Hales, who've been married almost three years, are Christians and their marriage is good, Logan said. But, what they learned through the classes in Alaska will really help them moving forward.
"We got a lot of information that can improve our marriage and make it even better than it already is," Logan said. Logan suffers from serious shoulder injuries sustained while serving in Afghanistan from 2010-2011.
Marine Sergeant Chris Snider, who served three combat deployments to Fallujah, Iraq (2006-2007-2008/09), described his time in Alaska through Operation Heal Our Patriots as the "most awesome experience I've ever had in my entire life." He rededicated himself to Christ and his wife Sally surrendered her life to Him for the first time. They also participated in a marriage recommitment ceremony along the shores of Lake Clark.
"It has completely transformed our marriage and our lives," Chris said. "We truly together have a new outlook on life."
Chris said he and Sally have attended other marriage enrichment events through the military. This one was different because the chaplains were able to break things down and make the concepts "more understandable," he said. The couple now looks forward to serving Christ in the future.
Mandy Harris said our staff, volunteers, and even the town residents made her stay feel like home. Mandy listed off some memorable experiences—bear watching and seeing an eagle fly with a fish in its talons—and named guides and others who made a deep impression on her and her husband Army Sergeant Pat Harris. Pat was injured when his Humvee hit a roadside bomb in Iraq in 2007.
"We really connected with everybody we met," Mandy said. "You could tell they genuinely cared."
Both Mandy and Pat received salvation in Christ while staying at Samaritan Lodge Alaska. They were baptized and rededicated their marriage on Friday.
Pat was recently medically retired from the Army, and Mandy sees their time together through Operation Heal Our Patriots as an important transition point.
"We needed that time and reflection for us as a married couple," she said.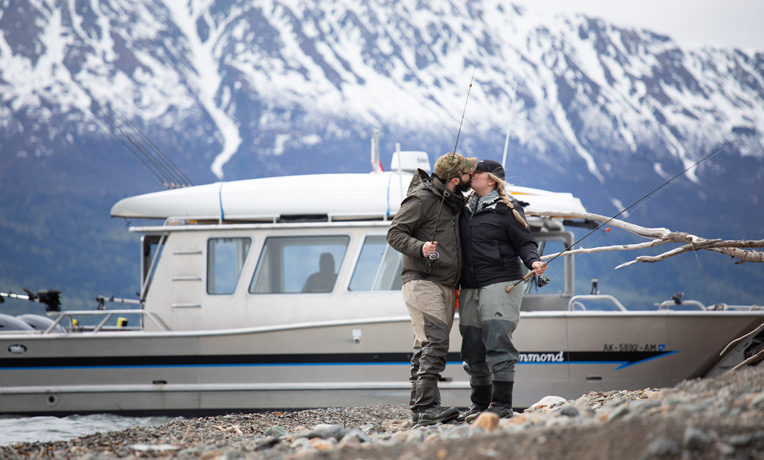 Bless the Marriage of a Military Couple
Operation Heal Our Patriots helps military couples build a strong spiritual foundation during a week of Biblically based workshops, relationship-building wilderness activities, and individual care by our retired military chaplains. We offer all this free of charge to these American heroes as a token of our appreciation for their service and sacrifice. Your gift will help us cover the costs—including transportation, lodging, activities, and long-term aftercare—so that we can help them find hope in the Lord.
---
Operation Heal Our Patriots 013960
Suggested Gift: $60