Please pray for the military couples who are participating in this Biblically-based marriage enrichment program.
Bless the Marriage of a Military Couple
013960
The 10th season of Operation Heal Our Patriots began Memorial Day weekend as we welcomed the first planeloads of wounded veterans and their spouses to Samaritan Lodge Alaska. The couples will participate in a week of relationship building through chaplain-led marriage classes as well as excursions such as fishing, hiking, kayaking, and wildlife viewing.
On Sunday, May 30, Samaritan's Purse staff as well as Port Alsworth community members lined up along the gravel runway waving American flags high in the air. Samaritan's Purse President Franklin Graham was among those waiting to greet the veterans and their spouses as soon as they stepped off the plane.
"At Samaritan's Purse we honor our veterans, and this Memorial Day is no different," he said. "Couples have come to Samaritan Lodge Alaska where we work with them on their marriages, but, more importantly, we want them to know Jesus Christ. We want to invest in the families of our warriors—our heroes."
Watch a special Memorial Day weekend video!
Every week this season, our chaplains will encourage the veterans and their spouses to grow closer to God. Luis Anda, a retired military chaplain and one of our regional chaplains with Operation Heal Our Patriots, said that he is praying "wounds would be healed, hearts would be mended, and brokenness would be restored through the blood of Christ. I pray that all these military couples see is one Lord and one Savior—one hope. I pray they will give their lives to Christ."
Army Sergeant Edgar Aguilar and his wife Edith said they have already been blessed as they spent time together fly fishing and enjoying God's beautiful creation. "The views are breathtaking—it's amazing," Edith said.
Edgar was overwhelmed at the greeting they received upon arriving at Samaritan Lodge Alaska. "When I looked out the window of the plane and saw everyone waving the flag—I was not expecting that. It felt like a real welcome; everyone was there for you and wanted you to be there."
Edith said that she's overwhelmed at the kindness and love expressed by the staff. "It's already incredibly special. I'm so excited for the rest of the week."
Nearly 160 military couples, all with at least one spouse wounded in combat after 9/11, are expected to join us this summer in Alaska. Please pray for God to transform their lives and their marriages. Pray that these couples will experience the power of the Gospel and will trust in the eternal hope that is in Jesus Christ.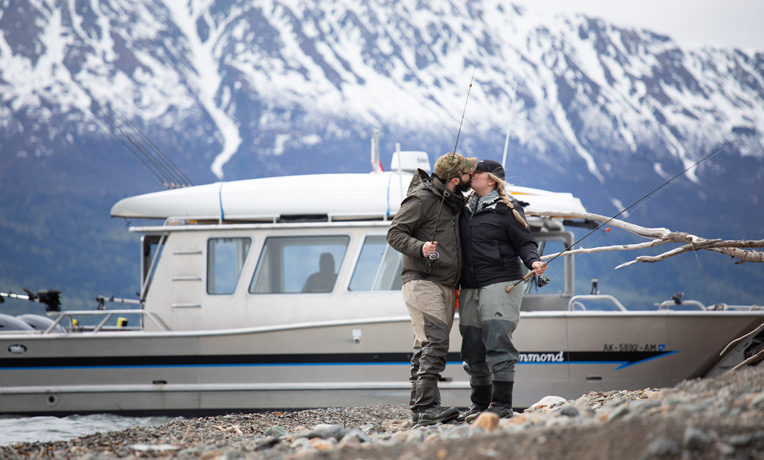 Bless the Marriage of a Military Couple
Operation Heal Our Patriots helps military couples build a strong spiritual foundation during a week of Biblically based workshops, relationship-building wilderness activities, and individual care by our retired military chaplains. We offer all this free of charge to these American heroes as a token of our appreciation for their service and sacrifice. Your gift will help us cover the costs—including transportation, lodging, activities, and long-term Family Care—so that we can help them find hope in the Lord.
---
Operation Heal Our Patriots 013960
Suggested Gift: $60