With help from Samaritan's Purse, a family of eight is coming home following a historic winter storm that left them displaced and in need.
U.S. Disaster Relief
013622
Tiffany Johnson woke up early on Valentine's Day to a terrified and panicked 9-year-old racing into her bedroom.
"It's flooding! It's flooding! There's water everywhere!"
Just two days earlier, Tiffany and Brian had been in the basement enjoying their weekly movie night with their six children when they heard a violent crashing outside. A tree had fallen and crushed their neighbor's car.
They knew a winter storm was moving deeper into Oregon, but they hadn't expected this.
The storm rattled the whole community for several days. Trees would crack and fall throughout the night and into the early morning. Transformers were blowing. Tiffany said it sounded like a battle was happening outside their home.
"I've lived in Oregon my whole life and I've never seen a storm like this before," Tiffany said. "The trees cracking and breaking sounded like bombs. It was pure terror."
Then the community began a week-long stretch without electricity. This is what led to the flooding of the Johnson's home.
A sump pump failed, due to loss of power, and water rose in their basement overnight. When they woke Feb. 14, they ran downstairs to find their belongings floating around. They rushed through the water to save what they could—some special toys and photo albums—but everything else down there was destroyed.
The Johnsons left without knowing when they'd return.
Seemingly Nowhere to Turn
"Having that space—the space we lost—is more important than our kitchen," Tiffany said. "The kids are the heart of our home. We live in our basement; we're there all day."
The basement is where Tiffany devotes much of her time to homeschooling their children. Only a few months ago, Brian had renovated the basement to create a unique space for their children to "go to school" during the pandemic. They added desks, colorful posters, rugs, and storage bins to organize school supplies.
"It was disheartening to see it damaged so quickly," Tiffany said.
The now waterlogged walls and insulation had become a significant health risk, especially to their son with cystic fibrosis.
They had to leave their home and shelter at a hotel, where they received a call with more bad news. Their insurance would not cover the cost of damage to the basement. And, with Brian having lost his job last year as a result of COVID-19, they simply did not know where to turn for assistance.
"I left our hotel room and bawled. It was so hard to hear," she said. "I was discouraged thinking we were going to have to do it all on our own and the work was going to take forever. Since day one, we've been reaching out, trying to get help."
Help Finally Arrives
Since Feb. 27 Samaritan's Purse volunteers have been helping in Jesus' Name, coming alongside homeowners to clean up property damaged by the ice storm in communities south of Portland. Debris-filled yards, downed trees, and flooded homes have been the common theme for these communities.
The help Tiffany was desperately searching for finally came when a team of Samaritan's Purse volunteers arrived. After days of wondering what they would do next and so many mornings of the Johnsons feeling helpless and stranded, our teams arrived and got straight to work on the basement area. Over a couple of days, we were able to rip out the damaged sheetrock and insulation, remove waterlogged furniture and other belongings, and spray for mold.
Thanks to the hard work and dedication of these volunteers, the Johnsons can return home without worrying that their son will get sick. "It's going to be a safe, clean space," Tiffany said.
"This was a huge help and stress reliever," Tiffany said. "It's an amazing blessing and answer to prayer. It was a huge weight lifted from our shoulders.
"A lot of our community members are still struggling. We're hurting. We needed help from the outside," Tiffany said. "I'm really grateful for Samaritan's Purse coming out to help us do this amazing cleanup."
So far, more than 47 local volunteers have assisted more than two dozen homeowners in Clackamas and Marion counties. We praise God that two individuals have received Jesus Christ as their Lord and Savior through our Oregon deployment.
Samaritan's Purse is also working in Texas after ice storms. To learn more about volunteering with us in Oregon, Texas, or elsewhere, go to SPVolunteer.org.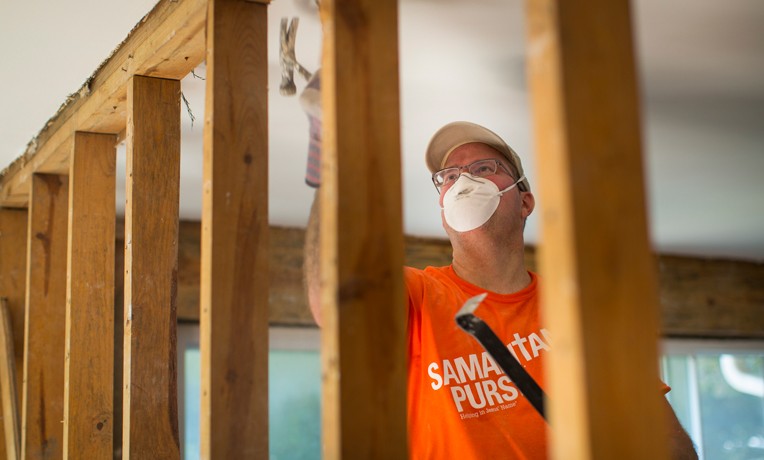 U.S. Disaster Relief
Samaritan's Purse mobilizes and equips thousands of volunteers to provide emergency aid to U.S. victims of wildfires, floods, tornadoes, hurricanes, and other natural disasters. In the aftermath of major storms, we often stay behind to rebuild houses for people with nowhere else to turn for help.
---
U.S. Disaster Relief 013622