In a state that struggles with high suicide rates, Samaritan's Purse is building churches and youth centers in an effort to bring the hope of the Gospel
Alaska is full of unique, natural beauty that is unparalleled anywhere else in the United States. But it is also the home of something much darker.
With long, sunless winters and isolated villages, depression and alcoholism can often be prevalent. The state's suicide rate is twice the national average, with Alaska Natives accounting for a disproportionate percentage. When it comes to teen suicide, the rate is at least three times the national average.
"Alaska has one of the highest teenage suicide rates than anywhere in the United States. We want to do something about it," Samaritan's Purse President Franklin Graham said.
Samaritan's Purse is working to bring the hope of the Gospel to Alaska through two construction projects. We are building a church in Nome, and a church and parsonage in Kipnuk, a Yupik Eskimo village.
"The reason Samaritan's Purse comes to villages like this is because the kids here have no hope," Graham said.
Earlier this year, we completed the construction of a youth center in Nome, and in 2007, we built a youth center in Hooper Bay.
Alaska is personally close to Graham's heart. When he was 17, he worked in construction in Nome.
"This is one of these places where we can make a difference," he said. "The only way we can do it is by working with the churches, helping to build not only the churches, but build youth centers in these communities so that there is a place for kids to go and a place that's free of alcohol, free of drugs."
To complete these projects, we rely heavily on Samaritan's Purse volunteers from all over the country. Skilled construction volunteers are needed in Nome and Kipnuk. To volunteer and make a difference in a community that struggles with finding hope, visit our volunteer network.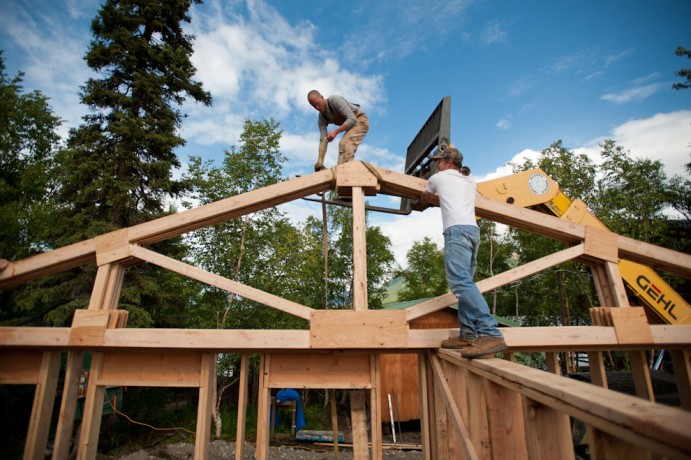 Alaska Projects
Samaritan's Purse staff and ministry partners aim to bring practical help and the Good News of Jesus Christ to native peoples in Alaska and the surrounding region.