A staff member in the Philippines writes about the calm before the storm and the ways Samaritan's Purse is helping
Michael Fryer is a water, sanitation, and hygiene program coordinator for Samaritan's Purse in the Philippines
Saturday, December 6: Preparing for the Worst; Praying for the Best
By the time you read this post, Typhoon Hagupit will probably have dissipated, or at least have passed over, but right now I'm holed up in our hotel in downtown Tacloban City waiting for the storm to hit. The outer edges of the typhoon are lashing against the windows now, but so far it's only a bit more intense than a winter storm in my hometown in British Columbia.
The last few days have been an extreme change of pace from my usual activities. I'm a water, sanitation, and hygiene program coordinator for Samaritan's Purse in the Philippines. On Wednesday this past week, I was working on developing a program that would provide clean water and proper toilets to schools affected by Typhoon Haiyan.
On Thursday, we learned that Typhoon Hagupit would probably hit the Philippines, and we quickly had to prepare ourselves and our base to weather the storm and be ready to help the thousands of people who could potentially lose their crops, their homes, and their loved ones.
We immediately sprang into action and began buying supplies for emergency hygiene kits. The kits have soap, shampoo, toothbrushes, toothpaste, a jerry can, and water purification tablets. We also prepared seven emergency water systems that can filter and purify water for entire communities or evacuation centers.
Friday was a lot calmer; most of our staff members took the day off to prepare their homes and families. Several of them were forced to move to evacuation centers. The staff members who worked packed the hygiene kits we bought yesterday and secured our equipment and vehicles.
At the last minute, we were asked to move a 15-ton desalinator that has provided water for one of the major Tacloban hospitals since Typhoon Haiyan. They were afraid that it would be destroyed in a storm surge. One of our local staff members found a crane operator who was willing to do the job, and we moved it to safety.
Today (Saturday) is the day before the storm. We have stayed at the hotel where we live to prepare ourselves for its arrival. Samaritan's Purse is bringing in a Disaster Assistance Response Team, and we have been busy speculating where the worst of the storm will hit. For me, it has been actually a pretty calm day. We are safe, we have supplies, and we basically just have to wait out the storm and respond as best we can.
Waiting for the typhoon has been a very surreal experience. I'm comfortable in a secure building with an organization that is built to thrive in disasters, but around me there are millions of people who are fearful that they will lose everything. The concern I have seen in our own national staff members reminds me of how destructive this can truly be. It's a good reminder of how precarious the situation is for many people. Tonight, I will be praying for them. Tomorrow, I will do the best I can to help.
Sunday, December 7: Update on the Storm
Typhoon Hagupit reached its peak around midnight on December 7. Water leaked into our hotel and started running down the main stairwell. The wind outside was an incredible sight as tons of rain lashed through the streets. I managed to get several hours of sleep. The hotel staff members did a fantastic job of mitigating the flooding and even were able to serve us breakfast in the morning.
Once the wind died down to safe enough levels, we went out to quickly assess the main transportation routes and check on our warehouse. Debris littered the streets, but there was nothing large enough to block traffic. Our warehouse roof was ripped open, and we sustained some water damage. Some supplies that are vulnerable to water, such as our Bibles, were damaged, but our main equipment was fine.
I left the warehouse work to other people and quickly started doing assessments. There was some serious damage and a lot of temporary evacuations, but it was much less than the damage of Haiyan last year.
My main concern quickly became the hospital whose desalinator we had removed. I went to the hospital, and it was desperately short of water. It had some for essential operations in tanks, but its city connection was not providing anything. The staff members desperately needed the desalinator to resume operations.
The chief medical officer was tired and stressed, but I sat down and prayed with her and told her I would do my best to get the water system up and running. My team called the crane operator and told him we needed his services immediately. He finally rounded up enough of his crew, and by about 9 p.m. we had returned the desalinator.
I may be leaving for Samar at 5 a.m. tomorrow to assess the worst hit areas of the storm. You can keep up with the work we're doing to help victims of Typhoon Hagupit here.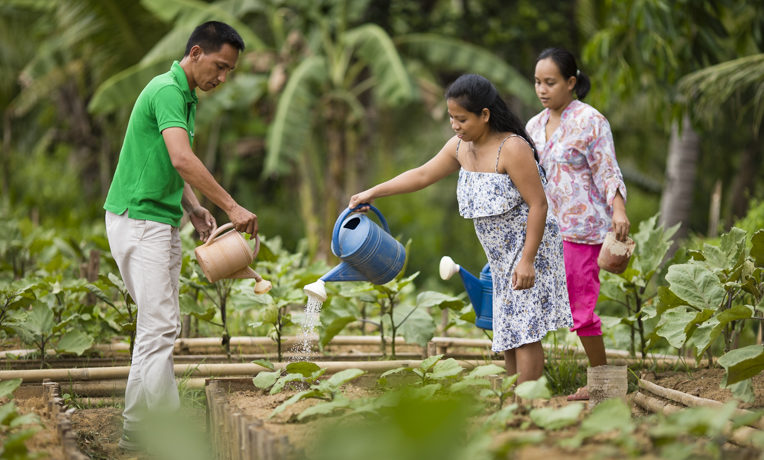 Philippines Projects
Samaritan's Purse is working to improve the quality of life for impoverished families in both rural and urban areas of the Philippines. We are training women and expectant mothers on best feeding practices for infants and young children. Our teams are providing malnutrition screening, medical care, clean water, latrines, and hygiene education. We're also supporting families through livelihood projects such as community gardening and pig raising, as well as vocational skills and microenterprise training. Most importantly, our staff are sharing the Gospel. We partner with local churches to offer evangelism and discipleship courses so that they can reach their communities with the hope of Jesus Christ.
---
Philippines Projects 013395