Samaritan's Purse gave bicycles to individuals struggling during the COVID-19 pandemic so that they could gain employment in the food delivery industry.
Vocational Training
013714
Samaritan's Purse continues to explore creative ways to support families around the world still struggling from the economic impacts of the COVID-19 pandemic. In the Philippines, we recently provided 30 individuals with a bicycle in order to help them secure a new job in food delivery.
Our project is in partnership with the Manila City government Public Employment Services Office and Food Panda, a popular online food delivery service in Asia.
Our beneficiaries include young adults like 23-year-old Gerald, who lost his job working at a shopping mall during the pandemic. "I tried looking for work, but no one was hiring. Our debts were piling up," he said.
"I dreamed of getting my family out of poverty."
Gerald was responsible for supporting his mother as well as his wife and two children. "I dreamed of getting my family out of poverty. I wanted to be able to afford our daily needs."
The family earned a few dollars selling noodles in front of their home, but it didn't come close to being sufficient enough to pay off their debts and to keep up with payments for basic services such as water and electricity.
Gerald was thrilled to learn that Samaritan's Purse was going to give him a bicycle and help him gain employment with Food Panda. "I am so grateful for Samaritan's Purse. My first day [on the job] was a joy."
Benjie, 20, also received a bicycle from Samaritan's Purse and began working with Food Panda. Benjie had to drop out of school after his father died in order to go to work and support his mother and younger siblings.
Yet, when the COVID-19 pandemic hit, Benjie lost his job and was unable to find another one. "Mama took on a job as a housekeeper, but her monthly salary wasn't enough to cover our meals, water, and electricity," Benjie explained.
The family's home had been damaged by a fire prior to the pandemic, and so they were already struggling to secure the funds needed for repairs.
"Now that I got hired at Food Panda, I will work hard, and I will get our house fixed," Benjie said. "I will be able to help Mama with our household expenses."
In addition to providing bicycles, Samaritan's Purse also offers online Bible study opportunities for beneficiaries led by our staff and ministry partners.
"When I heard God's Word, I learned I should be more helpful and never take advantage of others," Gerald said. "You shouldn't lose hope."
Please pray for Benjie, Gerald, and our other beneficiaries who have continued to suffer during the ongoing global health crisis. Pray for our staff in the Philippines and throughout Southeast Asia as they serve in Jesus' Name and share His love with those in desperate need.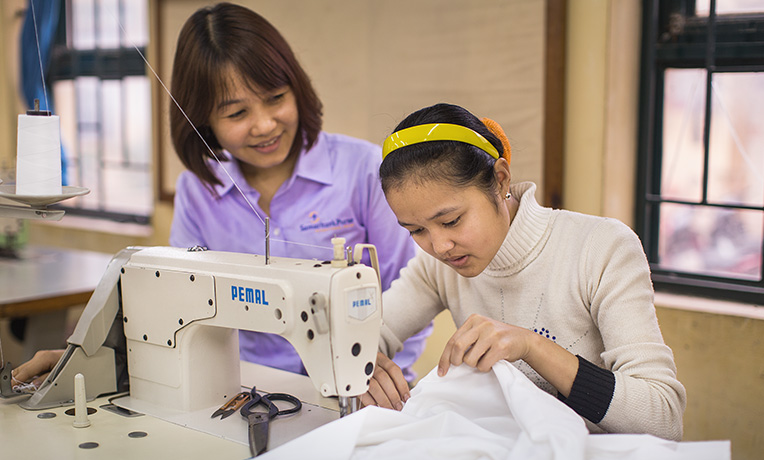 Vocational Training
Jesus told a parable about jobless people getting a day's work in a vineyard. No matter what time they were hired, the landowner promised everyone would receive "whatever is right" as payment (Matthew 20:4). At the end of the day, he rewarded them all equally. In our vocational training programs around the world, Samaritan's Purse works with people who might not be the first to be hired, but once we give them training and an opportunity, they can become productive, respected, and self-sufficient. We provide widows, single parents, and others the skills they need to do a job or open a small shop. Participants learn how to develop their trade while working for the glory of God. For $100 we can train and equip a person for sewing, carpentry, food service, or another productive livelihood.
---
Vocational Projects 013714
Suggested Gift: $100 | Share the Cost: $12