Samaritan's Purse served multiple locations in the aftermath of devastating tornadoes
"The scary part of it lasted only 30 seconds long. It couldn't have been more than 30 seconds. It was so quick and so overwhelming," said Greg Gann, a homeowner in Mayflower, Arkansas, who survived the recent deadly tornadoes by hiding in a safe room with his wife.
They retreated to the room only three minutes before the tornado hit.
"I knew that the world around me was spinning," he said.
Then something went wrong. The dead bolts didn't line up, and the safe room door blew open. His wife thought it was a death sentence. Greg jumped up and found the strength to grab the door and shut it. The storm did take their house and belongings, but not their lives.
"As bad as it seems—this is just stuff. We are alive," Greg said as he stood amongst piles of debris that used to form his home. He was also surrounded by Samaritan's Purse volunteers working to clear his site and make it possible for him and his wife to move forward.
Help Storm Victims in the U.S.
"It's really uplifting. It's hard to put it to words," he said about the help from volunteers. "I would've never thought it would've reached that deep. It makes you want to pay it forward."
Powerful storm systems swept through the central and southern United States April 27-29, killing at least 36 people and causing widespread devastation in more than half a dozen states.
Samaritan's Purse responded by sending staff and volunteers to five locations across four states. We established bases in Mayflower and Vilonia, Ark.; Louisville, Miss.; Baxter Springs, Kan.; and Athens, Ala. The Baxter Springs response completed work on May 10, the Vilonia response finished on May 11, the Mayflower response ended on May 15, the Athens response ended May 20, and the Louisville response completed work on May 27. Across the five responses, we served 482 homes with the help of 1,791 volunteers. As a result of being the hands and feet of Christ, our volunteers helped 72 people come to know salvation through Jesus Christ.
"It's complete devastation through the path that the storm took," said Jonathan Blevins, program manager for the response in Mayflower. "Homes were leveled and cars were overturned on the interstate. A lot of times the news focuses on the businesses and the larger structures. They don't show the individual homes. When you look down a street and every home has some kind of damage or is destroyed, that's when you get a true picture of the devastation."
Theresa Long's home in Mayflower was also ripped apart by the massive tornado, taking years of memories with it.
Everything was lost. Family photos. Pictures of herself as a child.
She was so overcome with grief at the sight of the destruction that when Samaritan's Purse volunteers came to help, she couldn't even walk through the house and point to what she wanted saved.
"What she went through, losing everything she held dear… It's a very emotional time for her to go through that," said Will Ferguson, a college student from Austin, Texas volunteering with Samaritan's Purse. "It's hard for [homeowners] to process. They almost don't want to start thinking of it."
When Will saw the storms on the news and received the Samaritan's Purse call for volunteers, he drove 16 hours from Washington, D.C. to Arkansas so that he could help. He had been in D.C. making plans for work during the summer, but realized God had a different plan.
"This is what I feel is my true calling—helping those in need," he said. "I should be working [in D.C. this summer], but I don't need to be making money. God and people come before my work."
He is one of many volunteers who worked to help people devastated by the storms. Our teams removed debris, put tarps on damaged roofs, and helped homeowners salvage personal belongings. Working in conjunction with chaplains with the Billy Graham Evangelistic Association, we shared the hope of Jesus Christ.
Will said his time spent with Theresa as he helped her find remnants of her home and offered her comfort reminded him of the reason why he volunteers with Samaritan's Purse.
"Every time we pointed something out, it almost always brought her to tears," he said. "Once you get involved with a homeowner, that's when you are doing God's work. You aren't out there just to do manual labor. You are there for that's woman's life, to show her that God truly loves her, to be truly God's hands and feet and to show them that God is there for them in their time of need, that it's going to be okay and they are going to be able to get through it, that they are going to be looked after and that they are loved."
Similar stories have been taking place in other hard-hit communities. In Vilonia (about 30 minutes from Mayflower), in Baxter Springs, in Louisville, and in Athens, volunteers were out in neighborhoods providing physical help and spiritual comfort.
"When you volunteer you feel like you are truly doing the best to be helping in God's name," Will said. "It's about truly caring and loving on the families. You are truly changing lives when you volunteer with Samaritan's Purse. It's a great thing to be a part of."
Please pray for victims of these tragic storms as they continue to cope even after we leave.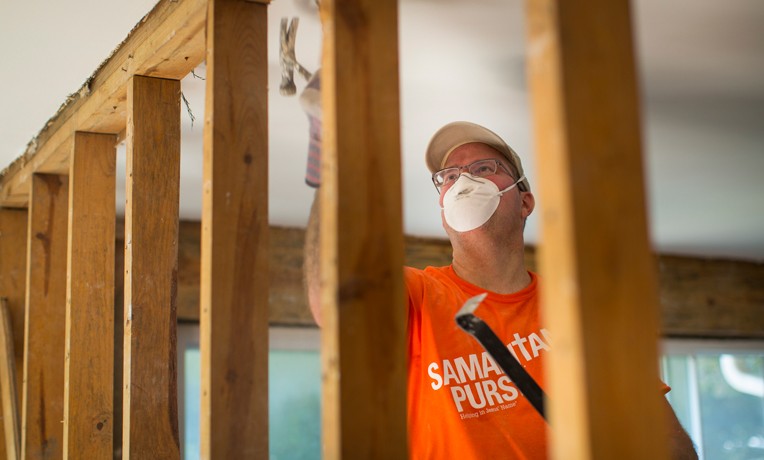 U.S. Disaster Relief
Samaritan's Purse mobilizes and equips thousands of volunteers to provide emergency aid to U.S. victims of wildfires, floods, tornadoes, hurricanes, and other natural disasters. In the aftermath of major storms, we often stay behind to rebuild houses for people with nowhere else to turn for help.
---
U.S. Disaster Relief 013622