Samaritan's Purse volunteers served in the New Port Richy area
Samaritan's Purse responded after severe flash flooding impacted Pasco County, Florida, specifically in the New Port Richy area.
According to the Assistant Manager of Samaritan's Purse U.S. Disaster Relief, Todd Taylor, 409 homes were affected in some way—including mobile homes. For many of the houses, 1-2 inches of water remained on the inside.
On Thursday, August 13, Samaritan's Purse deployed a disaster relief unit to the area. Staff members and volunteer teams helped homeowners remove debris and drywall to prevent against further damage from mold.
One woman, Thelma Rodriguez, who has lived in the area for 10 years with her sister, said she had asked everyone for help and couldn't find anyone. She felt alone and helpless when her sister told her not to give up yet. She said she prayed to God, and He answered by sending a team of Samaritan's Purse volunteers. The team is removing the flooring and ceiling where water came through the roof.
On Tuesday, August 18, the volunteers did a complete mud out of Marguerite Mayor's home. Marguerite's daughter, Jennifer Clemson, volunteered with Samaritan's Purse in 2014 at a Hurricane Sandy rebuild project in New Jersey. When she heard that Samaritan's Purse was coming to Pasco County, she knew they would be the perfect group to help her mother.
"It's surreal and amazing to see it all come full circle," Jennifer said.
We finished our response on Friday, August 21 after helping 17 homeowners. During our time there,  we were blessed to help lead seven people to salvation in Jesus Christ.
Please continue to pray for those affected by the disaster and for the host church who will continue ministering to the community even after we leave.
Last updated: August 24, 2015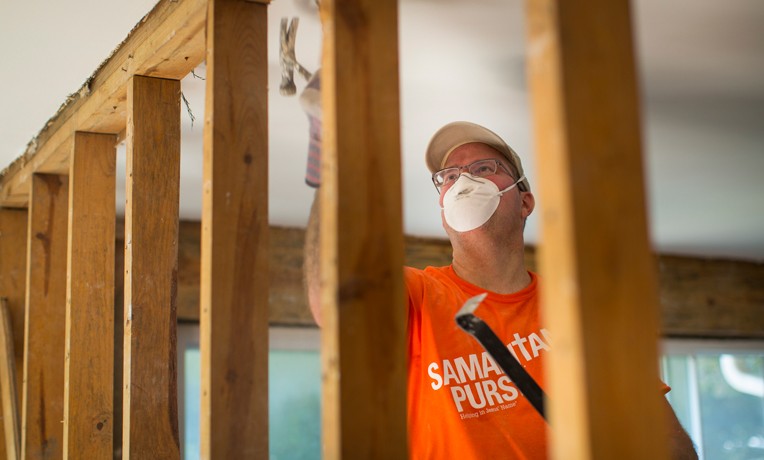 U.S. Disaster Relief
Samaritan's Purse mobilizes and equips thousands of volunteers to provide emergency aid to U.S. victims of wildfires, floods, tornadoes, hurricanes, and other natural disasters. In the aftermath of major storms, we often stay behind to rebuild houses for people with nowhere else to turn for help.
---
U.S. Disaster Relief 013622