Samaritan's Purse teams are deploying to the Washington state wildfires.
U.S. Disaster Relief
013622
UPDATE (Sept. 1): Volunteer teams have begun helping families in Spokane County sift through the ashes of their homes that were lost in the recent wildfires. One couple was especially grateful that volunteers were able to retrieve some treasured Christmas tree ornaments as well as the swords that belonged to their son who passed away four years ago. "While the things found did not have much financial value," said the wife, "they are of value to me and help with the healing of my heart."
Please continue to pray for the North American Ministries and Billy Graham Rapid Response Teams as they serve in the wake of the devastating wildfires.
Samaritan's Purse Disaster Relief Unit (DRU) #2 departed today from our West Coast Ministry Center in Fullerton, California, for Spokane County, Washington, where wildfires have tragically destroyed more than 360 homes and burned over 21,000 acres.
The Gray and Oregon Road Fires began August 18 in the communities of Medical Lake and Elk, burning through the invasive cheatgrass in the area and spreading expansively in 30 mph-winds. The fires quickly grew out of control and forced hundreds to evacuate.
Samaritan's Purse assessment teams have been in the area since last week, working with local authorities to determine how and when we could best assist. In the coming days, teams of volunteers will begin helping homeowners sift through their properties in search of precious mementos among the ashes—a process that can be incredibly healing for families who have lost so much. Overnight and day volunteers will begin work by the weekend, with many scheduled to arrive by Thursday, Aug. 31.
We will base our operations out of our host location: Silver Lake Bible Camp, 10919 S. Lakehurst Drive, Medical Lake, WA 99022. The DRU as well as other support vehicles are scheduled to arrive at this location by Wednesday evening.
Please pray for our North American Ministries teams and Billy Graham Rapid Response chaplains as we seek to serve those devastated by the wildfires in Jesus' Name.

This article was originally published on Aug. 29 and updated Sept. 1.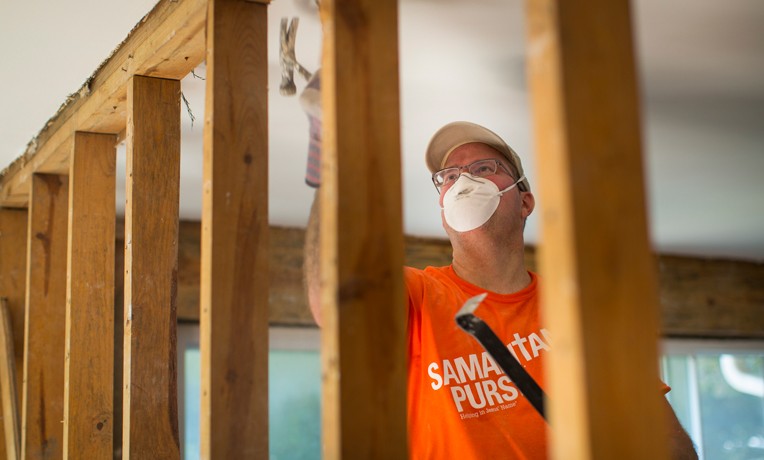 U.S. Disaster Relief
Samaritan's Purse mobilizes and equips thousands of volunteers to provide emergency aid to U.S. victims of wildfires, floods, tornadoes, hurricanes, and other natural disasters. In the aftermath of major storms, we often stay behind to rebuild houses for people with nowhere else to turn for help.
---
U.S. Disaster Relief 013622