Samaritan's Purse volunteers finished work in Polk County, Texas, where a deadly tornado ripped apart homes.
U.S. Disaster Relief
013622
Samaritan's Purse volunteer teams have completed work in Onalaska, Texas, where homeowners were recovering after an EF3 tornado packing 140 mile per hour winds tore through several neighborhoods in the late afternoon of April 22.
More than 370 volunteers joined our efforts to help these hurting homeowners in Jesus' Name by clearing fallen trees and debris from yards and homes and tarping damaged roofs. Our teams assisted more than 80 homeowners with clean up, and dozens more have asked for our help.
Day volunteers worked out of our host church and base of operations at First Baptist Church Onalaska, 463 FM356, Onalaska, TX 77360 strictly adhering to COVID-19 federal and local guidelines to ensure their safety and the safety of homeowners and residents.
Working Hard, Sharing Hope in a Still-Hurting Community
We praise God that in the course of our labors 25 people prayed to receive Jesus Christ as Lord and Savior.
One of these new believers told our teams "I've been running from God since I was 16 years old and I don't want to run anymore." Another of these, a former Marine, began a new relationship with Jesus Christ after many years of believing "God would never accept him." These are just two of six residents who prayed to receive Christ in a single day.
Please pray for those who have lost loved ones, for those whose homes were damaged, and for our teams who brought critical relief and the hope found only in the Gospel of the Lord Jesus Christ. So many Polk County communities are still reeling after so much devastation.
Three people were killed, several were injured, and nearly 300 homes were damaged with dozens more reported destroyed in the wake of the tornado. It was part of a powerful storm system that carved up additional parts of east Texas, southern Oklahoma, and Louisiana, spawning dozens of twisters that caused widespread destruction, flash floods, and took at least four more lives. Tens of thousands were without electricity.
Our teams also responded in Louisiana, Mississippi, Tennessee, and South Carolina where an Easter Sunday storm spawned more than 130 tornadoes and devastated communities across the southeast. In the month of April we worked simultaneously at five sites in five different states, the most geographically diverse response ever for Samaritan's Purse U.S. Disaster Relief.
Please continue to pray for God's favor, for His protection, and that the power of the Gospel of Jesus Christ would transform many more lives through the faithful work and witness of God's people.
UPDATE: We have concluded our response in Onalaska, Texas, and praise God that 377 volunteers completed clean up work at 85 homes in Polk county. We also saw 25 individuals receive Jesus Christ as Lord and Savior.
—
Note: This article was originally published on April 25 and is updated through May 6.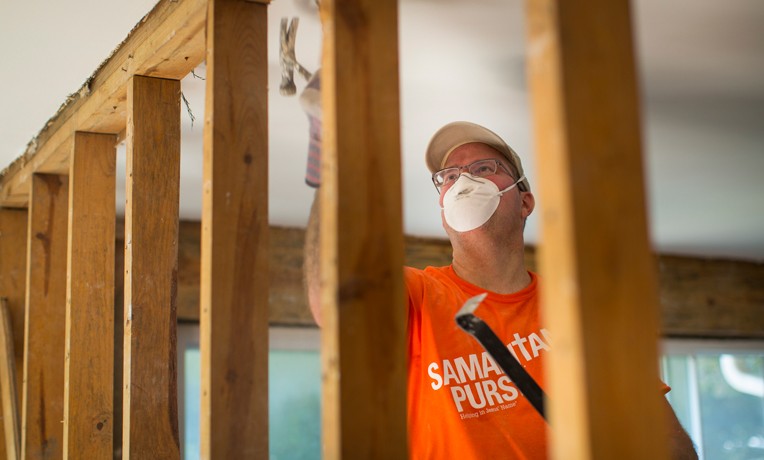 U.S. Disaster Relief
Samaritan's Purse mobilizes and equips thousands of volunteers to provide emergency aid to U.S. victims of wildfires, floods, tornadoes, hurricanes, and other natural disasters. In the aftermath of major storms, we often stay behind to rebuild houses for people with nowhere else to turn for help.
---
U.S. Disaster Relief 013622