Staff and volunteers have completed work in Hays, Caldwell, and Guadaloupe counties
The worst is behind them, and signs of normalcy are slowly returning to Paul and Emelia Schmitt's peaceful little corner of the universe. You can see it in the cheerful summer flowers blooming in pots in their back yard and in the antics of Midnight the cat, who is back to his playful self, pouncing on bugs in the vegetable garden.
One glance inside their home of 40 years, however, and it's apparent that much work remains to be done. Gone is the two feet of brown water that invaded their San Marcos, Texas, residence. Furniture that could be salvaged has been thoroughly cleaned. New wallboard covers the walls, and the flooring will be installed next week.
The Schmitts have been staying with relatives while their house undergoes extensive renovations. If all goes as planned, they look forward to moving back in early July and celebrating with a cookout.
Despite their losses, the retired couple is upbeat about starting over. Emelia said she has experienced far worse personal upheaval, and her husband's battle with brain cancer taught them God's strength is sufficient in any crisis.
"Yes, you cry a little bit, but you can't give up," she concluded. "I knew we would get through this too and be all right."
Four weeks ago, their lives were turned upside down when the usually shallow Blanco River inundated sections of the city of San Marcos and other Central Texas communities. Torrential rains fell during a 24-hour period between May 23 and 24, causing the river to crest at nearly 30 feet above flood stage.
Days later, the Schmitts were flooded with a second wave—an outpouring of help from Samaritan's Purse volunteers and staff who came to help them and their neighbors with the difficult task of recovery. It was a true labor of love as volunteers removed water-stained furniture and belongings, tore out wet wallboard and flooring, and restored hope to homeowners—all in the Name of Jesus Christ.
"I am so blessed when I see these young folks that are so hardworking, so dedicated, and so sweet," said Emelia. "We're not used to people helping us."
Since then, more than 1,900 Samaritan's Purse volunteers from 33 states have assisted flood victims in nine communities in Hays, Caldwell, and Guadaloupe counties.
Our U.S. Disaster Relief team wrapped up its work in Texas June 24, with a total of 262 homeowners receiving help with mud-outs.
Much of the Samaritan's Purse response was centered in San Marcos, about 30 miles south of Austin. Promiseland Church hosted volunteers and provided space for Samaritan's Purse to set up a command center.
Chaplains from the Billy Graham Evangelistic Association Rapid Response Team were also hard at work praying for and ministering to hurting families. They reported that 100 people have committed their hearts to Christ during the past month.
Many residents were deeply touched by the love and support they received from the army of Samaritan's Purse volunteers—all complete strangers who came to their aid when they needed it most. For some, the workers clad in orange T-shirts represented heaven-sent answers to their prayers.
"God is good, and He has been with us every step of the way," said Beverly Nelms, another flood survivor in San Marcos. "We are dealing with the situation one day at a time and trusting God for each day. That's how we are holding up."
Please continue to pray for hundreds of Texas flood victims as they rebuild their homes and lives. Pray that they will be encouraged as they experience God's love and see Him meet their physical and spiritual needs.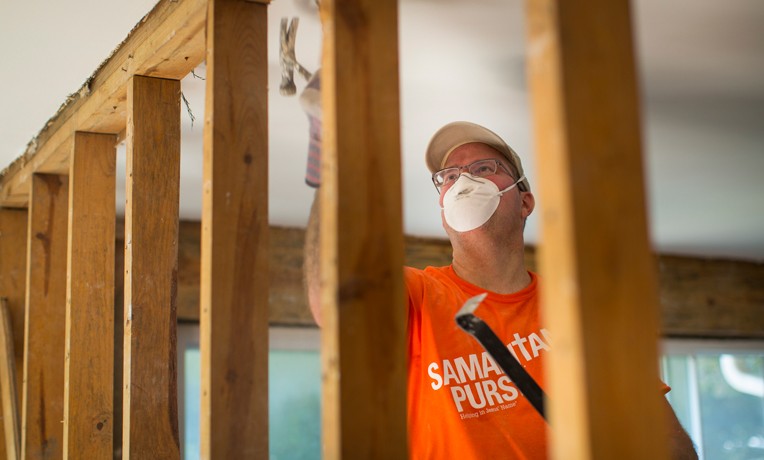 U.S. Disaster Relief
Samaritan's Purse mobilizes and equips thousands of volunteers to provide emergency aid to U.S. victims of wildfires, floods, tornadoes, hurricanes, and other natural disasters. In the aftermath of major storms, we often stay behind to rebuild houses for people with nowhere else to turn for help.
---
U.S. Disaster Relief 013622